BofA Wins Recommendation for U.S. Mortgage Suit Dismissal
Erik Larson and Keri Geiger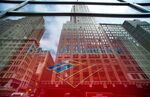 Bank of America Corp. should win dismissal of a U.S. Justice Department lawsuit accusing it of misleading investors about the quality of loans tied to $850 million in mortgage-backed securities, a judge said.
The government's claim that the bank made false statements wasn't properly supported, U.S. Magistrate Judge David Cayer in Charlotte, North Carolina, said yesterday in a recommendation to dismiss the case. The U.S., which filed a notice that it will object, has a chance to challenge the recommendation before a district court judge and appeal any dismissal.
Dismissal of the case "will represent a significant setback for the government's legal efforts and likely mark the beginning of the end for crisis-era litigation," Isaac Boltansky, a policy analyst at Compass Point Research & Trading LLC in Washington, said today in a research note.
The proposal comes as the U.S. seeks to punish companies for wrongdoing that helped trigger the financial crisis. The case and others like it allege violations of a law that is a relic of the savings-and-loan crisis of the 1980s, allowing civil suits to reach back further in time to target bad behavior and seek larger damages in court.
If the case is dismissed, it will be a first for about a dozen companies that have been targeted under the Financial Institution Reform, Recovery and Enforcement Act of 1989, known as FIRREA, which allows the government to sue an individual or group, rather than charge them with a crime, for fraud that affects a federally insured financial institution.
'Minor Setback'
While the ruling is "very significant" in the Bank of America case, it is a "minor setback" in the government's strategy in these types of lawsuits, said Jay Williams, a defense lawyer at Schiff Hardin LLP who represents financial institutions in civil cases and isn't involved in the matter.
The ruling "does little or nothing to challenge or question the fundamental applicability of FIRREA under these kinds of circumstances," Williams said. "I would expect that this case would do little to slow that hard charge of the government in these cases, or to dissuade it from using FIRREA as a club whenever it possibly can."
While rarely used, FIRREA has its benefits: it demands a lower burden of proof than needed for a criminal case and poses the prospect of hefty penalties of more than $1 million for each fraudulent statement or act. The law also gives prosecutors 10 years to file a case rather than a five-year deadline required under some criminal and civil statutes.
Defense Failures
Lawyers for banks defending such suits have fought to have the actions dismissed, to no avail.
In a New York case, Bank of America was found liable by a federal jury last year after it was ordered to go to trial over claims that its Countrywide unit defrauded Fannie Mae and Freddie Mac by selling them billions of dollars in bad mortgages. U.S. District Judge Jed Rakoff is now deciding how much of a penalty to impose.
Bank of New York Mellon Corp. faces a FIRREA case brought by Manhattan U.S. Attorney Preet Bharara's office alleging that the bank's foreign exchange operations disadvantaged its own customers, giving them poor pricing execution and allowing the bank to pocket the profits.
The Justice Department's lawsuit against McGraw Hill Financial Inc.'s Standard & Poor's unit over its ratings of mortgage-backed securities also includes a FIRREA claim.
$5 Billion
The government, which accuses S&P of lying about its ratings being free of conflicts of interest, seeks as much as $5 billion in civil penalties in the lawsuit in federal court in Santa Ana, California.
In the Bank of America case in North Carolina, the Justice Department said the lender had portrayed bonds as being backed by prime loans vetted by its staff, even though most were riskier wholesale mortgages, meaning they were originated by outside brokers. Some were "PaperSaver" loans that didn't require proof of borrowers' income, the U.S. said.
Bank of America, the second-largest bank in the U.S., asked the court in November to dismiss the case, arguing the government failed to make adequate claims.
In his nine-page ruling, Cayer rejected the government's attempt to justify the case by claiming the bank lied to the Federal Housing Finance Board, which is regulated by the federal government.
"The complaint contains no factual allegations that the defendants' statements occurred within the jurisdiction of the FHFB or affected its decisions," Cayer said.
Bank Pleased
Lawrence Grayson, a spokesman for the Charlotte-based bank, said the company is pleased with Cayer's recommendation that the case be dismissed.
The bank this week said it agreed to a $9.5 billion settlement over claims tied to faulty mortgages and boosted its dividend for the first time since 2007 in its latest steps to put the financial crisis behind it.
The case is U.S. v. Bank of America Corp., 13-cv-00446, U.S. District Court, Western District of North Carolina (Charlotte).
Before it's here, it's on the Bloomberg Terminal.
LEARN MORE