BofA's Moynihan Delivers at Last on Vow to Boost Dividend
Hugh Son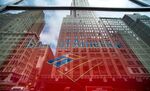 Bank of America Corp. shareholders have pressed Chief Executive Officer Brian T. Moynihan to raise their token penny-a-share payout for more than three years. Yesterday, he finally delivered.
The bank's quarterly dividend is rising to 5 cents after regulators approved the Charlotte, North Carolina-based company's capital plan, the lender said yesterday. Moynihan told investors in March 2011 that the firm could restore part of its payout, which was cut to 1 cent in 2009 to preserve capital during the financial crisis.
"Shareholders have had a pretty significant wait for a change in their performance," said Jonathan Finger, whose family-owned investment firm, Finger Interests Ltd., owns 900,000 Bank of America shares. "The financial crisis and its impact on Bank of America in particular were probably deeper than most investors expected."
The dividend increase, impossible without the Federal Reserve's stamp of approval, is the latest sign that Moynihan, 54, is putting distance between the second-biggest U.S. bank and the financial crisis that almost swallowed it. The firm yesterday also announced a pair of legal settlements of accusations stemming from that period, including a $9.5 billion accord over claims tied to faulty mortgages.
Disastrous Purchase
The lender will pay $6.3 billion in cash to Fannie Mae and Freddie Mac to resolve lawsuits alleging it misrepresented loans packaged into bonds that were bought by the U.S.-owned mortgage firms, Bank of America said in a statement. The company also said it will buy back about $3.2 billion of mortgage bonds from the firms.
The Federal Housing Finance Agency lawsuits, tied to $57.5 billion in securities bought by Fannie Mae and Freddie Mac, was one of the biggest remaining legal disputes facing the lender. Bank of America still faces a mortgage lawsuit from insurer American International Group Inc. and probes from the U.S. Justice Department.
Moynihan has spent more than $50 billion to resolve claims related to shoddy mortgages, most tied to the disastrous 2008 purchase of Countrywide Financial Corp. by his predecessor Kenneth D. Lewis. The costs crimped Moynihan's ability to return capital to shareholders.
'Important' Step
Bank of America was left behind in 2011 after the Fed rejected the company's proposal and competitors including New York-based JPMorgan Chase & Co. and Wells Fargo & Co. increased their payouts. Moynihan's firm didn't ask for a dividend increase in 2012 and got a $5 billion share repurchase program approved last year.
"Over the last few years we have focused on positioning the company to return capital to our shareholders," Moynihan said in yesterday's statement. "We know that increasing the common dividend is important to our shareholders."
The 5-cent dividend, still a fraction of its 2008 peak of 64 cents, will begin in the second quarter. The board also approved a $4 billion stock repurchase program after the stress tests, which gauge how the biggest banks would fare in a recession or economic shock. Bank of America had to lower its proposal for buybacks and dividends to clear the hurdle, the Fed said yesterday.
Bank of America rose 0.9 percent to $17.34 at 8:24 a.m. in New York. The stock has climbed 10 percent this year through yesterday, more than double the advance of the 24-company KBW Bank Index.
Citigroup's Failure
The lender also announced yesterday it will pay $15 million to settle claims that former CEO Lewis misled investors about its 2009 purchase of Merrill Lynch & Co.
Lewis will pay $10 million and agreed to a three-year ban on serving as an officer or director of a public company. Bank of America also agreed to corporate-governance improvements, according to New York Attorney General Eric Schneiderman.
"Mr. Lewis consistently has made clear that the bank relied on experienced legal counsel -- both inside the bank and at a prestigious law firm -- with regard to what needed to be disclosed to shareholders," Bruce Yannett, a lawyer for Lewis, said in a statement.
The biggest U.S. banks waited for the Fed to disclose the results of annual stress tests yesterday before announcing how much they planned to pay out to investors through dividends and share repurchases.
JPMorgan, the largest U.S. lender, boosted its quarterly dividend to 40 cents a share from 38 cents and authorized a $6.5 billion stock buyback. No. 3 Citigroup Inc. failed the stress test and regulators rejected a proposal by the New York-based bank to repurchase $6.4 billion of stock and increase its dividend to 5 cents a share from 1 cent.
Morgan Stanley and San Francisco-based Wells Fargo each announced dividend increases and stock buybacks after passing the stress test.
Bank of America's settlement with the FHFA will reduce first-quarter pretax profit by $3.7 billion, or 21 cents a share after taxes, the firm said. The company is scheduled to report results on April 16.
Before it's here, it's on the Bloomberg Terminal.
LEARN MORE