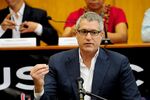 What if hedge fund mogul Steven Cohen accepted an invitation from Wharton to lecture about the dos and don'ts of stock trading? Cohen's SAC Capital Advisors pleaded guilty last November to firm-wide securities fraud and agreed to pay $1.8 billion. Students could cross-examine him on his understanding of insider trading rules and how he's handling the U.S. Securities and Exchange Commission's pending civil lawsuit.
For obvious reasons, many of them related to his Fifth Amendment rights, Cohen isn't likely to turn up at any public forum to discuss his dicey legal situation. Too bad. Steven Donziger, by contrast, is actually planning to take his case to the Ivy League Court of Appeal, giving a talk at Harvard Law School next month.
Donziger, you'll recall, is the flamboyant New York environmental attorney found liable in U.S. district court on March 4 under the Racketeer Influenced and Corrupt Organizations Act (RICO). Judge Lewis Kaplan concluded that Donziger had orchestrated a multiyear scheme of bribery and coercion aimed at shaking down Chevron. Donziger's wrongdoing culminated in a 2011 multibillion-dollar pollution judgment against the U.S. oil company in Ecuador, according to Kaplan.
On April 9, Donziger is scheduled to deliver a talk at Harvard Law titled "The Future of Corporate Impact Litigation After the Chevron Case." The session will be sponsored by the Human Rights @ Harvard Law project. Curious, I called HLS spokeswoman Michelle Deakin. She asked around and came back to tell me: "From what I've learned so far, the event is intended to explore the complexities of the case and subject Donziger to hard questions."
Fair enough. With the right spirit of inquiry and skepticism, it could be a lively session, as the case is one of the most important human-rights and environmental clashes in memory—if not for the reasons that Donziger (Harvard Law Class of 1991) maintains. Based on the description of his appearance, though, I wonder whether he will actually encounter much in the way of a challenge.
The Harvard listing refers to "a controversial ruling from a U.S. federal judge in a non-jury trial that Ecuador's entire judicial system is unworthy of respect and that the case was marred by fraud." Not exactly. Judge Kaplan didn't find "the entire Ecuadorian judicial system unworthy of respect." Instead, in a 485-page opinion, he carefully reviewed an enormous factual record that included sworn testimony from Ecuadorian judges who oversaw the suit against Chevron. Those judges were prolific bribe-takers, Kaplan determined.
Kaplan did not conclude that the case was merely "marred by fraud" in some mysterious passive-voice fashion. No, the judge concluded that Donziger took advantage of the local judges' corrupt tendencies to seed the Ecuadorian court record with ghostwritten evidentiary reports and interim rulings. Kaplan even found that the ultimate judgment in 2011 wasn't written by the judge who claimed authorship. In other words, Donziger's victory—which seemed truly historic back in 2011—was actually a sham.
Contrary to the Harvard listing, Kaplan didn't opine on the fundamentals of Ecuadorian jurisprudence or court procedure. Those matters weren't before him. Chevron had sued Donziger in Kaplan's New York courtroom, saying that the American lawyer had turned his lawsuit—and only his lawsuit—into an extortion racket. Kaplan agreed with the oil company.
Donziger has denied wrongdoing and appealed. We'll see how that all turns out. For the moment, though, he's been branded a racketeer under the civil provisions of RICO. Kaplan has ordered that Donziger and his clients—poor residents of the rain forest—may not benefit from the fraud he perpetrated.
Make no mistake: There are real victims in this sad tale. It's just that the litigation Donziger led has not improved their lives in any tangible way.
The word "racketeer" appears nowhere in the description of Donziger's Harvard talk. Neither does a reference to the RICO law. Perhaps that's just an oversight. One hopes that Donziger's Harvard audience will in fact ask him hard questions about those omissions—and, more important, about whether the true legacy of his Ecuadorian campaign will be to undermine the credibility of future attempts to use the courts to hold large corporations accountable.
If the aspiring lawyers at Harvard are feeling shy, I'm available. Not only do I know the case and Donziger, but I'm familiar with the Cambridge campus, as I graduated with the class of 1987.
Before it's here, it's on the Bloomberg Terminal.
LEARN MORE