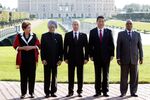 Russian President Vladimir Putin professes not to care about being ejected—temporarily, at least—from the Group of Eight community over his country's seizure of Crimea. He says Russia has plenty of other friends in the world. One of them is China, the world's emerging Communist superpower. Diplomatic and trade relations between Russia and China have strengthened notably over the last couple of decades. Bloomberg News reports today that the "Crimean crisis is poised to reshape the politics of oil by accelerating Russia's drive to send more barrels to China, leaving Europe with pricier imports and boosting U.S. dependence on fuel from the Middle East."
Notice, though, that what Russia is selling to China is oil—not, say, high-tech machinery. In what must be a source of great embarrassment to Putin, Russia has gone from being China's tutor and guide to being a junior partner whose main value is as a source for raw materials. Look at these two charts, which I put together today using data from the United Nations' Comtrade database.
The first shows Russian exports to China in 2000. Exports of what the UN calls mineral fuels, oils, distillation products, etc.—mainly oil—constituted 7 percent of total Russian exports to China.

The second, for 2012, shows that while overall trade with China zoomed over the 12 years in keeping with China's miraculous economic growth, the vast majority of the increase was in oil and related commodities. From 7 percent of total Russian exports in 2000, they reached 70 percent in 2012.

There is a word for this in Russian: pridatok. It means appendage. By overreaching on Russia's western frontier, Putin may have succeeded in making Russia no more than a pridatok to China in the rising East.
Before it's here, it's on the Bloomberg Terminal.
LEARN MORE