North Korea Fires Missile as Obama Meets With Abe-Park
Sam Kim and Julianna Goldman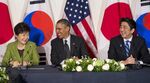 North Korea fired two ballistic missiles capable of reaching both Japan and South Korea as President Barack Obama hosted the first meeting between the leaders of the U.S.'s biggest Asian allies.
The Rodong missiles were fired early this morning and flew 650 kilometers (400 miles), South Korean Defense Ministry spokesman Kim Min Seok said at a briefing in Seoul. The launches coincided with Obama's talks with President Park Geun Hye and Japanese Prime Minister Shinzo Abe at the conclusion of a Nuclear Security Summit at The Hague.
The North's launches "are aimed at demonstrating missile capabilities, drawing global attention and raising the country's profile at a time the international community is showing intolerance toward its possession of nuclear arms," Kim said.
Souring ties between Japan and South Korea have hampered U.S. attempts to build a united front in Asia to contain a more assertive China and pressure North Korea to abandon its nuclear weapons program. Park had rejected offers for direct talks, saying Abe's administration has sought to deny atrocities committed during Japan's 1910-1945 occupation of Korea, including the Imperial Army's use of sex slaves.
Park eased her stance after Abe told parliament March 14 he wouldn't revise Japan's 1993 apology to the so-called comfort women.
For Obama, bringing the allies closer together is key to the success of his rebalance to Asia. Japan and South Korea had bilateral trade of about $100 billion last year and the U.S. maintains more than 65,000 troops in the two countries.
'Unified Response'
The U.S. plays a major role in the Asia-Pacific region, "but that role depends on the strength of our alliances," said Obama, who will visit Japan and South Korea next month. "Our trilateral cooperation sends a strong signal to Pyongyang that its provocations and threats will be met with a unified response."
The North Korean missiles fired today flew further than any of the dozens of rockets the regime has launched this year, Kim said. Japan estimated the missiles landed in the Sea of Japan about 500 kilometers east of the Korean peninsula, Abe's office said on Twitter. Japan was not given advance warning and has lodged a protest with North Korea, Chief Cabinet Secretary Yoshihide Suga said today in Tokyo.
The launches also coincided with the anniversary of the sinking of a South Korean naval vessel, the Cheonan, in 2010. Forty six sailors died in the incident, which a multinational investigation blamed on a North Korean torpedo fired from a submarine. North Korea denied any role in the sinking.
"The launches represent a troubling and provocative escalation that the United States takes very seriously," State Department deputy spokeswoman Marie Harf said in an e-mail statement. "We urge North Korea to exercise restraint and refrain from further threatening actions."
Mobile Launchers
North Korea has fired dozens of rockets into the waters off its east coast in recent weeks, including ballistic missiles banned under United Nations resolutions that seek to convince the country to halt its nuclear program. South Korean Defense Ministry spokesman Kim said the North today fired the two Rodong missiles from mobile launchers, which makes it harder for South Korea and the U.S. to detect preparations.
"The U.S. has a deep and abiding interest in bilateral and trilateral cooperation among the three countries," Patrick Cronin, senior adviser for the Asia-Pacific Security Program at the Center for a New American Security in Washington, said in an e-mail. "Korea and Japan have strong overlapping national interests. Strengthening deterrence on the Korean peninsula and being better prepared to manage a range of dangerous contingencies should be driving them closer together."
'So Happy'
Given the recent developments in North Korea, "the chance to engage in an exchange of views with President Obama and Prime Minister Abe is very significant," Park, 62, said through a translator after the meeting. The U.S. "worked very hard" to arrange the meeting, she said.
Abe, 59, said he was "so very happy" to see Park. Speaking through a translator, he said "it is extremely important to be able to confirm close cooperation among Japan, the United States and the Republic of Korea on the issue of North Korea."
"If Japan and Korea could work together, you'd likely have something like NATO in East Asia, but instead, the U.S. has to maintain parallel, redundant, inefficient alliances with both," Robert Kelly, an international relations professor at Pusan National University in South Korea, said in an e-mail.
Before it's here, it's on the Bloomberg Terminal.
LEARN MORE