Morgan Stanley Dismisses Talk of China Minsky Moment
Ye Xie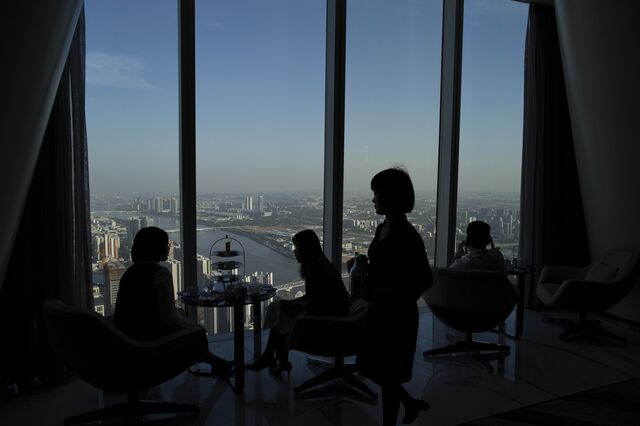 Morgan Stanley is sticking to its buy recommendation on Chinese stocks, saying concern that there'll be a "significant market disruption" in the world's second-largest economy is overstated.
China's consumption and services are bigger than officially reported, giving the economy more room to cope with slowing productivity growth, the Morgan Stanley analysts said. The government's reforms and its "formidable" financial resources will help policy makers transform the economy without triggering a debt crisis, the analysts wrote in a report in which they kept their overweight calls on both Chinese and Russian equities.
The economy's slowdown and rising debt levels pushed the Hang Seng China Enterprise Index, which tracks Chinese firms listed in Hong Kong, into a bear market on March 20. While Morgan Stanley's analysts said that debate is mounting about whether China is approaching a "Minsky moment," a term used to explain an asset collapse following the exhaustion of credit expansion, they said they remain bullish.
"The apparent deterioration in productivity and diminishing returns to leverage are not as severe as the consensus thinks when one takes into account true activity" in the consumer and service sectors of the economy, Morgan Stanley analysts led by Jonathan Garner wrote in the note.
Valuation Gap
The MSCI China Index of shares, which rose 1.1 percent today, has lost 7.6 percent this year, heading for its worst first quarter since 2008. The measure trades at 8.5 times reported earnings, a 27 percent discount to the MSCI Emerging Markets Index. MSCI Inc.'s gauge of Russian shares jumped 2.4 percent today and trades at 4.3 times earnings, or 63 percent below the developing-nation index.
The valuation discount for the Chinese market may be too steep as the risk of a market disruption is "minimal" in China, according to the analysts.
The risk premium for the Chinese market, measured by implied cost of equity premium over emerging markets, was at 170 basis points, or 1.7 percentage points, near an all-time high, according to Morgan Stanley.
While Morgan Stanley retained its buy rating for Russian stocks, the analysts said an increase of risk premium is justified amid concerns over its corruption, geographic security and overreliance on commodities.
Credit Risks
The MSCI Russia Index has lost 17 percent this year as the country's annexation of Crimea led to sanctions from the U.S. and European Union.
Economists at JPMorgan Chase & Co. and Goldman Sachs Group Inc. earlier this month cut projections for China's growth after industrial production trailed estimates and exports fell by the most since 2009. Shanghai Chaori Solar Energy Science & Technology Co.'s missed coupon payment on March 7 may have been China's "Bear Stearns moment," prompting investors to reassess credit risks as they did after the U.S. firm was rescued in 2008, according to Bank of America Corp.
The country is headed for a "mini crisis" in its local-government debt market, Li Daokui, a former adviser to the central bank, said yesterday at a conference in Hong Kong.
The economic slowdown this year led some investors including John Mauldin at Millennium Wave Advisors LLC to warn that the "Minsky moment" may be reckoning following the buildup in private debt over the past few years. The term is named after U.S. economist Hyman Minsky, who argues that periods of rising asset valuation lead to speculation with borrowed debt, only to end in crisis.
Morgan Stanley's analysts said such a prediction is premature because the service and consumption industries are under-reported in government figures.
Services industries accounted for 46 percent of the economy last year, with the proportion exceeding that of manufacturing industries for the first time, according to the statistics bureau. The government is seeking to increase the share to 47 percent by 2015, according to its five-year plan. In the U.S., the world's biggest economy, services comprise about 90 percent of GDP.
Before it's here, it's on the Bloomberg Terminal.
LEARN MORE