Barclays Urges Rupee Caution Amid Election Doubts: India Credit
Jeanette Rodrigues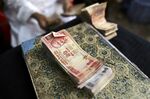 Barclays Plc says investors should be cautious on the rupee during the course of India's elections, on concern next month's vote won't deliver a clear winner.
The rupee's rally will stall at 59 per dollar, from 60.1650 today, and it could swing widely depending on the outcome, according to Barclays. Ballots will be cast from April to May, and Westpac Banking Corp. recommends investors stop buying the currency closer to the May 16 deadline for counting votes.
Opinion polls predict the main opposition Bharatiya Janata Party will win the most seats, while falling short of a majority, as voters punish the ruling Congress party for graft scandals and Asia's highest inflation. Barclays said a BJP victory may be positive for the rupee, encouraging inflows. Cracks are appearing within the party's ranks after a founding member quit in protest after being denied a ticket.
"There are still questions about whether the BJP will get the numbers they need," Jonathan Cavenagh, a strategist at Westpac in Singapore, said in a telephone interview yesterday. "If they do get a strong majority, I may miss out on the initial part of a rally, but I would also have protection from what could be a massive downside."
The rupee has climbed 2.7 percent this year as global funds plowed $8.4 billion into the nation's debt and equities on optimism that pro-business policies of a BJP-led government will hasten the pace of recovery in Asia's third-largest economy. The yield on the benchmark 10-year sovereign bonds has fallen five basis points, or 0.05 percentage point, to 8.78 percent in 2014, according to data compiled by Bloomberg.
Risk Reversal
The currency may climb about 5 percent from current levels if the BJP wins enough seats to form a government, Cavenagh said. Societe Generale SA predicts the currency could plummet past 68 per dollar should political parties need to cobble together an unstable, makeshift coalition. The French lender recommends investors purchase options to buy the dollar and sell the rupee as a hedge against election-outcome risks.
Three-month contracts offering the right to sell the rupee cost 163 basis points more than those to buy, after reaching the cheapest since July 29 on March 11. The so-called risk-reversal rate is still lower than last year's peak of 5.5 percent. It has fallen 75 basis points this month for Indonesia's rupiah and risen 13 for Brazil's real, according to data compiled by Bloomberg.
Narendra Modi
The BJP's prime ministerial candidate, Narendra Modi, is campaigning on the strength of his 13-year role as chief minister of the western Indian state of Gujarat, where economic growth has outpaced the national average for the last six fiscal years. Even so, support for his candidature from the Rashtriya Swayamsevak Sangh, a Hindu nationalist group that wants laws protecting Muslims to be scrapped, risks alienating potential allies Modi may need to form a government.
The U.S. had refused Modi a visa over his alleged role in anti-Muslim riots in 2002, in which more than 1,000 people were killed. Modi has denied any wrongdoing and a Supreme Court-appointed panel investigating one documented incident found no evidence that he took decisions to prevent assistance from reaching those being attacked.
Even within the BJP, Modi faces challenges in keeping the party united. Jaswant Singh, a former finance and foreign affairs minister, this month decided to contest as an independent candidate after being passed over for a seat. Lal Krishna Advani, a former home minister and deputy prime minister, expressed anger after being slotted to run from Gujarat against his wishes.
Opinion Polls
The BJP is on course to win 195 of 543 seats in the lower house of parliament, according to an opinion poll released March 14 by NDTV television network and Hansa Research. The ruling Congress party, in power for a decade, may get 106 seats, its worst-ever performance, the survey indicated.
The Congress won in 2004 even after polls suggested the BJP would keep power, and in 2009, when most polls predicted a close fight, Congress won with the largest tally in 20 years.
"We cannot rule out the risk of a hung parliament," Amit Agrawal, a strategist at Societe Generale in Bengaluru, the southern Indian city formerly known as Bangalore, wrote in a March 24 note to clients. "The stakes are high as market expectations for a positive outcome have risen substantially ahead of the elections."
A decisive BJP victory could propel the rupee toward 40 to 45 per dollar in the long term, levels last seen in 2008, Adam Gilmour, Citigroup Inc.'s head of Asia-Pacific currency and derivatives sales, said in a March 12 interview in Singapore.
Stocks Surge
The benchmark S&P BSE Sensex index of shares climbed to a record this week after Goldman Sachs Group Inc. said in a March 14 report that investors should hold a higher proportion of Indian stocks that are represented in benchmark indexes as elections could be a catalyst to revive economic growth.
The rally is a typical pre-election occurrence in emerging markets, according to Morgan Stanley. Indexes in these nations perform 3.5 percent better than their MSCI All Country World counterpart a month before voting, analysts including Jonathan Garner in Hong Kong wrote in a research report in October. The outperformance dips to 0.7 percent 30 days after the polls and the gauge trails the benchmark by 0.3 percent three months following the vote, they wrote. Garner didn't answer two e-mails and a phone call seeking more recent comment.
'Take Profit'
One-month implied volatility in the rupee, a gauge of expected moves in the exchange rate used to price options, has risen 152 basis points this month to 8.98 percent. The rate has fallen 57 basis points for Indonesia's rupiah and 30 for Brazil's real. The Latin American nation holds presidential elections in October while Indonesia has a vote for its president on July 9.
Investors should be prepared to close trades that bet on gains in the rupee against the dollar before the Indian elections results, Barclays recommends.
"Ride the good momentum in the rupee, but do not take that trade over into the election results," Hamish Pepper, a strategist at Barclays in Singapore, said in a telephone interview yesterday. "Take profit before the poll verdict as the rupee could swing wildly either way once the results are out."
Before it's here, it's on the Bloomberg Terminal.
LEARN MORE