Sell Signal for Stocks Seen as Bears Growl
Michael P. Regan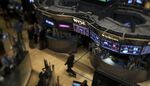 Bears are prowling in corner offices even as the stock market climbs to an all-time high.
Executives are dumping shares of their own companies at a rate suggesting the market may be near a short-term peak, according to Argus Research. The firm tracked an index of insider transactions from Vickers Stock Research. While the measure considers numerous factors, the bottom line is clear: at negative 19.88, the index is approaching a record low of negative 21.44.
The Standard & Poor's 500 Index hit an all-time high of 1,883.97 during today's session, extending its year-to-date advance to almost 2 percent.
"Insiders as a group do not see compelling near-term value in stocks," Argus wrote in a report today. "Insiders have a habit of being bullish at market bottoms and bearish when markets are top-heavy."
The Vickers index has had a mixed record in predicting market tops and bottoms. While its high in 2009 preceded the beginning of the rebound from the financial-crisis bear market, its record low in 2004 failed to portend a bear market. A dip in the index in 2011 was followed by a 19 percent slump in the S&P 500, while it flashed a sell signal for most of 2013 even as the S&P 500 rallied 30 percent.
The interpretation of the insider sentiment index contrasts with the usual, counterintuitive reading of surveys that gauge investors not privy to corner-office scuttlebutt. Too much optimism in those gauges alarms technicians who study trends like this because if everyone is bullish, there are few pessimists left to change their minds and return to the market.
Affluent Bulls
Another survey this week showed that the rich are riding high with optimism. Confidence among affluent investors has risen to 57 percent, according to a report from deVere Group, which advises clients who have a combined $10 billion. The last time the percentage was higher was in March 2007. The S&P 500 rallied another 10 percent from the end of March 2007 until its peak in October of that year, then entered an epic bear market.
"Sentiment has moved into a danger zone—despite near-daily assurances from financial pundits that the current advance is 'the most hated bull market ever,'" Doug Ramsey, chief investment officer at the Leuthold Group, said in a March report.
'Optimistic Extreme'
Leuthold conducts a weekly sampling of 30 investor psychology measures and said sentiment had moved to a "three-year optimistic extreme." The last comparable reading occurred right before the market started a 19 percent retreat, according to the firm.
LPL Financial Corp. Chief Market Strategist Jeffrey Kleintop is also keeping an eye on market confidence, even if he is a bit distracted by basketball. He caught a dose of March Madness and created a sweet 16 of market catalysts broken into four brackets: economy, policy, fundamentals and sentiment.
In the first match-up in the sentiment bracket, he pits margin debt versus market breadth. Kleintop points out that one gauge of borrowing to buy stocks jumped to an all-time high at the same time individuals have increased their portion of stock holdings to 41 percent of assets, an equivalent amount as the 2007 market peak while still below the 53 percent seen in 2000.
Margin debt and stocks tend to move higher together, so Kleintop said the increase would only point to a top if the S&P 500 continued to rise while measures of the rally's breadth began to decline.
This has yet to occur.
Kleintop admits he failed to pick Harvard over Cincinnati in the NCAA tournament.
"What would be the market equivalent upset?" he said over e-mail. "Ukraine coming back to best Russia? Hmmm."
Before it's here, it's on the Bloomberg Terminal.
LEARN MORE