Welders, America Needs You
The craft of fusing metal is getting new respect from manufacturers
By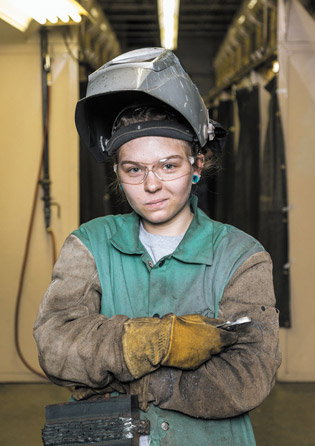 On a recent afternoon, 17 students sit in a classroom in Troy, Ohio, doing trigonometry. For several hours, they figure out tangents and cosines, tapping away at their calculators to find the distance of a line, the degree of an angle, or the circumference of a cylinder. Most of the students just graduated from high school; all but two are male. Many of them wear camouflage hats and Harley-Davidson T-shirts. Everyone's in jeans. Muffled sounds of clanging and crackling—molten pieces of metal are being fused together outside—seep through the cinder block walls. This is welding school.
The Hobart Institute of Welding Technology has been around since 1930 and is considered one of the top national programs in the trade. To get in, you need a high school diploma or a GED, plus about $25,000 to cover the cost of tuition, books, and living expenses. For nine months, students learn how to weld structural steel and pipe, spending more than 1,000 hours under a hood practicing the art of fusing different pieces of metal. As they advance, they learn to work with more complicated alloys, such as aluminum, titanium, and stainless steel, always striving for that perfect weld that makes the metal stronger. "A nice weld is a work of art," says Andre Odermatt, Hobart's president.
Each year, about 300 students graduate from the school. Eighty-three percent have a job when they leave. The average pay for a new Hobart grad is about $17 an hour, or $36,000 a year. Some students can expect to make a lot more, particularly those learning trigonometry in Hobart's advanced pipe-layout class. The math will come in handy when they're welding pipeline along rough terrain or running pipe into a refinery or pump station at unusual angles.
After he graduates in June, Eric Bankson plans to work as a subcontractor for oil and gas companies in Pennsylvania and West Virginia. He knows a guy who's making $300,000 a year. "I figure I can do about half that," says Bankson, whose sister is getting her master's degree in nursing.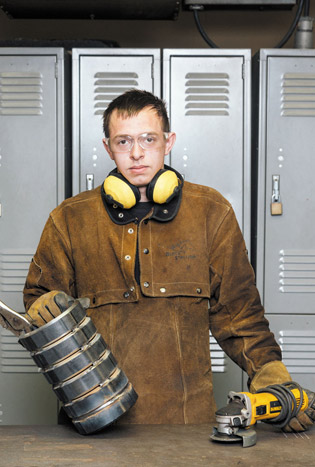 "That's going to take her six years, and I'll be coming out of here in nine months making more money." Not bad considering the national jobless rate for 16- to 24-year-olds is 14.4 percent, and the average salary for 25- to 34-year-olds with bachelor's degrees is $46,900, according to 2012 data from the National Center for Education Statistics.
For the better part of the past 30 years, welding was seen as a dead-end job. When the manufacturing sector began contracting in the 1980s, so did the demand for people who worked with metal. In 1988 there were 570,000 welders in the U.S., according to data kept by the Bureau of Labor Statistics. By 2012, there were fewer than 360,000.
But manufacturing has grown faster than the rest of the U.S. economy since the recession ended in June 2009. For the first time since the early 1960s, manufacturers have added jobs four years in a row. Couple that with the oil and gas boom and the thousands of miles of new pipeline being built, and the demand for skilled welders has risen sharply.
Decades of attrition have left the U.S. with welders who largely lack the advanced skills needed today. The average age of a welder in the country is 55; the wave of coming retirements will leave manufacturers at a disadvantage. The American Welding Society estimates that by 2020 there will be a shortage of 290,000 professionals, including inspectors, engineers, and teachers. "We're dealing with a lost generation," says Gardner Carrick, vice president for strategic initiatives at the Manufacturing Institute, the workforce development arm of the National Association of Manufacturers. "For 20 years we stopped feeding young people into the trades, and now we're scrambling to catch up."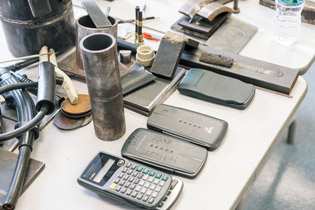 The assembly line jobs that used to employ most welders have largely been outsourced or automated. Today, the focus is quality, not quantity. Welders work on made-to-order pieces of fabricated metal (metal cut into a certain shape) and alloys, producing high-value pieces of equipment for any industry from automobiles to aerospace.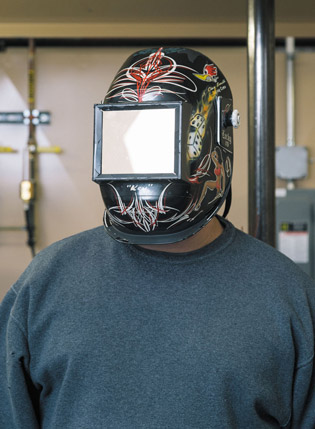 While Hobart graduates are in hot demand, there is still a debate about the size of the skills gap. Some companies say the reason they aren't hiring more is that they can't find enough qualified people. Two Massachusetts Institute of Technology economists offer a more nuanced view. Paul Osterman and Andrew Weaver have produced the first real evidence that while the skills gap exists, it's not as pervasive as many believe. Of the plant managers at about 900 U.S. manufacturers they interviewed, 75 percent said they had no long-term vacancies. Only 16 percent reported high levels of long-term vacancies equal to or greater than 5 percent of their workforce. That's not as big as a lot of people thought. "But it's not zero either," says Weaver.
Figuring out exactly how much this is costing manufacturers is much harder, says Weaver. Several companies say their inability to find skilled welders hurts their bottom line. "Very simply, we have welding jobs and can't find people to fill them," says Doug Gregory, marketing manager at BMR Group, an Indiana-based company that fixes industrial equipment for manufacturers in the Midwest. "We're having to turn down business because we don't have the manpower." At Stillwater Technologies, which makes large pieces of fabricated metal for such things as satellite dishes, the lack of skilled welders has extended the time it takes the company to deliver an order to a client from five or six weeks to almost four months. "That's costing us about $2 million a year," says its president, Michael van Haaren. The company expects to do about $14 million in revenue in 2014.
Small and midsize manufacturers such as Stillwater are often in direct competition with corporations that can pay better wages. GE Oil & Gas, a division of General Electric that builds pipelines, hired 55 welders in 2013 and expects to more than double that in 2014.

Caterpillar is hiring several hundred welders over the next couple of years to work in two plants it's building in North Carolina and Georgia. The company partners with local high schools and community colleges, donating factory equipment and even helping design curriculums to steer young people toward manufacturing and overcome the stigma of working with your hands. "It's as much about fixing the perception gap as it is the skills gap," says Korey Coon, a human resources manager at Caterpillar.
Hobart just finished a $1 million expansion, adding 52 welding booths. That's cut the time students have to wait to enroll after being accepted from 10 months to 6. Still, if Hobart had 20 percent more capacity, "we could easily fill it," says Scott Mazzulla, vice president for planning and development. "We're running full tilt, and we still can't meet the demand."