Myanmar's Census Sparks Controversy, Fears of Ethnic Unrest
The first full census since 1931 may reveal a sizable Muslim population
Christina Larson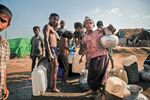 The last time Myanmar conducted a census was in 1983. Large areas of the country—once called Burma in the West—were embroiled in civil war and unreachable. The last comprehensive count was the 1931 imperial survey under the British Raj. Myanmar may have about 60 million people, but even the government isn't sure. "We must know the population to plan for development, health, and education," says Ye Htut, deputy minister for information.
In the commercial center and former capital of Yangon, the red, gold, and green logo of the census is ubiquitous: Public-service messages about it appear on roadside billboards, posters taped to metal warehouse doors, and leaflets distributed at the Victorian edifice of Yangon General Hospital and the newly reopened campus of Yangon University.
Undertaking a census is a massive effort for a fledgling democracy that ended half a century of rule by an oppressive junta just three years ago. In Myanmar dozens of languages are spoken, mountain dirt roads regularly wash out, and many people are deeply suspicious of government. Between March 30 and April 10, tens of thousands of primary school teachers trained by the Ministry of Immigration and Population will crisscross the country in teams, going door to door to administer the survey. Most of its 41 questions identify development priorities: Is your home made of mud, wood, brick, or something else? Do you have access to electricity? Do you have a car?
Its demographic queries, however, are controversial. The census gives numeric codes to 135 ethnicities—yet there's no code for the Rohingya, a Muslim minority in western Rakhine state. Trade, migration, and intermarriage with the neighboring Bengalis, from whom the Rohingya are partly descended, go back centuries. But the official position is that the Rohingya are recent arrivals, not native "sons of the soil." Zaw Aye Maung, a minister representing Rakhine in Yangon, says, "Rohingya is not an ethnic group. There is no tribe in Myanmar or the world called Rohingya. If they fill in Rohingya [on the census], it is a fraud."
According to an official overseeing the administration of the census, who asked not to be named because she's not a communications officer, people who say they are Rohingya will be nudged to accept the designation of Bengali foreigner. (The Bengal region encompasses parts of Bangladesh, India, and other nearby nations.) Spokesman Ye Htut says no one will be deported based on how they fill out the census: "People are afraid about how information will be used, but it will be kept anonymous."
Kyaw Min, founder of the Democracy and Human Rights Party, defends the right of people to classify their own ethnic identity—including Rohingya such as himself. "We should define who we are, not the government. They want to forcibly make us Bengali." An ex-member of the national parliament for Rakhine, he explains that the idea of "indigenous" ethnic groups was enshrined in the 1982 citizenship law, which he calls "Burma's apartheid law," and now permeates popular thinking. "I will write down Rohingya. If they reject it, I refuse to be recorded in the census." He points out the absurdity of calling himself a foreigner in the country where his great-grandparents were born.
Violence against the 1.3 million Rohingya has driven many to Thailand and Malaysia. A Feb. 12 report from the Brussels-based International Crisis Group (ICG) warns that the census may become "a potentially dangerous call to arms for extremist movements." On March 16, Buddhist nationalists led demonstrations in Rakhine in support of the government's decision to delegitimize the term Rohingya. So divisive is the issue that Nobel laureate Aung San Suu Kyi, leader of the opposition National League for Democracy, has avoided taking an explicit stance as she makes the transition from human-rights advocate to politician. Asked about anti-Muslim violence at a lunch promoting press freedom in early March, she referred to it as a "rule of law" issue.
"Biologically, I'm very mixed," says Myo Win, executive director of the Smile Education and Development Foundation. Muslim but not Rohingya, he was born in Yangon but says he's still perceived as an outsider. According to official estimates, Muslims make up 4 percent of the population, but the ICG says the number may be closer to 10 percent. If the census doubles the Muslim population, it could give ammunition to extremists rallying popular sentiment to disenfranchise them. "The census should be a tool for empowerment, not marginalization," Myo Win says. In Myanmar, it could be a tool for both.
BOTTOM LINE -
The bottom line: Myanmar's census will likely reveal a population of 60 million split into many ethnic groups, some at odds with each other.
Before it's here, it's on the Bloomberg Terminal.
LEARN MORE