Is Nike Spending Too Much on Superstars?
by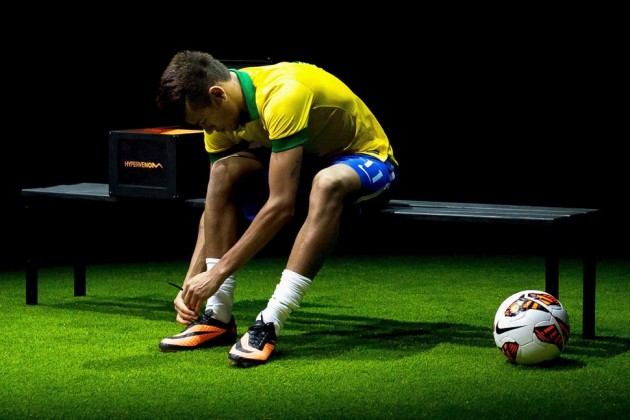 Why does Nike spend so much money advertising and endorsing athletes?
A lot of investors may have been wondering that in mid-December when the Oregon-based sports giant reported a 13 percent jump in "demand creation" costs. Nike uses that term to describe advertising expenses and the money it pours into endorsement deals with LeBron James, Manchester United, and the NFL, to name a few.
It's important for Nike, like any sports dynasty, to spend handsomely to keep its stable of superstars stocked. The company typically uses about 1 in 10 of its revenue dollars on such costs; that share climbed to 13.5 percent in the summer of 2012 and has spiked again in recent months.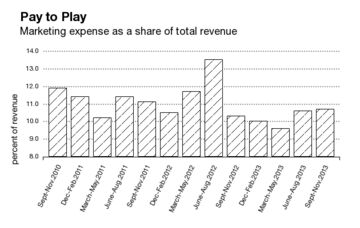 All things considered, Nike has been able to hold the line on advertising and endorsements. The problem is the company's sponsorship spending tends to come in waves—it's bumpy. Per Nike's contracts, a championship can trigger an extra windfall, and a major tournament or product release might also call for a tide of marketing cash. The launch of the FuelBand, Nike's wearable exercise tracker, the London Summer Olympics, and the company's deal to outfit the entire NFL all commanded a surge in sponsorship spending.
The rise of those expenses in September, October, and November was notable because there were no atypical sporting events in those months to command the world's attention. (The America's Cup sailing showdown is big for sailing enthusiasts, but…) Nike attributed the increased spending to its investments in global running events and its new line of soccer cleats.
Nike's latest quarterly report, due March 20, should show a busy few months for the sportswear giant. The period included the championship run of the Seattle Seahawks and the Sochi Olympics, where Nike made a publicity push with burly-looking sneaker-boots and a line of patriotic winterwear. Its silver down coats were prominent in all 28 of the U.S. podium moments—and that exposure could not have been cheap.
Nike has said its fans can expect an increase of more than 20 percent in "demand-creation" expenses for the recent quarter, which comes to an added $124 million. And the company's marketing budget won't get much of a break this summer, when the World Cup kicks off in Brazil, or if Nike closes a $1 billion bid to extend its partnership with Manchester United, which has been the buzz of the English Premiere League of late.
They say in business you have to spend money to make money. That's especially true in sports, where there's always a premium on the hottest new gear and the next breakout star. But at some point, a sound regimen turns into a harmful bid to boost performance.
Before it's here, it's on the Bloomberg Terminal.
LEARN MORE