Innovation: Floor Tiles That Can Monitor the Health of the Elderly
Following your footsteps to monitor your health
By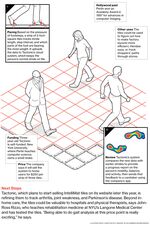 Innovators: Charles Hendee, 34, and Ken Perlin, 55  
Chief technology officer and chief scientific adviser, respectively, of six-employee Tactonic Technologies in New York.
Form and function: A strip of pressure-sensitive floor tiles made of plastic evaluates a walker's health based on footstep patterns. The tile system's cloud-based analytics can provide health updates via smartphone and assist caretakers for the elderly.