business
Ideo's Sandy Speicher Reimagines Education in Peru
Ideo reimagines the classroom in Peru
By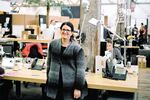 Billionaire Carlos Rodriguez-Pastor wanted to reform education in Peru, his native country. While Peru's economy has grown and stabilized, its education system remains one of the world's worst. Rodriguez-Pastor, the chairman of financial services and retail conglomerate Intercorp, envisioned a new kind of school he could build into a larger network across Peru—while keeping tuition at just $100 a month. In 2010 he bought three private schools in Lima to get started, but how do you create a school system from scratch?
"You don't want to mess this up," says Sandy Speicher, the head of education practice at Ideo, a design and innovation firm founded in Palo Alto that works with both public- and private-sector clients. It's "about understanding what design can do to help education systems progress."
Ideo is best known for developing tech products, including Apple's first production mouse and Wells Fargo's most recent ATM interface. Ideo also has a growing portfolio of education programs. After meeting someone from the firm at the World Economic Forum in Latin America in the spring of 2010, Rodriguez-Pastor enlisted the company's assistance. A few months later, the financier met Speicher and challenged her to develop a high-quality, low-tuition, scalable system.
Speicher, 39, grew up in Freeport, N.Y., and studied visual communications at Washington University in St. Louis. In 2004 she enrolled in the Learning, Design and Technology master's program at Stanford University. She landed an internship at Ideo and has been there ever since. In 2013 she and others from Ideo were hired to help San Francisco's public school system revamp its meals program. They sought to improve students' eating habits, get them to buy more lunches, and enhance learning. Ideo's recommendations focused on how, rather than what, children eat by offering varying seating options and technology-driven features, such as a menu app for students to plan their meals. The school district is looking to test the suggestions over the next year.
For Innova Schools (Rodriguez-Pastor's name for the private equity-funded system), Speicher and her team of about a dozen designers were charged with developing a curriculum, designing physical spaces, and drafting a business model. The designers traveled to Peru in October 2011 to start their research, interviewing more than 90 teachers, administrators, parents, students, and investors. A big part of the Ideo process is to ask lots of questions and help clients come up with as many ideas as the designers themselves.
"They pushed us to think about everything from how desks are set and class size to methods of teaching and even business objectives," says Rolando Núñez-Baza, Innova's innovation director, who worked as the liaison to Ideo. "They  are able to pick up on the things that you're not seeing because you're in the middle of it."
There were many heated discussions, Núñez-Baza says, given the mix of people involved—academics, investors, and the Ideo team. Speicher is "very principled and the sort of person who would come into a discussion, listen to what we were saying, and somehow elevate it," he says. "She's great at connecting dots."
Rather than offer a traditional setting, with students sitting in a classroom under a teacher's instruction, the schools take a blended learning approach. Students spend a certain number of days as part of a group but also have time on their own, to develop skills or conduct research. The physical spaces are flexible: Walls can be adjusted to accommodate more students or to break up spaces, and there are outdoor classrooms. Ideo also learned that curriculum was a challenge for the teachers, so Speicher's team developed a database of about 18,000 lesson plans.
It took six months for Ideo to form a plan. Innova has since grown to 23 schools with 13,500 students and 725 teachers, and the number of schools is expected to double over the next three years. The tuition remains at $100 a month.
Before it's here, it's on the Bloomberg Terminal.
LEARN MORE