Getting Kids' Books Where They're Most Needed
First Book, which discounts books for poor children, builds readership
by
When First Book, a nonprofit that provides books to children from low-income homes, asked Michael Jacobs in late 2010 to produce a paperback edition of the bestseller Diary of a Wimpy Kid, he naturally hesitated. He's president of Wimpy Kid's publisher, Abrams Books, and he "worried about whether we'd be undercutting hardcover sales if a less expensive paperback was also available."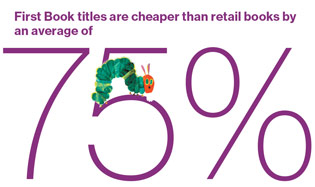 Jacobs went ahead anyway, swayed by First Book's mission—and financial terms. The Washington (D.C.) nonprofit buys in bulk from publishers, then resells books at far lower prices to schools and other groups serving poor kids. Unlike bookstores, which return unsold books, all First Book orders are final. Its $3.05 edition of Diary of a Wimpy Kid and other books in the series have sold 130,000 copies in the past three years. "It has never hurt our retail sales," says Jacobs. "It's not charity." (Wimpy Kid titles fetch $13.95 per hardcover and have sold more than 110 million copies.) Margins are thinner for the publisher, but Abrams gets a chance to cultivate future customers.
The First Book Marketplace, the nonprofit's online bookstore, is opening a big, underserved market for publishers at a time when many of their traditional bookstore customers are faltering or disappearing. "They're giving us an opportunity we wouldn't have otherwise and nurturing new and future readers," says Susan Katz, president of children's publishing at HarperCollins Publishers.
First Book Marketplace offers about 5,200 titles. Last year it sold 4 million books to 95,000 schools, the Head Start Program, after-school programs, and other educational groups in the U.S. and Canada. It expects to sell 5 million in 2014 as it starts similar programs in Latin America and India. Its sales accounted for about 2 percent of all U.S. juvenile books sold last year. About 35 percent of First Book's overall operating budget comes from Marketplace book sales; the rest comes from corporate and individual donors and from foundations.
Started two decades ago as a book bank, the nonprofit first distributed works donated by publishers. But First Book founder and President Kyle Zimmer, a lawyer, wanted to do more than dispense leftovers. In 2008 she and her staff started First Book Marketplace with the goal of offering a variety of current and classic books for babies to teenagers. Today the group works with almost every children's book publisher.
Most books sell for about $3 including shipping—about 75 percent below retail. A bilingual edition of The Very Hungry Caterpillar is $3.25. Only people who work with children from low-income families can buy books from the site.
The nonprofit has gained publishers' support in part because of its own marketing. A 2003 effort run with Random House and Universal Studios publicized Dr. Seuss's The Cat in the Hat movie while promoting literacy. Oprah Winfrey kicked off the campaign that had TV anchors and news reporters at 26 stations across the country wearing signature red-and-white stovepipe hats. The stations each received 5,000 new Random House books to distribute to groups serving children in need.
Now First Book wants publishers to create more multicultural content. A 2012 study of 3,600 children's books by the Cooperative Children's Book Center at the University of Wisconsin found that just 3.3 percent were about African Americans, 2.1 percent about Asian Americans, and 1.5 percent about Latinos. "This doesn't serve minority kids, and it also doesn't serve white kids," says Zimmer.
Last year, First Book ran a Stories for All Project, asking publishers to recommend backlist titles featuring minority characters. The winners, HarperCollins and Lee & Low Books, each received $500,000 and together offered 500 more titles to First Book. "They've been very innovative at a time when a lot of traditional customers like Borders have faded away," says Craig Low, president of Lee & Low.
"We're not doing this to corner the market, we want to crack it open," Zimmer says. "It's great to say we sold 4 million books, but there are 32 million American kids living at or close to poverty levels, many in homes where there are no books."
Before it's here, it's on the Bloomberg Terminal.
LEARN MORE