The Chinese Want Their Own Cargill
The government aims to build a global player in commodities
by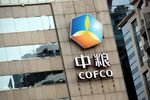 For years, China's automakers, oil and gas players, and technology companies have pursued their global ambitions by acquiring foreign companies. Now Chinese agriculture is getting its turn. On Feb. 28, China's largest food processor and grain trader, Cofco, originally known as China National Cereals, Oils and Foodstuffs Corp., announced it would buy 51 percent of Dutch grain trader Nidera. The investment gives the state-owned company access to port terminals, grain elevators, and processing facilities for soybean, wheat, and corn in Argentina and Brazil, as well as Nidera's seed business. It's "in line with Cofco strategy to become a global player in the agricultural industry," said Frank Ning, its U.S.-educated chairman, in a statement.
Days later the industry was talking about Cofco's probable next move outside its home market: purchasing the agricultural commodities trading operation of Hong Kong-based Noble Group. Two years ago, "Cofco announced it had a $10 billion war chest for future overseas deals. So now it is using that money to do deals left and right," says Teng Bingsheng, a professor of strategic management at Cheung Kong Graduate School of Business in Beijing. "I wouldn't be surprised if we see a [Noble] deal soon." Teng notes that China's sovereign wealth fund is Noble's second-biggest shareholder. Cofco declined to comment on a possible purchase of Noble assets or say how much it paid for its Nidera stake. Noble has only said it is talking to a consortium about a joint venture.
Cofco's flurry of activity fits Beijing's plan to consolidate its fragmented food industry and create a global food giant that can compete with Archer Daniels Midland, Bunge, Cargill, and Louis Dreyfus Commodities—known as the ABCD companies. China's Ministry of Finance has provided low-cost loans to help stronger agricultural enterprises such as Cofco make acquisitions abroad. "We will encourage agriculture to go global and actively use foreign resources," the finance ministry said in its annual budget report on March 5, during the National People's Congress. Such transactions are also seen as a big step toward improving China's poor food quality, says Michael Gu, a partner at the Beijing-based law firm AnJie. "Big companies have better resources to ensure their food is safe."
Making the jump to a serious global competitor won't be easy. China's agricultural companies are years behind their foreign competitors in technologies such as genetically modified seeds and food processing, as well as in efficiency and scale. In China, Cofco is the biggest in the industry: It handles food processing, manages corn imports, runs tomato farms, produces a branded cooking oil, and makes Great Wall red wine. But the Chinese company isn't as big or as efficient as Cargill. Cofco employs 120,000 workers to Cargill's 140,000; yet, though it almost matches its rival's head count, Cofco's revenue of about $32 billion is a fraction of Cargill's $137 billion. "China knows it needs global commodities," says Pan Chenjun, an analyst at Rabobank in Beijing. "Someday they hope to have a Chinese 'ABCD.' But right now the gap is just too big."
Since the 1950s, China has maintained a policy of grain self-sufficiency; Mao Zedong feared hostile foreign powers could cripple the economy through a trade embargo if the country became reliant on rice and wheat from abroad. "In China, grain is more important than gold. This is part of our Chinese traditional thinking," says Ma Wenfeng, senior analyst at Beijing Orient Agribusiness Consultants.
Early this year, China's leaders signaled an end to self-sufficiency as a policy. Although China will continue to ensure that about 95 percent of its wheat and rice is grown at home, feed grain—mainly corn fed to livestock—can now come from abroad. (Soybeans are already imported in large quantities.) That shift was in recognition of an expected surge in demand, as China's growing middle class eats more meat. Wheat and rice consumption have already plateaued, and meeting demand domestically is not a challenge. But corn imports are expected almost to double this year, to 5 million metric tons, and reach 20 million metric tons by 2022, according to the U.S. Department of Agriculture.
China's leaders want to compensate for the end of self-sufficiency by developing a Chinese champion that will get the best price on corn and soybean imports and protect China's population from dependence on foreign agrogiants. Chinese policymakers realize that "companies must go out and diversify their resources abroad," says Shefali Sharma, senior policy analyst of agricultural commodities and globalization at the Institute for Agriculture and Trade Policy in Minneapolis. "They must do that if they don't want to be completely beholden to foreign companies for their food and feed."
Before it's here, it's on the Bloomberg Terminal.
LEARN MORE