Can Rebekka Bay Fix the Gap?
Can the creative director restore an American icon?
By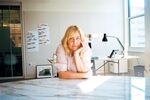 Rebekka Bay, the creative director of Gap, has strict rules about how to design a collection. She also has rules for how to break the rules. "Fashion is also about instinct and gut reaction," she says. "So if I suddenly wake up in the middle of the night and think, 'The shirt has to be frilly,' and that's what we really want, then I'm going to say, 'Of course it has to be frilly.' " The frilly shirt will be in stores this fall.
Bay is a 44-year-old Danish fashion designer who had never worked in America until October 2012, when she joined Gap, the once-celebrated brand that had been disappointing Americans for years. She had, though, studied the American uniform of khakis and jeans that Gap helped define. On a recent winter day she has on black Gap jeans (which will be available later this year) and a simple, navy blue Gap sweater (also available later this year). Her only jewelry is a gold wedding band; if she's wearing makeup, it's barely discernible. "I am happiest if I have jeans in a couple of washes, tees in black, white, and heather gray, and a seasonal coat to pull off the look."

Bay came to the attention of the fashion world in 2007 when she created COS, the minimalist clothing line owned by fast-fashion chain H&M and sold in about 90 stores in Europe, Asia, and the Mideast. At COS, the clothes are unadorned, patterns are few, the fit is structured, loose, ultramodern: It's not for everybody. At Gap, appealing to everybody is essential.
The vast abstractions of Gap—almost 1,700 stores in nearly 50 countries, sales of more than $6 billion—took a while to feel real to Bay. She works with about 160 designers in downtown Manhattan to create clothes for women, men, babies, and kids. "How do you get all these people to think like you or act like you? That was the biggest shock to my system," she says.
Bay's introduction to the company included a visit to San Francisco, where Gap was founded in 1969 by Doris and Don Fisher. She visited the Gap archives. Then she mined what she calls her intuitive archives. "Everyone has an opinion, but I had to go after what it is for me," she says. "What was my fondest memory of the brand?" Bay's first memories of Gap were its ads: the moody black-and-white photos shot by Herb Ritts and Annie Leibovitz some 25 years ago, and the Khakis Swing television commercials bursting with a late-1990s American exuberance.
STORY: Gap Dares to Ask: Are Customers Tired of All Our Sales?
Gap lost that sensibility—the idea of a casual chic uniform—not long after. In the apparel business, it's the merchants who translate the ephemera of fashion into clothes with commercial appeal. Gap's most successful merchant was Mickey Drexler, who was fired as chief executive officer in 2002 as the company's fortunes declined. Its most famous designer, Patrick Robinson, lasted four years before he was fired in 2011. As Gap drifted, misunderstood even by its leaders, competition came from all sides. H&M and Spanish fast-fashion chain Zara arrived in the U.S. Abercrombie & Fitch, American Apparel, and Forever 21 lured younger shoppers, too. J.Crew, which quickly hired Drexler, became a fashion destination. Uniqlo became the new urban Gap. And Gap, well, it became almost beside the point.
The company may have lost its relevance, but it had scale on its side—and still does. Bay has the chance to dress more people than anyone else in America, maybe the world. Her first full line, optimistically described as the "American uniform," began arriving in stores last month. February, however, with its arctic chill and frequent snowstorms, was difficult for retailers. Gap's global sales for the month fell 10 percent from February 2013. Executives noted that as the weather improved, so did sales. Fashion magazines and bloggers seem excited about what's to come: a white, raw-seam detail shirt dress; a denim floral moto jacket; striped crop pants.
"Gap spent 10 years screwing it up," says Allen Adamson, a managing director at Landor Associates, a brand consulting firm. "Fixing it requires not just doing one thing right, it's doing a lot of things right. Rebekka has to do it this spring, and the season after that, and the season after that. One collection, one ad campaign, one of anything won't be enough." Richard Jaffe, a retail analyst at Stifel Nicolaus, wonders whether her success at COS will trip her up at a mass retailer. "Can she apply that cultural intelligence to a broader audience at a more modest price? The answer is maybe."
 
 
Bay was raised in the central Denmark city of Silkeborg by her father, a portrait photographer who also worked for art museums. She spent a lot of afternoons in the museums and thought she wanted to study art history in college. What she enjoyed most, though, were the sculpture and drawing classes, which led her to learn a craft, sewing. That didn't allow for as much creativity as she thought, she says, so in 1994 she turned to design school. As part of her application, she put together a grunge collection that could fit in a suitcase for a trip to Seattle. During her interview she said she didn't intend to be a designer; she wanted to be a forecaster. "I'm intrigued by the process of fashion, the collective mind, how we all suddenly have a taste for the same things," she recalls telling the admissions officers. They let her in anyway.
A year into her three-year program, Bay, on a lark, applied for a job as a designer with a Danish menswear brand. She got the position and worked at Mr. Denmark while finishing her degree. "It gave me early insight into the commercial side of the industry, the reality," she says. "I stopped dreaming a bit earlier than my classmates. Maybe that is a regret. Maybe it was too early to be confronted with the reality of the business."
After she graduated, Bay moved to London. "It's hard to be a trend forecaster in a country with 5 million people," she says. For the next eight years she worked for several big companies, including Volvo, Nissan, and Dunhill. "I would work with strategic planning teams to merge their work with my intuition," she says. At Volvo, she helped the company design cars that appealed to women.
H&M hired Bay in 2006. The Swedish company, the second-biggest clothing retailer in Europe, had yet to come out with any other brand. Meanwhile, Inditex, Europe's largest clothing retailer and the owner of Zara, had. COS, which stands for Collection of Style, would be H&M's first. "We set out to create a high-quality collection at a medium price," says Bay. "The aesthetic was supermodern, inclusive, but not necessarily for everyone."
The collection was introduced at a catwalk show at the Royal Academy and a store on London's Regent Street in 2007. H&M doesn't break down sales, but executives said they were pleased by how well the brand did from the start. COS has become "the understated garb of the creative industries, a destination for the directional, recognizable without being conspicuous," wrote the Independent in a piece marking the brand's fifth anniversary. "It's been a phenomenal success," says Fiona Harkin, a consumer and design analyst at Stylus.com in London. "Rebekka tapped into the growing desire for a clean, pared-down, artistic aesthetic." When news spread that COS will open a store in Manhattan this spring, its first in the U.S., Vogue.com published a story titled, "Coming to America: Why Vogue Loves COS Clothes."
STORY: Gap Ditches the Minimum Wage, Gives Raises to 65,000 Workers
In the spring of 2012, Gap executives approached Bay about becoming creative director. "Her great skill is that while she's a trained designer, her experience in trend prediction means she takes a much broader view and thinks about the brand, the product, and the customer experience holistically," her boss, Steve Sunnucks, wrote in an e-mail. When Bay recalls those initial conversations with Sunnucks, global president for the Gap brand, and company CEO Glenn Murphy, she says, "What I think I heard was that they were looking for one person to create a singular voice for the brand. I don't know if that's what they said. But that's what I heard."
It was an intriguing proposal—make Gap Gap again—and no one had to persuade her to take a job that had done in so many designers before her. "Even if I didn't want the job, I had to take the job," she says. "There was no way I was going to say 'no' to the opportunity."
The Fishers started the Gap (as in generation gap) to sell Levi's jeans, records, and tapes. The company was immediately successful, but it took years before it was influential. For that, Don Fisher needed Mickey Drexler. Fisher understood real estate and operations; Drexler was the merchant prince. Starting in 1983, they worked together for almost two decades, building a retail phenomenon that transformed the way Americans dressed down.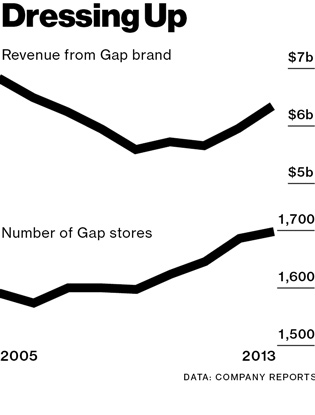 After Drexler was dismissed in 2002, Fisher brought in his opposite. Paul Pressler, who had been chairman of Walt Disney's amusement parks and resorts division, knew little about fashion or the creative process. He believed in market research and cost control; amid an economic boom in the U.S., sales at Gap fell quarter after quarter. (The company also owned Banana Republic and Old Navy and has since added Piperlime, Athleta, and Intermix.) In early 2007, after yet another disappointing holiday season, Pressler resigned. "They had made khakis cool, but then you could get khakis everywhere. They had become a victim of their own success," says Marie Driscoll, an independent retail analyst. "Their brand became meaningless."
Pressler's eventual replacement, Murphy, had run Canada's largest drugstore chain, Shoppers Drug Mart, for six highly profitable years. "Murphy believes in perpetual cost reduction," says Barbara Wyckoff, an analyst at CLSA Americas. He figured out how to run the company more efficiently, which became all the more important as the recession took hold. He also shrunk the number of stores in the U.S. while expanding internationally. North America, though, remained Gap's largest market by far. There, the company became dependent on discounts; the quality of its apparel seemed to have cheapened; and, even under the guidance of Robinson, who had been a designer at Perry Ellis and Paco Rabanne before joining Gap, its clothes simply did not catch on. Sales at existing stores in North America fell every year from 2007 through 2011.
So Murphy moved the design, production, and marketing teams to a new global creative center in New York, shook up the leadership team (five executives departed), and fired Robinson. Then he hired a Dane to restore the all-American brand. "I think it was very brave," Bay says, smiling.
 
 
When Bay arrived in October 2012 the creative center had become a reality, and sales of colored jeans had improved the mood at Gap considerably. The global head of marketing, Seth Farbman, had come up with an ad campaign, Be Bright, that won attention for its collaboration with several fashion blogs. Murphy's efforts had cleaned up the balance sheet, and he later agreed to spend money on TV ads for the next big campaign, the first time he'd done so in four years. Global sales at existing stores and online grew 3 percent for the year. Bay arrived not to crisis, but to turnaround momentum.

Her first presentation focused on classic Gap jeans and white shirts, which she found in the company archives, and other pieces with other labels she would rather not name. "I started with the basics," she says. "It was the T-shirt and denim—jeans, always jeans. Oh God, when I came to the Gap, I was like, 'Where is the denim?' "
Next, she showed her designers jackets—bomber jackets, moto jackets, parkas, peacoats. "A peacoat is a very iconic piece," she says. "It's bigger than the peacoat I design. That's how you define iconic pieces. They're almost like concepts. They're seasonless, ageless." There were peacoats for women, men, and kids last autumn, and there will be more this autumn. "My role is to balance creativity and commerciality," she says. "Good design is less about taste but more about integrity. … I think we can do less, and do it so much better, that it is going to be more productive for us."
Thus, her rules for creating a collection. "You need a very strong foundation," she says. "You have boundaries, and you can only—and I'm kind of rigid about this—you can only work within them. First, you design the most iconic piece. Then you can maybe create a seasonal version of that. If anyone is going to go beyond that, I have to agree to it." She talks about a collection as a pyramid: the basics, a layer of clothes "that are commercial but also exciting," and at the top, "the risky business." There are boxes to check off; it's banal, she says, but "I'm very strict about it."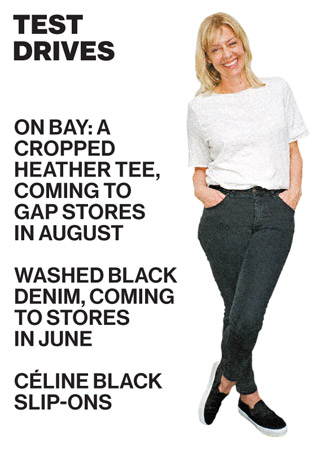 "The first time I presented colors, the designers were like, 'Oh, they're not very clean.' " Bay was used to colors that were murky, moody, European, and had to adjust to an American sensibility. "I created a palette which is seasonless, meaning it's going to live with us always. So we have the same navy blues, the same reds, the same beiges, the same grays." The palette hangs on the white wall behind her white desk.
To feel comfortable working on a larger scale, Bay made up some other rules. "I was in a sketch review with 20 people, and I said, 'Everyone who doesn't have an opinion can leave the room now.' I think everyone was shocked." No one left, and more people did speak up. "I'm not very hierarchic," she says. "I mean, I'm Danish."
She asks everyone in the room if they would wear what they're showing her. "I have been sitting in men's sketch reviews where someone is proposing something that's almost too funny or too fashiony. All I have to do is ask the men in the room, 'So who is going to buy this pant?' " But if there's something that the 20 people in the room really want, Bay believes there's a reason. "I was the one six months ago who was saying, 'We want more black denim.' And now I'm also the one saying, 'We need something else,' " she says with a sigh. "I've had my fill, and it's not even in stores yet. But that's how it should be. I should want it before everyone else. Ideally, I should want it 6 to 12 months before everyone else."
Bay's partner at Gap is Michelle DeMartini, an energetic, 17-year veteran of the company who became the head of merchandising in July 2013. The relationship between designers and merchants can be fraught. One has her eye on the most conventional and reliable of customers, the other on the most daring. "I'm representing the consumer, and Rebekka is representing the future," says DeMartini. "And sometimes that creates conflict about what risks we want to take." So far, she says, they both respect the boundaries. "I don't think I'm a designer, and she doesn't think she's a merchant."

Bay and the designers are on the 11th floor; DeMartini and the merchandisers are on the 13th. "Rebekka and her team need the space and freedom to design, and we need it, too," says DeMartini. "If we didn't, that would be a problem." Before the merchandisers moved into the creative center, they were in San Francisco. "We would have had to fly in to see the collections, and it was this unveiling," she says. "I want to be surprised at how it all came together, but not surprised like, 'What the heck?' " Now, she says, they check in with each other weekly.
When Bay wanted to reintroduce acid-washed jeans from the 1980s, "Some of the older team members were like, 'Eew,' " says DeMartini. "But I said we've got to go for it." The idea of high-rise jeans didn't go over too well at first, either. "Everyone's nervous about high rise, but I'm relieved," says DeMartini. "I think people had this impression of high rise, that it was going to be the Miley Cyrus or Taylor Swift high rise up to here," she says as she points to just below her breasts. "But our customers are smarter than that." Gap won't give any specifics about how the jeans are selling.
There have been questions of style where DeMartini has prevailed. "I have to make a decision about when to cut off something for our customers," she says. Bay was ready to move on from the low-rise skinny jean, but customers weren't. "Five years ago I could not get our customers into skinny jeans, and now we can't get them out," says DeMartini. "So if I say to Rebekka, 'Listen, our customers aren't quite ready. We need to stay within this business for a little bit longer,' she just 100 percent agrees."
During a tour of Gap's Herald Square store in New York in February, DeMartini pointed out the cuffed skinny jeans, along with the destructed jeans—whitewashed, torn, airy—jeans with stripes at the cuff, jeans in light washes, chambray shirts, and chambray shirts with what she calls a discharged print (a denim print on denim fabric). "We probably have 12 to 20 blue shirts and 6 to 10 white shirts. They're effortlessly cool," she says. "We're a denim brand, but we're really a casual brand. It's a lived-in attitude." That, it turns out, is the theme of Gap's new advertising campaign.
A few weeks later, Gap opened its first store in Taipei, and people lined up to enter. Bay says she knows what customers around the globe want: an American look and feel and spirit. "That's not founded in any research. That's just superintuitive."