Australia's Economy Survives a Slowdown in China
Construction and employment are rebounding, aided by rate cuts
by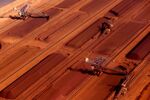 For better or worse, investors have come to regard Australia as an economic satellite of China. The gravitational pull exerted by China's appetite for Australian iron ore, wheat, and other commodities was the main reason the nation of 23 million managed to avoid recession during the global financial crisis. Yet the latest data show that the two economies may be decoupling. For Australia, the timing couldn't be better: Judging from the most recent numbers on factory output, investment, and retail sales, China may have a difficult time attaining the 7.5 percent annual growth target set by Premier Li Keqiang.
Analysts point to Australia's rebounding jobs market and faster growth as signs that the country is defying the slowdown of its main trading partner. Citigroup's Economic Surprise Index, which measures the gap between data reports and analyst estimates, gave a reading of 50.3 in March for Australia, up from only 9.3 three months earlier. (A positive reading means economic reports have been coming in above estimates.) The Citi index for China has been moving the opposite way, reaching –110.1 in March.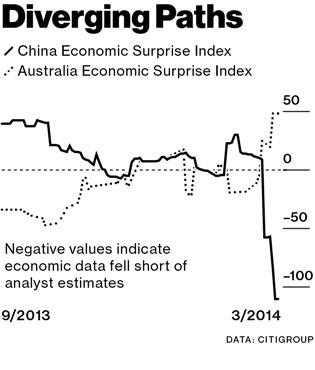 Economists credit the Reserve Bank of Australia with steering the economy through the fading of the China-fueled mining investment boom. The central bank cut borrowing costs by 2.25 percentage points from late 2011 through August last year, to a record-low 2.5 percent, in the process nudging up home prices and building approvals.
"Why are we not following China? Because mining is not the main driver of Australia's economy in normal times," says Paul Bloxham, chief Australia economist at HSBC Holdings in Sydney. The RBA's rate cuts have supported a process of rebalancing in which the housing and service industries are recovering their roles as primary economic engines, Bloxham says: "Australian monetary policy is still effective. It's still working."
Despite a cooling China, Australian employers added 80,500 full-time jobs in February, the most since just after the 1991 recession. Companies that have announced plans to expand payrolls include Woolworths, the country's largest retailer, and Coles Supermarkets. The positive employment numbers prompted Bill Evans, an economist at Westpac Banking, to drop his prediction of further rate cuts.
Australia's links with China tightened over the past five years as exports almost tripled. Shipments of iron ore, to produce steel for apartment and office construction, made up nearly half of its exports to China in 2012-13. They're poised to fall this year, as China's leadership dials back infrastructure spending and new supplies of the mineral come onstream, depressing prices.
Australia's central bank remains fairly bullish on China over the long term, however. In its latest set of minutes, the RBA noted that urbanization, coupled with "likely increases in the size and quality of housing," will support Chinese demand for steel for years to come. Australia's economy may no longer be tracking China's as closely, but policymakers in Canberra are not heralding a new planetary order.
Before it's here, it's on the Bloomberg Terminal.
LEARN MORE