Robert Strauss, Top Washington Trouble-Shooter, Dies at 95
Laurence Arnold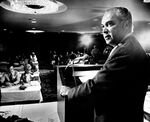 Robert S. Strauss, a consummate Washington power broker, Democratic Party leader and trusted counselor to presidents of both parties, has died. He was 95.
He died yesterday at his home in Washington, according to his son, Robert A. Strauss of Tucson, Arizona. No cause was given.
Before moving to Washington in 1970, Strauss co-founded what is now one of the largest U.S. law firms, Akin Gump Strauss Hauer & Feld LLP.
A loud, sometimes profane backslapper, he made his name in the nation's capital as a persuasive back-room trouble-shooter, a virtuoso of hardball negotiation and gentle suasion.
Among his official roles, he led the Democratic National Committee from 1973 to 1977 and Jimmy Carter's presidential campaigns in 1976 and 1980. He was U.S. special trade representative and envoy to the Middle East during the Carter administration. Under Republican President George H.W. Bush, he served as the final U.S. ambassador to the Soviet Union, then the first ambassador to Russia after the Soviet communist system collapsed.
All the while, he was building a long list of friends and contacts in both parties.
"Bob was one of the greatest leaders the Democratic Party ever had, yet presidents of both parties relied on his advice, his instincts, and his passion for public service –- not to mention his well-honed sense of humor," President Barack Obama said in a statement.
'My Strength'
Strauss said personal networking turned out to be his most important skill, legal degree notwithstanding. "My strength was people," he said in a 2005 interview with the New York Times.
Ideologically, he was a "great compromiser" committed to "strengthening the center," as Time put it in 1974. On occasion, liberal Democrats questioned his devotion to party ideals.
His specialty was navigating the political predicament.
Carter, seeking to lessen his involvement in the fractious dealings between Israelis and Palestinians, named Strauss as his emissary to Middle East peace talks in 1979.
"My own preference is that Strauss take charge of dealing with the Israelis, American Jews and Arabs," Carter wrote in his diary on Aug. 3, 1979, according to his memoir. Carter would set policy, "and Strauss can carry it out and deal with these diverse groups with more political impunity than I can."
'Loyal Friend'
After Carter lost his re-election bid, he held a White House reception to honor Strauss and quipped, "Bob is a very loyal friend. I noticed that he waited a whole week after the election before he had dinner with Ronald Reagan."
True to form, Strauss did make himself available to Reagan during a low point in his presidency.
In 1986, at the invitation of members of Reagan's inner circle, including first lady Nancy Reagan, Strauss visited the White House to warn the president that he was becoming isolated by the fallout of the Iran-Contra scandal.
Strauss bluntly urged Reagan to fire his chief of staff, Donald Regan, Nancy Reagan recalled in her memoir. She paraphrased Strauss: "You're in a hell of a mess, Mr. President, and you need a chief of staff who can help get you out of it. He's not the man you need."
"I had never heard anyone who wasn't in Ronnie's inner circle come in and talk to my husband as strongly as Bob Strauss did that evening," Nancy Reagan wrote.
Following Advice
The president fired Regan a few months later, replacing him with a person Strauss had recommended -- Howard H. Baker Jr.
"A number of presidents have sought my advice," Strauss said in a 2003 interview with the American Academy of Achievement. "Some of the advice is good and some of it not so good, and some they took and some they didn't take."
Regardless, he added, "I like the idea that people say Bob Strauss is a wise man or a fellow who counsels presidents."
Robert Schwarz Strauss, the son of German-American Jews, was born on Oct. 19, 1918, in Lockhart, Texas, and grew up in Stamford, a small town about 190 miles (300 kilometers) west of Dallas.
His father, Carl, ran a dry-goods store. His mother, Edith, bragged that Robert, the first of her two sons, would enter politics and become Texas's first Jewish governor, Strauss recalled in an introduction to the book "Lone Stars of David: The Jews of Texas."
FBI Agent
As a student at the University of Texas at Austin, Strauss volunteered for Lyndon Johnson's first congressional campaign. In his final year at the university's law school, he met with a recruiter for the Federal Bureau of Investigation and was hired as a special agent, serving from 1941 to 1945.
He and his wife, Helen, settled in Dallas in 1945. With fellow former FBI agent Richard A. Gump, he founded the law firm that today is Akin Gump. Gump died in 2003.
In 1962 Strauss helped law school friend John Connally, who had been U.S. Navy secretary, become governor of Texas. Connally appointed Strauss to the Texas Banking Commission.
The 1963 assassination of President John F. Kennedy elevated Johnson to the presidency, and Strauss became part of the president's network of advisers.
On one occasion late in 1968, Johnson asked Strauss his thoughts on the Vietnam War. In later years, Strauss described his regret at not answering honestly about the toll the war was exacting.
Personal Pledge
"I told him everything I thought he wanted to hear, not one word of which did I really believe, and I felt so dirty when I got through, I swore I'd never do anything like that again if the Lord would ever forgive me," Strauss said.
Strauss became treasurer of the Democratic National Committee in 1970 and opened a Washington office of his law firm. In 1973 he took over the reeling party in the wake of Republican President Richard Nixon's rout of George McGovern.
As chairman, Strauss rebuilt party finances and gave Carter, then governor of Georgia, a national platform by naming him campaign chairman for the 1974 midterm election.
After Carter clinched the 1976 Democratic nomination for president and enjoyed a peaceful convention managed by Strauss, he named Strauss chairman of his general election campaign.
As president, Carter appointed Strauss as special representative for trade negotiations, then gave him the added responsibility of special counselor on inflation -- to "speak for me in the public interest," as Carter put it.
Lucrative Practice
Following Carter's loss to Reagan in 1980, Strauss returned to his law firm, where, over an 18-month period in 1990 and 1991, he earned $4.5 million. Taking a huge pay cut, he accepted an offer from the first President Bush in 1991 to become U.S. ambassador to the Soviet Union.
He had a front-row seat as America's Cold War adversary broke apart. Arriving in Moscow to be Bush's intermediary to the market-reforming Soviet president, Mikhail Gorbachev, Strauss pivoted to become the first U.S. ambassador to the new Russia and its founding president, Boris Yeltsin. Strauss argued for a quick influx of aid from the West to stabilize the nascent democracy.
Back in the U.S. in 1992, Strauss served as chairman of the U.S.-Russia Business Council until 2004. The Robert S. Strauss Center for International Security and Law opened at the University of Texas in 2007.
Strauss's wife of 65 years, the former Helen Jacobs, died in 2006. In addition to son Robert, they had another son, Richard, and a daughter, Susan.
Before it's here, it's on the Bloomberg Terminal.
LEARN MORE