With Oculus Rift and Project Morpheus, a Virtual Battleground May Finally Be Here
Sony prepares to take on virtual reality darling Oculus Rift
By
Virtual reality has never quite made it to the mainstream. While movies such as Tron and The Matrix conjured immersive, action-packed renditions of computer-simulated environments, efforts to sell workable VR have failed because the systems were expensive and required bulky headsets that left many players woozy and disoriented. "Virtual reality has literally been around for 25 years," says Michael Pachter, an analyst at Wedbush Securities. "The reason it hasn't happened is that it's impossible to get people through that seasick feeling."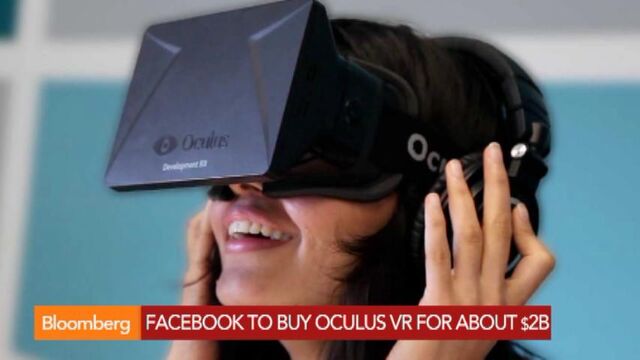 Now, after decades of false promises, virtual reality is starting to feel a lot more real. Much of the credit belongs to geekily named startup Oculus VR, whose ski goggles-like prototype, the Oculus Rift, has gamers spellbound with anticipation for its release. At the annual Game Developers Conference in San Francisco on March 19, Oculus unveiled a prototype that features a high-definition organic light-emitting diode screen with a nifty trick called positional tracking. When the user leans forward while wearing the headset, she also leans forward in the virtual world and sees her surroundings from that different vantage point. "People want to experience the impossible," says Palmer Luckey, Oculus's 21-year-old founder. "Virtual reality is the ultimate conclusion of that human desire."

The company has drawn some credible competition. On March 18, Sony announced Project Morpheus, its long-term effort to develop a VR headset for the PlayStation 4. Sony's idea is more social—displaying the virtual world from its glowing blue headset on a TV screen for others to watch. Morpheus also uses the PS4 camera to replicate user movement in-game. "Seeing how the development community was starting to respond to Oculus Rift gave us a prompt to take something we were experimenting on and make it more of a product," says Sony Computer Entertainment President Andy House, adding that Morpheus won't be on shelves this year.
Both companies face plenty of skeptics, partly because they don't have release dates. Oculus says only that it won't rush the Rift to stores before it's ready and that it plans to charge a price comparable to its new $350 developer kit, which is meant for software designers who want to make Rift games.
Still, investors have responded to VR's promise. Oculus has raised more than $91 million, including a $75 million round led by Andreessen Horowitz in December and $2.5 million worth of preorders from a Kickstarter campaign in 2012. (Bloomberg LP, the parent of Bloomberg Businessweek, is an investor in Andreessen Horowitz.) Most of Oculus's 100 employees work near the John Wayne Airport in Santa Ana, Calif., in an office park that's festooned with old game controllers and models of alien creatures. In one corner, six MakerBot 3D printers churn out prototype parts.
Luckey, a home-schooled gearhead, started out building Tesla coils in his parents' Long Beach (Calif.) garage. While still in his teens, he made tens of thousands of dollars repairing and reselling used iPhones. He plowed that money into old VR systems, an obsession born of cyberpunk novels such as Snow Crash. When a purchase arrived, he'd refurbish it, only to be disappointed. "There was actually nothing out there that lived up to my expectations," he says.
So Luckey designed his own system, taking advantage of advances in smartphone screens, sensors, and gyroscopes. His first prototype resembled a box with eyeholes covered in electrical tape. He caught a break when his e-mail to video game legend John Carmack got a response. Carmack, who designed Doom and Quake in the 1990s, helped Luckey demo his prototype at a trade show in 2012. Last year he became Oculus's chief technical officer. Software developer Brendan Iribe joined as chief executive officer about a year after he sold his company Scaleform to Autodesk.
Oculus has come a long way from Luckey's first headset. In EVE: Valkyrie, a space-fighting simulation game developed for the Rift by Reykjavik-based CCP Games, players see themselves in the cockpit of a spaceship. They can peer through a window at the combat zone, turn for a 360-degree view, and look downward to see their own virtual legs nestled against the pilot's chair. Owen O'Brien, who is producing the game from CCP's office in Newcastle, England, says he was a VR skeptic until he put on the Rift. "It wasn't about playing a game," he says. "It was about being transported somewhere else for a while."
Sony, which has a market valuation of more than $17 billion, can afford to outspend Oculus while the startup plugs away at its first consumer product. But Iribe says he isn't worried about Project Morpheus, pointing to Sony's uninspiring motion controller, the PlayStation Move. Once the Rift is on the market, he says, his focus will be on shrinking the headset down "closer and closer to sunglasses" and expanding its use beyond the usual sports games and shoot'em-ups to include virtual travel, education, architectural modeling, and teleconferencing. The Oculus team wouldn't discuss another use that even VR skeptics consider obvious. "For the record, the killer app for this is sex simulation," says Wedbush's Pachter.
Before it's here, it's on the Bloomberg Terminal.
LEARN MORE