N.Z. Growth Exceeds 3% as Wheeler Set to Keep Raising Rates
Tracy Withers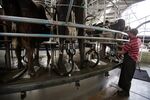 New Zealand's annual economic growth exceeded 3 percent for a second straight quarter, buoyed by dairy exports, adding to signs of increasing inflation pressure that may require higher borrowing costs.
Gross domestic product increased 3.1 percent in the fourth quarter from a year earlier, Statistics New Zealand said in Wellington today. That's slower than the revised 3.3 percent pace in the third quarter and matches the median forecast of 11 economists in a Bloomberg survey. GDP rose 0.9 percent from the third quarter, when it increased a revised 1.2 percent.
Surging milk production, construction and exports mean New Zealand's economy is expanding faster than its capacity, which may stoke prices. The central bank, which forecasts inflation will reach the midpoint of its target band by the second quarter, last week became the first among developed nations to raise interest rates this year and signaled more will follow.
"The RBNZ is set to keep moving the cash rate toward less stimulatory settings," Mark Smith, senior economist at ANZ Bank New Zealand Ltd. in Auckland, said in a note. "The outlook is for a solid pace of expansion in 2014, which confirms the cash rate should be lifted toward the 4.5 percent neutral zone."
New Zealand's dollar dropped to 85.26 U.S. cents at 2:35 p.m. in Wellington from 85.65 cents before the report.
Cash Rate
RBNZ Governor Graeme Wheeler on March 13 raised the official cash rate a quarter percentage point to 2.75 percent, noting the economic expansion had "considerable momentum" boosted by rising export prices, the NZ$40 billion ($34 billion) rebuild of earthquake-damaged Christchurch and the strongest immigration in 10 years.
The economy can grow no faster than 2.75 percent a year without inflation starting to accelerate, Wheeler said.
The RBNZ, which expected annual GDP growth of 3 percent in the fourth quarter, forecasts an acceleration to 3.9 percent by mid-2014, according to its monetary policy statement.
"We are making good progress but we need to remain focused on making the enduring structural changes needed for New Zealand to reach its economic potential," Finance Minister Bill English said in an e-mailed statement.
Eleven of 15 economists surveyed by Bloomberg News last week forecast Wheeler will raise the benchmark rate to 3 percent next month. The rate will rise to 3.5 percent by the end of the year, according to the survey median.
Growth Revision
Third-quarter growth was revised down from the 1.4 percent previously reported, while annual growth through September was revised down from 3.5 percent.
In the fourth quarter, growth was driven by increased manufacturing and purchases of machinery from wholesale suppliers. Manufacturing rose to its highest since early 2006, led by machinery, food and beverage production.
The expenditure measure of GDP rose 0.6 percent in the fourth quarter, led by household spending and exports, today's report showed. Investment also increased.
Spending was boosted by a sixth consecutive increase in purchases of durable goods such as clothing and televisions, the statistics agency said. Spending on services such as housing and gambling increased.
Exports, which make up about 30 percent of the economy, were driven by dairy products sourced from inventories built up in the previous quarter, the statistics agency said. Imports were little changed.
Business spending on plant, machinery and equipment rose to a record. Investment in roads, bridges and other infrastructure increased, while housing investment was little changed.
Before it's here, it's on the Bloomberg Terminal.
LEARN MORE