FedEx Cuts 2014 Forecasts on Storms as CEO Scolds Retail
Mary Schlangenstein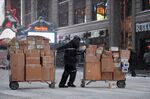 FedEx Corp., operator of the world's largest cargo airline, cut its 2014 profit forecast, blaming unseasonably harsh winter weather and online retailers' sloppy packaging practices.
The company trimmed its profit forecast for the full year to a range of $6.55 to $6.80 a share, from $6.73 to $7.10. That falls short of analysts' estimates of $6.90 a share, according to data compiled by Bloomberg.
FedEx and United Parcel Service Inc. both missed some holiday deliveries in December as a surge of last-minute Christmas orders combined with snow, ice and frigid temperatures that grounded flights and snarled highway traffic. While carriers took the brunt of the blame, Chief Executive Officer Fred Smith said there were also quality issues with the retailers.
"It is a big part of the e-commerce business that really didn't get enough publicity last year because they were an integral part of the problems even more than the weather and the carrier performance," he said.
FedEx "kept getting pinged with the big problem in e-commerce," Smith said on a conference call with analysts yesterday. Boxes weren't packed well, labels weren't properly affixed and sometimes retailers claimed packages had been shipped to FedEx or UPS when in fact they hadn't, he said.
FedEx expects a profit this quarter of $2.25 to $2.50 a share, a range that includes current analyst estimates averaging $2.33. Adjusting for weather last quarter, FedEx's annual guidance is unchanged, said Art Hatfield, a Raymond James Financial Inc. analyst.
Economic Bellwether
The shipping company, considered a bellwether of the U.S. economy because of the variety of goods it delivers, gave a more optimistic outlook for growth for the rest of this year and next.
U.S. industrial production should grow 3.4 percent this year and 3.7 percent in 2015, up from December estimates of 3.1 percent and 3.6 percent, respectively, said Mike Glenn, executive vice president.
The company also raised its forecast for U.S. economic growth this year to 2.6 percent from 2.4 percent, while holding its 2015 outlook steady at 3 percent. Its global economic growth prediction of 2.8 percent this year remained the same, while the forecast for next year was trimmed to 3.1 percent from 3.2 percent it projected in December.
Earnings per share of $1.23 in the quarter ended Feb. 28 trailed the $1.46 average of analysts' projections, according to data compiled by Bloomberg. Operating income was reduced by an estimated $125 million as a result of the winter weather, the Memphis, Tennessee-based company said.
Some Slack
Sales of $11.3 billion also fell short of the $11.43 billion expected by analysts.
"We believe the investment community will give the company some slack in terms of the lower-than-expected results as weather is clearly out of the company's hands," Helane Becker, an analyst at Cowen & Co. wrote in a note to clients. She rates the shares market perform.
Winter weather reduced packages at FedEx Express by 40,000 a day and cut FedEx Ground shipments by 100,000 a day, the company said.
Still, FedEx sidestepped some of the problems experienced at UPS, which saw fourth-quarter costs rise by $150 million due to the missed deliveries. Refunds to customers reduced quarterly revenue by $50 million.
Cost Cuts
The setback won't affect FedEx's progress toward a goal of cutting costs by $1.7 billion by the end of 2016, primarily at its FedEx Express airline unit. The three-year profit improvement plan was put in place to counter a shift by customers away from expensive priority air deliveries to cheaper means.
"Cost management is not just at Express, but across all of FedEx," Chief Financial Officer Alan Graf said on the conference call. "We're seeing a lot of traction. I'm pretty excited about what we're going to deliver in 2015 and, to a greater extent, in 2016."
Higher fuel costs and slower global economic growth than it expected when setting the plan have forced the company to find other ways to reduce operating costs, Graf said. The company earlier trimmed flights to Asia, implemented a voluntary retirement plan involving 3,600 workers and grounded older, less efficient planes.
The company's full-year outlook doesn't include benefits from a record 32 million share repurchase plan it authorized in October.
The stock was little changed at $138.38 at the close in New York. FedEx has fallen 3.7 percent this year, compared with a 0.7 percent gain in the Standard & Poor's 500 Index.
Before it's here, it's on the Bloomberg Terminal.
LEARN MORE