Will the Government Rescue GM Again?
The company faces lawsuits and image worries after failing to fix ignition safety problems dating to 2001
Paul M. Barrett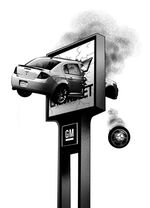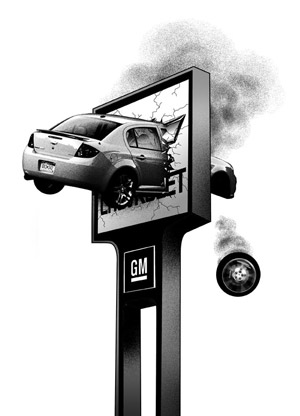 For more than four years, General Motors struggled to shed the loser image of a corporation that needed a $50 billion taxpayer bailout in 2009 to survive a self-inflicted near-death experience. Now, in the wake of a February recall of 1.6 million Chevrolet Cobalts and other discontinued models, GM's much-derided status as "Government Motors" has unlikely appeal. Company lawyers are counting on its 2009 bankruptcy arrangements as a bulwark against litigation that grows more ominous by the day following GM's admission that it knew of faulty ignition switches more than a decade ago and failed to fix the problem.
Whether or not the GM legal strategy holds up, the recall mess has revived the company's reputation for unreliability and created a crisis for Mary Barra, its new chief executive officer and the first woman to lead a major auto manufacturer. The carmaker took a $300 million charge in its first quarter for various recalls, including a new one announced on March 17, covering 1.55 million newer models such as Buick Enclaves and GMC Acadias that have faulty air bags and Cadillac XTS sedans with brake flaws that may result in overheating or engine fires. The company also named GM veteran Jeff Boyer to the newly created position of vice president of global vehicle safety. Detroit has had better months.
For the moment, the balky ignition systems pose the most serious legal threat to GM. If bumped or weighed down by a heavy key chain, the switch can shut off engines and power systems and disable air bags, the company has acknowledged. For drivers, having the car go stone dead in 60-mph freeway traffic is nothing short of terrifying. For plaintiffs' lawyers, the scenario translates to courtroom gold.
The manufacturer so far has linked 31 crashes and 12 deaths to the defects found in certain smaller Chevrolets, Pontiacs, and Saturns made from 2003 to 2007. In cold statistical terms, a dozen deaths over a decade doesn't sound like a disaster. Some 30,000 people die every year on America's roads; manufacturers in the U.S. have recalled 38 million cars in just the past two years. None of the defective GM models are in production anymore, so the universe of ignition-related fatalities should be limited.
What's the big deal, then? First there's the dismaying fact that GM has acknowledged that some employees have known about the ignition flaw since 2001 and didn't fix it. "The process employed to examine this phenomenon was not as robust as it should have been," the company has said with exquisite understatement. Having quietly settled a couple of ignition defect lawsuits over the years without admitting liability, GM had already turned over thousands of pages of internal documents to plaintiffs' lawyers, some of which show worried discussions about the problematic switches among engineers. Combine consumer deaths with an admitted failure to act promptly—the fatality list is bound to grow now that trial lawyers are advertising for cases—and you're looking at allegations of a coverup: Which top executives knew what, and when did they know it?
GM refuses to answer inquiries about how many suits have been filed since the recall, but you can bet the figure will grow in coming weeks. The U.S. Department of Justice has begun a criminal investigation to supplement probes by the U.S. Department of Transportation and various congressional committees. The dirty laundry will come out.
Not to worry, say Wall Street analysts and attorneys sympathetic to GM. The company's bankruptcy restructuring buried pre-2009 liabilities, including those related to product defects, in the same grave that contains the remains of the "old" GM. The "new" GM got the productive assets and operations, free and clear. In a March 12 research note, JPMorgan Chase analyst Ryan Brinkman predicted the financial costs of the ignition-related recall would be "de minimus," a mere trifle. Harvey Miller, GM's lead outside bankruptcy lawyer, says the liability shield will hold. The time to litigate pre-2009 claims, Miller insists, "has long passed."
Well, maybe. The prospect of showing corporate deceit—and the accompanying potential of punitive damages—has plaintiffs' lawyers preparing a frontal assault on the Chapter 11 defense. On March 14, Bob Hilliard, an injury attorney in Corpus Christi, Tex., filed a proposed class action in federal court seeking $6 billion to $10 billion for the lost value of cars affected by the February recall. Hilliard separately represents the families of two teenagers who died in a 2006 crash of a Chevy Cobalt in Wisconsin. He alleges that the company improperly failed to disclose the extent of its potential liability during Chapter 11 proceedings.
"If you are aware of potential exposure to litigation and you don't reveal it, that's fraud," he told Bloomberg News. "I'm going to go back to that bankruptcy judge and say, 'You have to undo this, the liability of the old GM, because it was the new GM's continued coverup after the bankruptcy that allowed people to be hurt or killed.' " Hilliard's small firm, Hilliard Muñoz Gonzales, is advertising online for more pre-2009 cases; so are larger plaintiffs' firms such as Lieff Cabraser Heimann & Bernstein in San Francisco.
This kind of litigation tends to snowball, as Toyota Motor discovered in 2009 and 2010. After years of unexplained crashes, the company recalled more than 10 million vehicles because of floor mats that could get tangled with accelerator pedals and defects with the pedals themselves. The recalls led to lawsuits alleging another problem: that some Toyotas hurled themselves into walls and trees because of a software flaw. In its defense, Toyota suggested that many of the complaining drivers had stamped on the accelerator when they meant to hit the brake.
Government investigations found no Toyota software bug, but the suits kept coming. Last year, without conceding wrongdoing, the company agreed to pay $1.6 billion to settle litigation related to the reduced value of its autos. Then, after a federal judge in Santa Ana, Calif., signaled he'd allow jurors to assess conflicting evidence on the software issue, Toyota agreed in December to begin talks with plaintiffs' attorneys to resolve claims tied to injuries and deaths. (Not coincidentally, the Hilliard and Lieff Cabraser firms were involved in the litigation against Toyota.) On March 19, it reached a $1.2 billion settlement with Justice, the largest criminal penalty levied on an automaker in the U.S.
Adam Epstein, a lawyer turned boardroom adviser, sees GM as even more vulnerable than its Japanese rival. "In the case of Toyota," he says, "the specter of operator error muddied the waters for plaintiffs. With GM, like Ford Pinto, there is a defect of which the manufacturer had considerable prior notice and elected not to act. The GM ignition matter is to the plaintiffs' bar what the iconic poster of Farrah Fawcett was to teenage boys in the 1970s."
Apart from any potential courtroom damages, GM faces the likelihood of long-term reputational harm. Consumers don't care whether the company's attorneys can plausibly argue that Chapter 11 makes it immune from older lawsuits, Epstein argues. "If the social media complex pillories GM for the ignition issue," he says, "the finer points of bankruptcy law won't matter."
Toyota, which historically has enjoyed a far stronger reputation than GM for reliability, suffered from the recalls. After the complaints surfaced, its U.S. retail market share fell from 16.3 percent in 2008 to 12.4 percent in 2011, before rebounding to 13.5 percent last year.
Barra, who became GM's chief executive on Jan. 15, has said that while she is "personally sorry," she didn't know the details of the ignition problem until Jan. 31. If that's true, it's truly scary. An engineer by training, she served in senior executive positions the whole time lower-level employees were fumbling around with the deficient switches? People at her level were kept in the dark?
Barra now faces the dual challenge of fending off a litigation onslaught and convincing the marketplace that the new GM really is a different company making better cars. It won't be easy, and as a holdover from the sclerotic old GM, she's not ideally suited to proclaim that a better day has dawned on Detroit's largest manufacturer. "There's no way she's going to come out of this looking like some kind of hero," says Dave Sullivan, an industry analyst with AutoPacific. "The best thing is to be honest and upfront and hopefully put this to bed as quickly as possible." Expecting a quick fix, though, seems naive.
Before it's here, it's on the Bloomberg Terminal.
LEARN MORE