Bearish Bets on Japan Stocks Jump to Highest in 5 Years
Anna Kitanaka, Yoshiaki Nohara and Satoshi Kawano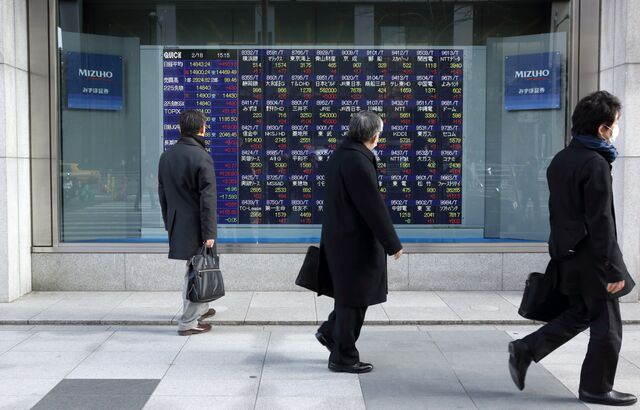 Bearish bets on Japanese stocks surged to the highest in at least five years, signaling investors predict further declines for a market that's already the developed world's worst performer this year.
Short sales comprised 36 percent of total trading on the Tokyo Stock Exchange yesterday, the highest since the data series began in October 2008. Paper manufacturers were the most-shorted industry, followed by banks and brokerages, the exchange data show.
The Topix index fell 11 percent this year through yesterday, the steepest drop among 24 developed markets, as the yen strengthened and investors weighed Prime Minister Shinzo Abe's progress in spurring a sustainable economic recovery. An index of global equities last week erased its 2014 advance amid signs of a deepening slowdown in China and mounting tension in the standoff between Russia and the West over Ukraine.
"Some investors are thinking Japanese shares are running out of positive catalysts, and there's a sense of disappointment in the third arrow of Abenomics," said Takuya Takahashi, a senior strategist at Daiwa Securities Group Inc. "The data shows strong selling pressure amid increasing short-term uncertainty over external circumstances. We don't know what's going to happen with China and the Ukraine."
The Topix rose 1.1 percent to 1,167.91 as of 12:30 p.m. in Tokyo today, after dropping 0.8 percent yesterday to a six-week low.
After monetary and fiscal easing, the first two arrows of Abenomics, propelled the Japanese stock measure to a 51 percent advance last year, investors are considering the impact of a planned sales-tax increase next month that is forecast to shrink the economy. Abe's third arrow is a combination of deregulation and structural reforms.
Japan Growth
The world's third-biggest economy expanded less than estimated in the fourth quarter and the current-account deficit widened to a record in January, data showed March 10. The Bank of Japan can double its annual pace of bond accumulation to 100 trillion yen ($983 billion) to give fresh impetus to growth, an aide to Abe said March 14.
UBS AG, Bank of America Corp., JPMorgan Chase & Co. and Nomura Holdings Inc. cut forecasts for Chinese growth after disappointing data fueled speculation the nation may not meet its 7.5 percent economic-expansion target for 2014. Reports last week showed factory output rose in January and February at the slowest pace since the global financial crisis, while retail sales grew at the slowest rate for the period since 2004. China is Japan's biggest trading partner.
The U.S. and European Union yesterday imposed limited sanctions on some political figures linked to Russian efforts to annex Crimea, the Ukrainian territory that voted to join Russia in a disputed referendum at the weekend. The U.S. and EU rejected the ballot as "illegal."
Before it's here, it's on the Bloomberg Terminal.
LEARN MORE