H&M's New Store Blitz Moves Faster Than Its Digital Expansion
By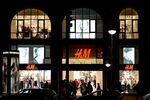 H&M is still betting on buildings and hedging with Web stores—not vice versa.
The fast-fashion empire added 374 new brick-and-mortar locations in the past year, bringing its tally to almost 3,200, according to the company's financial update this morning. That's more than one new H&M opened each day, as the Swedish retailer likes to point out, and there's a similar number of ribbon cuttings on the schedule this year, including its first stores in Australia, India, and the Philippines.
The average store is getting bigger by the day, too, as H&M extends its product line. It recently launched a new line of workout gear, dubbed H&M Sport, and has been aggressively pushing the throw pillows and vases of its Home line into more stores. Look out, Macy's.

The strategy to stretch beyond Europe seems to be shaping up handsomely. H&M said sales in the recent quarter—December through February—surged 11 percent in local currencies. Analysts had expected more, but it's not a shabby result considering the unseasonably harsh winter in the U.S., the company's second-largest market.
And while H&M isn't ignoring the Internet any longer, the retailer is still taking things slowly on that front. The company finally opened a U.S. Web store in August and just this week it started taking online orders in France, with plans to expand its e-commerce footprint to three more unnamed countries this year.
As retailers try to find the right business-model mix, two strategies are emerging. There's the slow shift to e-commerce, which includes gradually closing brick-and-mortar stores. Sears and Staples fall in this camp. The opposite tack is to build even bigger, better stores in a bid to make shopping more of an event, a consumer "experience," to use the lexicon of the day. Restoration Hardware is firmly on this path, with a new 40,000-square-foot store in Boston that's three times the size of its old location.
So why does the big brick strategy appear to be working out so well for H&M? It's tough to say, but shopping at a fast-fashion barn is certainly an uncommon experience. Pawing through a pile of $10 T-shirts or David Beckham-brand skivvies just isn't the same on the Internet. Meanwhile, clothes still lend themselves to in-store decisions far better than, say, office supplies or Sears power tools. If the apparel offers the quality and fitting idiosyncrasies of fast fashion, all the better.