Elite Business Schools Hike Tuition for the Class of 2016
by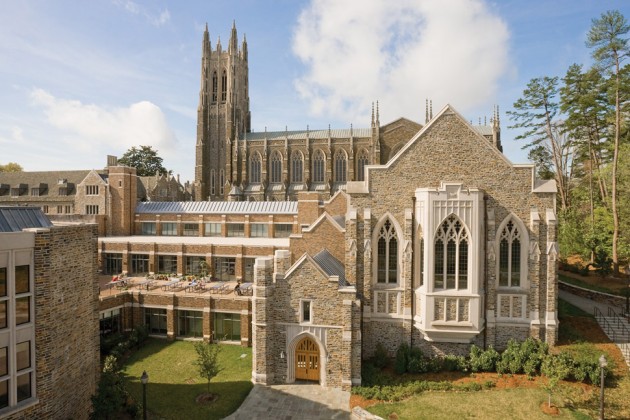 Selective MBA programs plan to increase tuition for the class of 2016 nearly 4 percent or more, building on a 37 percent rise in the degree's sticker price over the past six years.
Six schools out of Bloomberg Businessweek's 10 top-ranked MBA programs approved tuition hikes in recent weeks, with the rest set to make decisions closer to fall.
For schools that raised MBA tuition recently, the average increase was around 4 percent, and the average cost for a year of tuition and fees was around $60,000. Duke University's Fuqua School of Business had the biggest percentage jump, 4.9 percent, and the Harvard Business School had the smallest, 2.7 percent. Prices quoted are for one year of a two-year program. With living expenses and other add-ons, MBA students at top schools can easily clear $150,000 in costs by the time they graduate.
"At U.S. business schools, there has been a tendency to assume prices can go up every year," says Nunzio Quacquarelli, owner of QS Quacquarelli Symonds, a London company that studies MBA programs.
Quacquarelli says a 3 percent to 5 percent annual increase "has become the norm" at most selective U.S. MBA programs. Meanwhile, calculating a program's return on investment has become more difficult.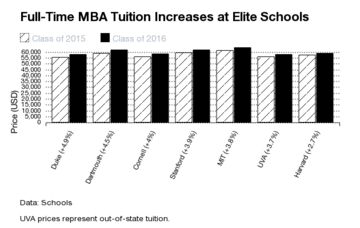 The average MBA starting salary of $93,000 has changed little since 2008, according to an annual survey, conducted by Quacquarelli's company, of 3,500 MBA employers that hire from selective schools. He attributes the lack of movement to steep pay cuts and the elimination of bonuses in the financial industry, which often lifted average MBA salaries. The fact that restrained finance industry pay hasn't dragged down the average more suggests that starting salaries in other industries have improved, which may be how some schools are justifying tuition increases, he says.
MBA programs have gotten costlier across the board in recent years, with the rate of tuition increases outpacing those for undergraduate degrees. At U.S. schools, the total cost of MBA tuition was $44,476 in 2012, on average, a jump of more than a third over the $32,473 it cost in 2007, according to the most recent numbers from the Association to Advance Collegiate Schools of Business. At private schools, the cost of an MBA education rose 27 percent, to $55,451. That's double the increase in undergraduate tuitions at private, nonprofit U.S. colleges over the same five-year period, according to the College Board.
Schools boasting the most selective MBA programs may be bolder about raising prices because of who their customers are. "MBA candidates aren't highly price sensitive. They're not going to bat an eye at $64,000 vs. $58,000 a year when it comes to the value of their education and potentially benefiting their career," Quacquarelli says. "What will turn heads are full and partial scholarships."
Data from Quacquarelli's company show that selective schools have boosted the amount of scholarship and fellowship money distributed along with tuition, which means applicants may find schools more financially appealing after an offer is made. (Historically, Harvard, Stanford, and Cornell have been among the most generous private MBA programs when it comes to awarding scholarships and fellowships.)
At Stanford, where costs rose 3.9 percent this year, MBA administrators determined the new tuition by factoring in graduates' starting salary increases in recent years, tuition hikes at other schools, and their admissions selectivity last year, which they argue reflects how desirable the school has become, says Madhav Rajan, the school's senior associate dean for academic affairs. MBA tuition at the school will soon go up 3.9 percent for the second year in a row.
Such annual increases may not be sustainable long-term if they eat too deeply into the degree's return on investment, but for now, they haven't stemmed the flow of potential incoming students, according to preliminary application figures reported by top schools.
Quacquarelli's prediction: "There has to be some price stability. At some point, U.S. business schools will continue to increase tuition, just at a lower rate."
Before it's here, it's on the Bloomberg Terminal.
LEARN MORE