Star Wars Theme Adds Fighting Spirit as Iran Urged to Resist
Golnar Motevalli and Ladane Nasseri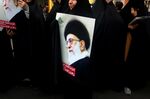 Red-hot furnaces, oil rigs that glint in the sun, tankers carving through silver seas, all set to the Star Wars soundtrack. This, suggests Iran's state television, is what an "economy of resistance" looks like.
While the music is Hollywood, the four-minute broadcasts reflect the vision of Supreme Leader Ayatollah Ali Khamenei, who authored a defiant February decree that sought the overhaul of an economy that remains crippled by global sanctions. Buccaneering entrepreneurs should be supported, oil and gas fields scoured for their riches.
Khamenei, Iran's ultimate authority, is moving to protect his regime's flanks: Mollifying ever more vocal domestic critics of Iranian concessions at nuclear talks that resume tomorrow, and tempering expectations that any deal will quickly end a decade of stagnation.
"Brandishing the flag of resistance acknowledges the reality that the economy is in crisis," said Michel Makinsky, a lecturer on Iranian politics and economy at France Business School, Poitiers. It accepts that "the lifting of sanctions won't be able to improve it in the short run," in part due to the "catastrophic management" of President Hassan Rouhani's predecessor, Mahmoud Ahmadinejad, he said.
A November interim accord won Iran $7 billion in sanctions relief in return for a cap on the most sensitive parts of its enrichment activities. Lifting remaining restrictions on commerce and financial transactions are central to reforming an economy the International Monetary Fund expects to grow about 1 percent in the coming 12 months.
No Ties
An Iran freed of economic sanctions may prove to be the final frontier for global equity investors, according to investment bank Renaissance Capital.
In pursuing that lifeline, Rouhani is confronted by regime hardliners. In recent weeks, opponents lashed out at Europe's chief nuclear negotiator Catherine Ashton for meeting women activists in Tehran and lashed out at a now-closed newspaper that backed Rouhani. They also forced the exit of an unofficial adviser on foreign affairs for wearing a tie, an item of dress frowned upon by some in the Islamic Republic for being Western.
Khamenei has "backed Rouhani in the nuclear negotiations so far," said Toby Iles, a Middle East analyst at the Economist Intelligence Unit. "On the other hand, he's very aware of his domestic hardline audience. By talking about a resistance economy, he keeps the idea alive that Iran needs to be resilient in case sanctions persist."
Ahmadinejad's nuclear defiance and diatribes aimed at the U.S. and Israel increased the sanctions burden on an ever-more isolated Iran. A year before his presidency began in 2005, the IMF reported expansion of 6.7 percent, falling unemployment and low external debt. It lauded the liberalizing policies of Mohammad Khatami's government and saw a "favorable" outlook.
Subsidy Cut
In September, one month after Ahmadinejad's two-term tenure ended, Iran's central bank reported annual contraction of 5.4 percent in the $514 billion economy. Inflation, about 15 percent eight years earlier, had almost tripled.
Surging prices and joblessness helped sweep Rouhani to office last year. Since taking power, he's revamped the central bank, ended an Ahmadinejad-era program that used the institution's money to finance a $17 billion housing project, and backed an increase in energy prices in a bid to slash subsidies by $21 billion.
Inflation slowed slightly to 38 percent, while the rial strengthened by nearly a fifth to 30,400 to the dollar since Rouhani's election.
With its call for a "knowledge-based" economy able to reduce Iran's dependence on energy revenues, Khamenei's 24-point decree details both a way forward and a missed opportunity.
'Private Means Private'
Much of his prescription reiterates 1980s policies of former President Ayatollah Ali Akbar Rafsanjani. Ministries and the central bank must present plans for executing the program within 20 days, First Vice-President Eshagh Jahangiri said March 1.
Success depends on a permanent nuclear accord and the willingness of government agencies to exit business, Saeed Laylaz, an economist and former presidential adviser, said in a February interview with the state-run Fars news agency.
That sentiment's echoed within Iranian companies.
"There's no private sector if the government is appointing the board of directors," Mohammad Reza Ansari, managing director of Kayson, a Tehran-based engineering firm that developed phases of the South Pars gas field, told a conference in the capital. "Private means private."
Definitive Deal
"Rouhani needs to convince companies that they aren't going to run foul of crony capitalists or government-affiliated businesses," said Djavad Salehi-Isfahani, an economics professor at Virginia Tech in Blacksburg, who specializes in Iranian affairs.
World powers -- the U.S., the U.K., France, Germany, Russia and China -- are seeking to address the most controversial aspects of the nuclear program before the interim accord expires in July. Both President Barack Obama and Khamenei have cautioned that a definitive deal that's acceptable to Iran and allays international concerns may be out of reach.
The West accuses Iran of pursuing an atomic bomb, while the Iranians say their centrifuges will produce energy and medical isotopes.
"At best, if a deal is reached in July, and the financial channels are re-established, there will be a great puff of oxygen," said Makinsky in Poitiers. "But it won't be sufficient to revive the economy. The damage runs deeper."
In the meantime, Khamenei will stress resistance.
The Supreme Leader's decree "strengthens Rouhani's hand," said Salehi-Isfahani. "It creates a fallback position in case negotiations don't go well."
Before it's here, it's on the Bloomberg Terminal.
LEARN MORE