Billionaire Drahi Faces French Scrutiny in SFR Bid
Matthew Campbell, Marie Mawad and Amy Thomson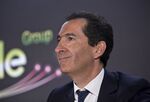 The dark horse in a three-billionaire race to win France's second-biggest phone company amassed his fortune largely away from the public eye, his photo appearing in a newspaper for the first time only in 2009. Patrick Drahi will have to get used to a lot more attention.
The Altice SA chairman, 50, is on his way to buying SFR and merging it with Numericable SA, the cable provider he controls, if talks with SFR owner Vivendi SA result in a deal in the coming weeks. The new company will draw scrutiny from day one after officials in France's Socialist government lambasted its financial profile, implications for jobs, network investments and prices -- as well as the tax status of Drahi's own assets, estimated at $6.9 billion by the Bloomberg Billionaires Index.
The SFR deal marks a new and more prominent phase for Drahi, a dual French and Israeli citizen whose parents were math teachers and who prefers getting around on a bicycle. To gain control of SFR, he had to defeat Martin Bouygues, heir to the industrial group whose rival bid had the support of billionaire entrepreneur Xavier Niel as well as many French politicians.
"Numericable's been working on this SFR deal for a year, if not more, whereas Bouygues patched something together in just a couple of weeks," said Conor O'Shea, an analyst at Kepler Cheuvreux in Paris. "Drahi gave it his all -- he didn't have many opportunities for consolidation in France if he missed this deal."
Spanish Proof
At a Paris briefing today, Drahi said that he had been considering an acquisition of SFR for the past seven to eight years. Vodafone Group Plc today agreed to buy Spanish cable provider Grupo Corporativo Ono SA in a $10 billion deal.
"Convergence between cable and mobile is happening everywhere in the world," Drahi said. "With SFR, we're pushing that same trend in France."
Drahi predicted a final contract with Vivendi will be signed before the end of the month, saying he had "no doubt" he'll see the transaction through.
The Moroccan-born entrepreneur's first cable venture was a tiny operator founded 20 years ago in the village of Cavaillon in southern France. Throughout the 1990s Drahi bought and sold cable companies, deals that eventually led to the creation of Numericable, alongside buyout firm Cinven Group Ltd. Carlyle Group LP invested in 2007 in Numericable, now France's largest cable provider.
Numericable IPO
Drahi's evolution has mirrored that of the European cable industry, which is in transition from a patchwork of thousands of tiny, local providers to a market that more resembles the wireless sector, where a few big operators dominate in each country.
Thanks to an initial public offering of Numericable in Paris in 2013 and Altice on the Amsterdam exchange earlier this year, Drahi, who splits his time between Paris, Geneva, and Tel Aviv, was already on his way to establishing a more visible role in Europe's telecommunications industry.
Numericable shares, which have gained almost a fifth since the company's IPO, fell 1.6 percent to 29.02 euros today in Paris. Vivendi added 1.2 percent to 20.13 euros, while Altice gained 1.7 percent to 30.50 euros in Amsterdam.
French politicians haven't been entirely pleased with the pace at which Drahi's empire is expanding.
Swiss Resident
"His company is listed in Amsterdam, his share is in Guernsey in a tax haven of Her Majesty the Queen of England, and he is a Swiss resident," France's Industry Minister Arnaud Montebourg told a French radio station on March 14, hours before Vivendi's board picked Altice over Bouygues SA for exclusive negotiations.
Drahi attempted to respond to those concerns in a letter to French ministers last week, a copy of which was seen by Bloomberg. In the document, he made pledges on jobs -- SFR employs about 9,000 people -- investments and favoring equipment made in France, and said that pricing strategies would remain unchanged.
The French wireless market has become one of Europe's most competitive since Iliad introduced cell-phone packages in 2012, some as cheap as 2 euros ($2.80) a month. The resulting price war has slashed profits and led to firings at SFR and market leader Orange SA. In the two years since Iliad entered the market, Orange and SFR's combined quarterly wireless-service revenue shrank by 20 percent, according to data compiled by Bloomberg.
Debt Financing
That's partly why Drahi, who made an approach two years ago to buy SFR without success, according to people familiar with the matter, managed to convince Vivendi this time. Goldman Sachs Group Inc., JPMorgan Chase & Co. and Morgan Stanley are among banks that have agreed to finance the bulk of Altice's 11.75 billion-euro cash bid. Vivendi would also get 32 percent of the combined SFR-Numericable.
Drahi said today the merged entity will have an enterprise value of 20 billion euros, half of which is made up of debt. He predicts synergies valued at more than 10 billion euros.
Since the combination wouldn't reduce the number of network carriers, price wars could continue -- although an eventual merger between Iliad and Bouygues's telecom unit may bring them to an end, Sanford C. Bernstein analyst Robin Bienenstock said March 12.
Drahi's ambitions, however, extend far beyond France. In 2008, he began looking for troubled telecommunications assets outside of his home country, making acquisitions in Portugal, Israel and the Caribbean. In the holding company's 1.3 billion-euro initial public offering this year, Altice CEO Dexter Goei said he was examining at least 10 potential acquisition targets.
Becoming a bigger telecommunications player will mean taking on rivals from U.S. cable tycoon John Malone -- Drahi sold one of his companies to Malone 1999 and worked for his UPC unit in Switzerland -- to carriers such as Vodafone and Deutsche Telekom AG. Last year, Vodafone paid more than $10 billion for Kabel Deutschland Holding AG, Germany's largest cable company.
Before it's here, it's on the Bloomberg Terminal.
LEARN MORE