Plouffe Sees 'Screaming Siren' Party Warning in Florida
Mike Dorning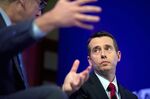 A former top political adviser to President Barack Obama called the Democratic loss in Florida's special congressional race "a screaming siren," warning that the party needs to do more to motivate supporters in November's nationwide elections.
David Plouffe, a onetime White House senior adviser and strategist for both of Obama's presidential campaigns, rejected the idea that the March 11 contest in Florida was a referendum on the president's health-care law, instead arguing that the results expose an enthusiasm deficit among Democrats.
"We have a turnout issue," Plouffe said in an interview on Bloomberg Television's "Political Capital with Al Hunt," airing this weekend. "This is a screaming siren that the same problems that afflicted us" in 2010 when Democrats lost control of the House "could face us again."
Republican candidate David Jolly defeated Democrat Alex Sink 48.4 percent to 46.6 percent in the election for a Tampa Bay-area congressional seat following a television advertising fight focused on Obamacare.
The election drew little more than half as many voters in the district as in the 2012 presidential race, when Obama won the area by 1.5 percentage points for re-election and since-deceased Republican Representative C.W. "Bill" Young was re-elected.
Sununu's Indicator
Former New Hampshire Senator John Sununu, a Republican, said the result of the Florida vote is an indication that discontent over the Affordable Care Act "will drive the election, that it's a loser for Democrats."
Sununu, appearing on the same program, cited as an example the political trajectory of 2010.
That year began with Republican Scott Brown unexpectedly winning a January special Senate election in Massachusetts for the seat long been held by Democrat Senator Edward Kennedy, who had died in August 2009. In November 2010, Republicans gained Senate seats and wrested control of the House from Democrats.
"Special elections in a run-up do generally point to where the trend is headed," said Sununu, 49, who lost his bid for a second term in 2008.
Plouffe, 46, said Sink's message in the Florida campaign of fixing problems with Obamacare rather than ending the health law resonated with "the traditional swing voter," and he attributed the loss solely to higher turnout by Republican voters than Democratic voters.
Jolly called for repeal of the law.
Obamacare Polling
A Bloomberg National Poll conducted March 7-10 found that 34 percent of Americans favor repeal of the Affordable Care Act, which was enacted to offer millions of Americans lacking health insurance coverage under new exchanges.
Fifty-one percent of Americans favor retaining the law with "small modifications;" 13 percent would leave it intact.
Still, repeal advocates in the poll showed much greater passion, being more likely to vote and more likely to say their views on Obamacare would determine who they supported. Seventy-three percent of Bloomberg poll respondents who would repeal Obamacare said the law will be a "major" decider of their vote, compared with 45 percent of those who support modifications and 33 percent who back the law as is.
Repeal advocates are also the most likely to vote, with 73 percent saying they will "definitely" do so. By contrast, 61 percent of those who want only small modifications are likely voters as are 54 percent of those who want the law kept intact.
'Away Games'
With 36 U.S. Senate seats up for election in November, Democrats face an electoral map in which the party will be "playing a lot of away games" in Republican-leaning states, Plouffe said.
Still, he said, some Republican-leaning states such as Louisiana and Arkansas, both represented by incumbent Democratic senators seeking re-election, have a "significant minority population" traditionally allied with Democrats.
Advances in campaigning with social media and analyzing voter data made by the Obama campaigns won't be enough by themselves to generate high enough turnout for Democrats, Plouffe said.
"It's not just about data and technology," said Plouffe, author of the book "The Audacity to Win" following Obama's first election as president. "The candidates themselves are going to have to do a good job inspiring them," he said.
CIA Flap
Plouffe also predicted the results of a Senate Intelligence Committee investigation of the Central Intelligence Agency's treatment of suspected terrorists during former President George W. Bush's administration "eventually" will be released in some form to the public.
The committee chairman, Democratic Senator Dianne Feinstein of California, has been at odds with the Obama White House as the panel has pressed to declassify findings and complained of CIA obstruction. Feinstein has accused the CIA of improper and possibly illegal interference in the investigation -- hacking into computers used by the committee. CIA Director John Brennan said "nothing could be further from the truth."
"It's in everybody's interest to kind of move past this episode, get out what can get out, and move on," Plouffe said.
Sununu criticized Robert Eatinger, the CIA's acting general counsel until a replacement was confirmed March 13, as having "a bit of a conflict of interest" in the matter.
Eatinger was previously a lawyer overseeing the detention and interrogation program, and his name is mentioned about 1,600 times in the panel's report. In his capacity as the agency's acting general counsel, he referred a criminal case to the Justice Department for prosecution of the Intelligence Committee staff.
Before it's here, it's on the Bloomberg Terminal.
LEARN MORE