Russia Picks an Odd Time to Put on Climate Halo
by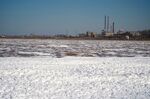 How do you prevent a jump in your carbon pollution? Don't invade anybody.

Take Russia. At a meeting yesterday of 200 or so national climate negotiators in Bonn, Russia's Oleg Shamanov said his country wanted to launch a market for trading carbon pollution credits. The sooner the country can gain experience in a domestic cap-and-trade system, he said, the sooner it can link up to carbon markets in other countries or regions.
The statement comes amid Russia's push to link up with a neighbor's markets in the most invasive way possible: invasion. With Russian troops on the ground in Crimea and a separatist vote coming on Sunday, it does look like Russia could get bigger by about the size of one Black Sea peninsula -- and the people, ports and pollution that come with it.
Sometimes expansion isn't a good thing. Russia in 2012 was the fourth-biggest emitter in the world, putting out 1,802 megatons of carbon dioxide, according to the Global Carbon Project , an international science group. Ukraine emitted 324 metagons, the 19th highest level. If you figure -- back of the envelope -- that about 2 million people live in Crimea and Ukrainians each emit about 7.1 tons of CO2 a year, then Russian emissions are set to rise by more than 14 million tons if annexation is successful. That's roughly the same as the emissions of about 3 million cars. Looks like Russia's newfound intention to cut carbon emissions isn't driving its regional military strategy.
Russia has always had an accidental benefit in climate negotiations. When the Soviet Union fell apart, the dirty industries that powered it largely did, too. In 1990, the baseline year for UN emissions targets, Russian emissions were almost 2,400 megatons, or 23 percent higher than today. Russia signed on to the Kyoto climate treaty in 2004 because it didn't have to do anything. Its carbon reductions were freebies.
Assume for a moment the utterly preposterous, that Vladimir Putin does give equal weight to military strategy and the United Nations climate process.
Linking military and climate strategies has all sorts of novel implications. I'd now hate to be the first nation powered 100 percent by renewable energy sources and flush with carbon credits. It'd lure invasion. Annexation would make the invader a green-energy leader, and selling credits could cover costs of the military campaign.
Silly logic can send a serious message: Russia looks awkward in a climate halo and combat boots.

More by Eric Roston (@eroston on Twitter):
Visit www.bloomberg.com/sustainability for the latest from Bloomberg News about energy, natural resources and global business.
Before it's here, it's on the Bloomberg Terminal.
LEARN MORE