An Unpalatable Plan to Rescue Failing Pensions
Business and labor ask Congress for power to cut retirees' benefits
By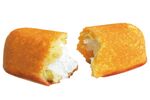 When Hostess Brands went bankrupt in 2012, employees at Ottenberg's Bakery, a family-owned business near Baltimore, got nervous. They shared a multi-employer pension plan with hundreds of Hostess truck drivers. If Hostess couldn't meet its obligations, the pension fund could collapse. "If you have all these guys out on retirement and you only have Ottenberg's paying into it, the math doesn't add up," says Gary League, who has delivered Ottenberg bread for almost 30 years. "I was thinking I would have to work forever." On Feb. 18 he got good news: The Obama administration had stepped in to stabilize the fund by placing the Hostess workers into a federal government plan that picks up the payment of their benefits.
League is one of 10.4 million Americans in multiemployer pension plans, large investment pools once considered low risk because they don't rely on the fortunes of a single company. Two recessions and an aging workforce have left the plans, which cover unionized truckers, miners, carpenters, retailers, and others, confronting a total shortfall of $400 billion. Dozens of multiemployer plans have failed and the federal government estimates 173 of them will exhaust their assets in the next decade.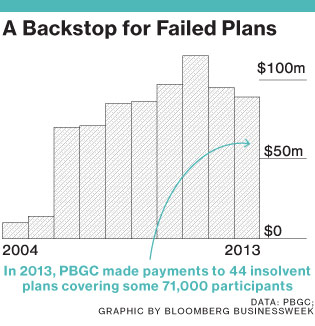 Thousands of workers have sought shelter from the Pension Benefit Guaranty Corp., the small federal agency that oversees the nation's private plans. Created in 1974, the PBGC is funded by the nation's 26,000 single- and multiemployer pension plans, which pay premiums to the agency. It uses that money—$3 billion in 2013—to pay workers' benefits when their employers can't. The Hostess bankruptcy left the company unable to meet its pension obligations to the Local 33 drivers' plan in Maryland. "You have to repay your secured creditors first," says David Rush, chief financial officer of the Hostess estate, known as Old HB. "It was an unfortunate situation." The PBGC stepped in and broke up the fund, merging the Ottenberg bakery employees into another, stable multiemployer plan, and taking on pension obligations for Hostess workers.
The Hostess drivers took a significant cut. The PBGC guarantees a maximum benefit of about $1,072 a month for the most senior, highest-paid multiemployer participants, a fraction of what many were entitled to. It was only the third time the agency had carved up a fund to rescue some of its parts. Now workers at other companies are looking for the same deal. "After we announced the Hostess partition, we got calls from folks in other plans saying, 'What about us?' " says PBGC Director Josh Gotbaum.
The agency can't afford to absorb them all. As more funds teeter, the agency, charged with bailing out pension plans, is in need of a bailout of its own. In 2013 the PBGC took in $110 million in premiums from multiemployer plans—leaving that program with an $8.3 billion shortfall. Overall the agency posted a record $35.6 billion deficit in 2013. The government projects the multiemployer program could be insolvent in 10 years. Gotbaum is asking Congress to approve a premium increase to cover the losses and for authority to intervene earlier to fix faltering plans. "If we had a lot more money," he says, "we could do a lot more plans."
With more pensions crumbling and their government backstop at risk, a coalition of employers and labor, including United Parcel Service, Bechtel, and the United Food and Commercial Workers union, wants permission to do what once was unthinkable: cut benefits to retirees before the plans get into trouble. This would be a huge change. By law, employers can't reduce accrued benefits, which have long been considered untouchable. "It's the first attempt by an industry or a sector of the economy to really address what's going to come back and bite us as a country," says Randy DeFrehn, co-author of the group's "Solutions, Not Bailouts" lobbying campaign. "If you allow some of these plans to have flexibility, they can take action instead of waiting until the assets are depleted."
Unless Congress acts, distressed companies won't be able to fulfill their obligations and retirees could be left with nothing, says former Representative Earl Pomeroy, a Democrat advising the employer-labor group. "A haircut now," he says, "beats a beheading later." Unions are split on whether to go along. Teamsters President James P. Hoffa has called the proposal "a mad rush" to destroy retirement security. Teresa Ghilarducci, an economist at the New School for Social Research in New York, cautions that once multiemployer pensions get the go-ahead to cut benefits, single-employer plans will demand it, too, throwing millions of people's retirements into doubt and undermining the whole point of a defined benefit plan. "It's bad for households," she says. "It's also bad for the economy."
BOTTOM LINE -
The bottom line: A federal agency that backs employee pension plans is billions of dollars in the red and could be insolvent in a decade.
Before it's here, it's on the Bloomberg Terminal.
LEARN MORE