pursuits
It's True, We're Buying More Fresh Food
By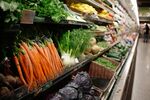 Even as Americans eat more Oreos, and even in the face of rising food prices, fresh food is the fastest growing department at the supermarket, according to Nielsen. With consumers continuing to lose their taste for frozen and canned goods in 2013, fresh food sales grew 5.4 percent from a year earlier, to $134 billion. They now represent about 30 percent of supermarket sales.
That grocers are stocking an ever-greater selection of fresh foods is contributing to the growth, says Jonna Parker, director of Nielsen's Perishables Group. Another factor: Mass merchants, such as Wal-Mart Stores, and club stores are selling more fresh foods; these retailers are projected to account for one-quarter of fresh-food sales by 2016.
Meat and produce make up the majority of fresh food sales, according to Nielsen, with 39 percent and 32 percent, respectively, followed by deli, baked goods, and seafood. The mix is different for online orders, however, where meat is a smaller share of sales—consumers prefer to see and touch beef, chicken, and pork before purchasing.

In 2013, sales of bakery, seafood, and deli products grew the most when measured in volume, while meat sales grew the least.

Nielsen categorizes fresh foods into four categories: healthy (produce, lean meats, seafood, and foods with health claims), convenience (prepared foods and pastries), premium and indulgent (foods with high calories or high prices, including specialty cheeses and meats, oysters, and desserts), and multicultural (such as burritos, guacamole, hummus, tzatziki, and edamame). Healthy foods contribute about one-third of sales, while multicultural foods—despite rapid growth—are still a niche product. Still, Parker notes, "It's not all health-conscious-driven products that are growing in fresh." Retailers are stocking their shelves with fresh foods that meet other needs, such as convenience and indulgence.

Private-label fresh foods are growing at a slightly faster pace, 6.1 percent, than fresh foods overall. About one-fifth of fresh-food sales, , exceeding $26 billion, are branded with a retailer's label.
While fresh foods are a growth area, grocers can't lose sight of the other aisles. "Retailers with higher-average weekly sales of fresh and non-fresh departments outpace those who only win in fresh," Parker says. Because no matter how much you cook, sometimes you only have time for a box of mac and cheese.
Before it's here, it's on the Bloomberg Terminal.
LEARN MORE