Is Payment Startup Clinkle a $25 Million Bust?
Payment startup Clinkle needs a dose of maturity—and a product
By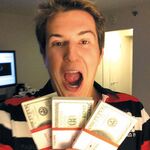 Everything about Clinkle seems right out of Silicon Valley central casting. There's the peculiar name (inspired by the sound of pocket change), high-profile investors including early Facebook backer Peter Thiel, an office in downtown San Francisco, and pirate dress-up days. It's also run by an energetic, brash 22-year-old named Lucas Duplan. In 2013 the startup raised $25 million for its mobile payment app, which no one had seen. It seemed to be living the kind of dream that recently came true for WhatsApp, the mobile-messaging service Facebook bought for $19 billion.
For all its buzz, Clinkle has stumbled spectacularly in recent months, burning through cash without revenue in sight as it struggles to launch a payment app tailored for college students. Waves of employee departures and a security breach even before the app's release make the situation more serious than the standard early-years hiccups. Duplan's creation is at risk of becoming the kind of flameout that illustrates the perils of the Silicon Valley hype machine.
Details are sketchy, but the app sounds a lot like that of the recent PayPal acquisition Venmo, allowing users to quickly complete transactions such as reimbursing friends for concert tickets. However it works, Clinkle will face intense competition: PayPal, Google, AT&T, and Verizon Wireless have all been trying to break into mobile payments, and Apple is said to be exploring a payments system for brick-and-mortar purchases.
At the very least, a little adult supervision may be in order at Clinkle, and the company is bringing in more experienced executives. "The college student go-to-market strategy is not a bad one and takes a page from Facebook's playbook," says Greg Sterling, a mobile payments analyst with Opus Research. "However, Clinkle isn't executing."
Aside from its strategic challenges, the company has morale problems. In September, after Clinkle had signed up more than 100,000 people interested in testing its app, Duplan treated the team in charge to a night of carousing on a party bus stocked with booze. The hangovers came the next weekend, when he summarily fired more than a dozen people from the celebrating team in a cost-cutting move, say five former staffers who didn't want to be named for fear of retaliation.
The roughly 60-employee startup has carried out two rounds of dismissals in the last few months. One claimed 16 full-timers, and the other affected 30 workers whom Clinkle says include contractors. More than 10 other people have quit or been fired since February, say two of the former employees. In January the company's security was compromised during early testing of its service. A list of 33 user names, photos, and phone numbers was posted to the public cloud site PasteBin, including a photo of an open-mouthed Duplan holding what appears to be $30,000 in cash—this amid staff grumblings about low pay and lack of equity.
To finish the app, Clinkle has hired executives from PayPal, Wal-Mart Stores, and cybersecurity company Palo Alto Networks. "Our employees are currently testing Clinkle in the wild," says Chief Operating Officer Barry McCarthy, the 60-year-old former chief financial officer of Netflix. "As the year progresses, we'll scale the number of users through a phased product rollout and continue to expand the feature set." McCarthy says he's been coaching Duplan, who is younger than his son, for the last couple months on leadership and communication strategy, including role-playing exercises.
On March 13, Clinkle announced that McCarthy was stepping down as COO to become a personal adviser to Duplan and to the company more broadly. Duplan said McCarthy's resignation was a "mutual decision" and the company will benefit from a COO with more engineering and product experience. Another executive Clinkle hired on March 5, Twitter's former principal designer, Josh Brewer, has since left, the company said.
Duplan started Clinkle as an undergraduate in Stanford University's computer science program and, with President John Hennessy as an adviser, won over elite investors while still a student. An early meeting with Thiel yielded $500,000. More money followed from venture capital firms Andreessen Horowitz and Index Ventures, as well as former MySpace CEO Owen Van Natta and Virgin Group founder Richard Branson, among others. The investors declined or didn't respond to requests for comment. (Bloomberg LP, the parent of Bloomberg Businessweek, is an investor in Andreessen Horowitz.) High-profile backers brought media attention, which attracted more talent.
The five former employees say Clinkle's problems can be traced to Duplan's unpredictable leadership. While he's smart and well spoken, they say, his vision for the product has changed rapidly and dissenters tend not to last long. Former Yahoo! executive Chi-chao Chang, hired as Clinkle's vice president of engineering, was on the job for one day. Chang didn't respond to requests for comment. Two of the former employees say Clinkle has boosted its waiting list sign-ups by having employees pose as students to solicit e-mail addresses from fraternities. A company spokeswoman denies this. Before his resignation, McCarthy acknowledged that Clinkle has made mistakes without addressing any particular incidents, and said the company is focused on releasing its app within the first half of the year.
The mobile payment field is crowded. Perhaps more important, no app seems close to replacing credit cards, says Drew Sievers, who helped Starbucks build its own payment app. "The classic problem for mobile payments is, if you don't have customers, then the merchants won't care," he says. "If you don't have merchants, the customers won't care." He says Clinkle would also need to deal with bank partners and government regulators, pay significant overhead costs upfront, and prove to users that its app is secure.
The company also has yet to explain what will differentiate its payments app from Venmo's or anyone else's. Clinkle wouldn't provide details. Opus's Sterling compares Duplan's company to bygone video-sharing startup Color, which shut down its much-hyped app a year after raising $41 million. For Clinkle to avoid a similar fate, he says, "the company needs to show actual usage and growth, if even in just a couple of isolated markets, to restore confidence."