Is Payment Startup Clinkle a $25 Million Bust?
Payment startup Clinkle needs a dose of maturity—and a product
By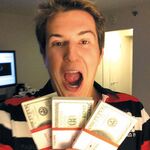 Everything about Clinkle seems right out of Silicon Valley central casting. There's the peculiar name (inspired by the sound of pocket change), high-profile investors including early Facebook backer Peter Thiel, an office in downtown San Francisco, and pirate dress-up days. It's also run by an energetic, brash 22-year-old named Lucas Duplan. In 2013 the startup raised $25 million for its mobile payment app, which no one had seen. It seemed to be living the kind of dream that recently came true for WhatsApp, the mobile-messaging service Facebook bought for $19 billion.