How MTV Revitalized The Real World
The granddaddy of reality shows comes off life support
Kurt Soller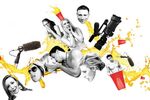 The Real World, which first aired on MTV in 1992, has always introduced itself with the same slogan, longer than a tweet but just as easily reduced to nothing: "Strangers picked to live in a house … to find out what happens … when people stop being polite … and start getting real." Each year the show followed the same formula of trapping different demographics together in an often comically gorgeous home. Virgins flirted with the less so, rich Republicans clashed with perma-drunk liberals, and Ikea furniture (it's always Ikea) broke during brawls.
Like any long-running series, The Real World became predictable; for the past five years its ratings have sagged, and last season's first episode drew only 720,000 viewers. (Compare that with the 3.5 million who tuned in to watch Real World: Las Vegas in 2002.) So it wasn't surprising that before the current edition—its 29th—the network considered ending the franchise. "Another season was contingent on doing it completely differently," says Stephen Friedman, president of MTV. The network took a cue from the reality show genre it helped create: When all else fails, add a twist.
Weeks before the season première on Jan. 8, a heavy rotation of promos let audiences in on the crucial pivot. Soon after the cast members settled into their San Francisco digs, they'd come home from vacation to find that their exes had also been invited to live in the loft. The show was renamed Real World Ex-Plosion—see what they did there?—and producers installed an on-screen countdown clock as a reminder that chaos was on its way. "Because of Jersey Shore and shows where you have louder characters, audiences expect conflict to really be blown up," Friedman says. "And everyone has lived through that complicated relationship with an ex."
Interest spiked—1.3 million people watched the première, and episodes since have been averaging 1.9 million weekly. Even Duck Dynasty, the A&E hit that airs opposite Real World on Wednesday nights, has been losing traction to it. The exes have brought love-triangle drama, and with roughly double the cast members (one ex refused to appear), the show has a dizzying amount of content and "confessional" footage to bounce between. The execution has been updated, too, favoring fast-forward techniques, electronic music overtures, and title cards that resemble those in Sofia Coppola movies.
The Real World has always specialized in highlighting, then celebrating, personal experiences that speak to shifts in culture. Tami on Season 2 was the first woman to discuss her abortion in prime time, and Season 3's Pedro was the first gay man on TV to talk about having HIV. Typically, one of these moments would define an entire season. This time around, there's a marquee incident in almost every episode. Jay's mom suddenly dies in surgery. Ashley is kicked off the show after she disappears on a bender. Lauren finds out she's pregnant and tries to fool her ex, Cory, into thinking it's his. Perhaps because of the romantic angle, the biggest chunk of viewers is now women ages 18 to 34.
The show has also gone meta. For the first time, The Real World is referenced on-screen regularly. Cameramen are caught in the crossfire, and cast members are shown picking up a presidential red phone to call producers, who appear in scenes and function as therapists. Unlike in past seasons, the cast is allowed access to smartphones. There's an episode in which Arielle, a toned lesbian model, gets upset after reading online that people think she looks transgender.
One consequence of throwing so much into every episode is the risk of losing a cohesive story line. But an unexpected theme has been running throughout: The cast members mostly get along. In fact, they've all been both polite and real. Because of these changes, after two-plus decades and 230 cast members, MTV has axed that famous tag line.
Before it's here, it's on the Bloomberg Terminal.
LEARN MORE