Stephen Curry Steps Into the NBA Spotlight
Stephen Curry steps into the NBA spotlight
by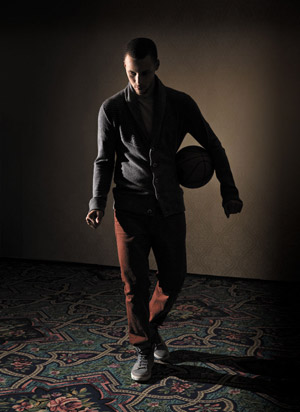 There's a moment in the life of an NBA superstar when he crosses from basketball famous—a guy hoops junkies know from the hardwood—to famous famous—a guy everybody knows from somewhere. For LeBron James, it came before he even played in the league. In 2002, when he was 17, James was featured on the cover of Sports Illustrated with the headline "The Chosen One." Nike signed him to a $90 million contract before he was drafted.
Stephen Curry took a bit longer. In his first four seasons with the Golden State Warriors, he was a talented, but often injured, point guard. Curry's breakthrough came a year ago at Madison Square Garden, when he scored 54 points against the New York Knicks, the most by any player in a single game last season. He made 11 three-pointers. After the 10th, a fast break pull-up from 25 feet that forced the Knicks to call a timeout, he ran back down the court shaking his arms and legs like a man possessed. That night the larger world took note of what hard-core basketball fans had seen since Curry was a skinny, high-scoring freshman at tiny Davidson College in North Carolina: the almost limitless range, quick release, and impressive repertoire of stop-and-go moves.
Curry has since become an NBA sensation, but you wouldn't know it from the unassuming way he talks about himself on a shuttle bus ride to the New Orleans arena on Feb. 15, the Saturday before the All-Star Game. He sits calmly, relaxed but not slouched. He's wearing a blue-and-gray plaid suit coat and steel-blue pants. His father, Dell, whose 16-year NBA career ended in 2002, sits across from him. The two will be competing together in a shooting challenge that evening. Stephen will also be in that night's three-point shootout.
From a couple of rows ahead, the Warriors media relations manager quizzes Curry about how far his shooting range extends. He says he can shoot with his normal form from "a step or so" inside half court.
"He can do it from half court," Curry says, nodding toward his father. "That was his camp trick."
In that ordinary father-son moment, it's easy to forget that they just left the Hyatt Regency through a back stairwell and will be arriving at the Smoothie King Center through a service dock and ushered into hallways swarming with NBA stars. (Hey, there's Kevin Durant passing out Gatorade gel packs.)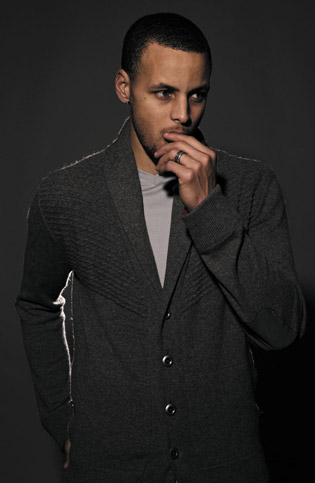 In January fans voted Curry onto the All-Star team for the first time. He was one of four players with more than 1 million votes; the year before he received fewer than 170,000. "Walking around the Bay Area from my rookie year, I got noticed a little bit," he says, "but it's crazy now. That definitely hits home when you think you can't go out and have a quiet evening."
If the NBA has its way, Curry will soon be recognized all over the world. Although the league's two marquee attractions, James and Durant, are in their prime, a handful of its most famous players, including Kobe Bryant, Dwyane Wade, and Dirk Nowitzki, are approaching retirement. Curry, 26, is part of a group nudging into their spotlight. Last season he set the record for three-pointers—272—and helped the Warriors make the playoffs for the first time in six years. In October the NBA sent the Warriors and the Los Angeles Lakers to China for exhibition games in Beijing and Shanghai. "They knew a lot of information about my life that I didn't think they would know," Curry says of the Chinese fans. "They had printed out pictures of me and my family on big poster board that I posted on Twitter." In April his jersey had failed to make the league's list of top 15 sellers. By December it was sixth.
Companies, of course, have noticed. Curry signed deals last year with apparel maker Under Armour and Degree deodorant. A cameo in a State Farm commercial featuring the Los Angeles Clippers' Chris Paul is coming soon. Last summer, according to Curry's agent, Jeff Austin, a sports drink brand was so eager to sign Curry that it offered to pay him three times as much as his current deal with Muscle Milk and cover any penalty for breaking his contract.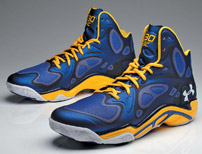 At Under Armour, Curry is the only All-Star among a group of 11 NBA players, and his deal has made him the center of the company's effort to crack the basketball shoe market. (Nike and its Jordan brand command 92 percent, compared with less than 1 percent for Under Armour.) "He's going to help continue to legitimize us in the category," says Kris Stone, Under Armour's director for sports marketing for professional basketball. By hitching to Curry's rising star, Under Armour says it hopes to have 10 percent of the market within five years.
It's a wild goal even by the standards of corporate bluster, but Under Armour is counting on something greater than Curry's basketball skills and gentlemanly demeanor: He resembles a regular guy. Coming out of high school, Curry was 6 feet and 160 pounds and ignored by recruiters from big schools. Even after he led the nation in scoring at Davidson and was selected as the seventh pick of the 2009 NBA draft, he was dogged by questions about whether he had the physique to make it in the league. Now he's officially listed at 6 foot 3 inches and 185 pounds. Standing next to him, that seems generous.
"He looks like an everyday, normal human being," says Warriors majority owner Joe Lacob, a venture capitalist with Kleiner Perkins Caufield & Byers. "I think that's why people relate to him." Under Armour's Stone says Curry's underdog story was a big part of his appeal for the brand. In surveys of U.S. consumers conducted by market researcher Repucom, Curry ranks higher than any other NBA player as an endorser—a measure of how much people value his backing of a product. His endorsement score is on par with that of Shaquille O'Neal, Usain Bolt, and Phil Mickelson. He also scores highly on trust, influence, and trendsetting. "He's the guy every mother or father wants their daughter to date," Lacob says.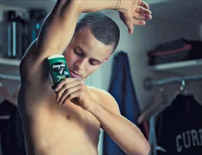 Under Armour is at work on a signature shoe for Curry, a project that will take about a year and will be promoted with a national ad campaign. During All-Star Weekend, Unilever released a Degree deodorant commercial featuring Curry with the slogan "Do more." The brand's manager, Matthew McCarthy, says he, too, was drawn by Curry's "personal improver story." The ad, directed by musician John Legend, will air during this year's NCAA men's basketball tournament.
When Under Armour made its pitch to Curry last summer, Stone says, the company told him, "You are going to take a leap of faith on us. We're going to take a leap of faith as well." (Stone declined to disclose financial terms but says the contract is for more than four years.) Stone's referring to Curry's history of ankle injuries—he's had two surgeries on his right ankle and was hobbled for most of the 2011-12 season. In the fall of 2012, the Warriors made a calculated gamble and signed him to a four-year, $44 million contract extension. Last year during the playoffs he had recurring problems with his left ankle, and that's been in the background for every endorsement negotiation until recently, says Austin, Curry's agent. This season, Curry hasn't had any major issues, "and so that's pretty much disappeared," Austin says.
The problem now, he says, is protecting Curry's time. He's had to halt dealmaking until the next off-season. "There's a company we had chased for years," Austin says. "They finally came to the table this year, and it was too late." During All-Star Weekend, Curry shuffled nonstop from clinics and promotional appearances to the arena circuit of ball signing, official photos, interviews, warm-ups, and, sometimes, playing basketball. "You'd like to find the time to just relax, because there is a lot going on," he says as he trots onto the court. "You kind of get used to it."
Before it's here, it's on the Bloomberg Terminal.
LEARN MORE