pursuits
Diet Coke Is High on Its New Slogan
Diet Coke is high on its new slogan
By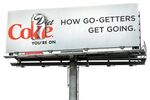 Coca-Cola is going back to its roots. All the way to when its original product, invented by a morphine addict, actually contained cocaine. At least that's what the company appears to be doing with billboards and signs proclaiming, "You're on. Diet Coke."
Coke's campaign was launched with a commercial that aired during the Sochi Olympic Games. In it, Taylor Swift takes a swig of Diet Coke before being told, "You're on"—as in, it's time to go onstage. But the print version of the campaign evokes an entirely different message. One version that appeared on the side of a Manhattan bus stop reads, "You moved to New York with two turntables, a microphone and a really cool DJ name. You're on. Diet Coke." Another says: "You moved to New York with a portfolio, a pair of skinny jeans and strong opinions on hemlines. You're on. Diet Coke." San Francisco gets its own version: "You moved to San Francisco with an engineering degree, an app idea and an investor named Nana. You're on. Diet Coke." Ditch the period and the word "diet," and you'll see what the problem is.
"This is risky for Coca-Cola," says Kelly O'Keefe, a professor of brand management at Virginia Commonwealth University's Brandcenter. "I'm not sure they intended it to be directly hinting at the drug culture—I'll give them the benefit of the doubt—but this isn't a place Coca-Cola should be going."
Coke usually runs safe advertisements that tap into feelings of nostalgia, unity, and familiarity. For the most part, it still does; that's the message of its multicultural "America the Beautiful" Super Bowl commercial. "You're on," conceived by New York advertising firm Droga5, which declined to comment for this article, represents the first time Coke may have tried to push boundaries.
In a statement, the company says its campaign targets "ambitious young achievers from all walks of life." Stuart Kronauge, general manager for sparkling beverages at Coca-Cola North America, told the New York Times that "You're on" references Diet Coke's "uplift for those moments when you need to be on." The company is mum on whether the cocaine reference was intentional. It also stresses that it "in no way endorses or supports the use of any illegal substance."
The average Coca-Cola drinker is 56 years old, according to research done by marketing consultant and author Martin Lindstrom. And Coke desperately needs to lure younger consumers, specifically millennials. According to a Gallup poll, 63 percent of Americans 18 to 29 years old still drink soda regularly, the most of any age group. Diet soda drinkers have a higher income level (more than $75,000) and are more health-conscious than those who drink regular soda, which may explain Diet Coke's youthful New York- and San Francisco-focused campaign.
In the pantheon of misunderstood advertisements, Coke's "You're on" campaign is a minor flub. Compared with some disasters—such as the McDonald's short-lived 2005 "Double cheeseburger? I'd hit it" ad (apparently, the marketing department misunderstood the term), or the time Spirit Airlines tried to joke about the 2010 BP oil spill by inviting people to fly to Fort Lauderdale to "check out the oil on our beaches"—Coca-Cola is getting off easy. Its level of embarrassment could've been worse. For one thing, it could've said, "You're on New Coke."
Before it's here, it's on the Bloomberg Terminal.
LEARN MORE