Australia Posts Biggest Full-Time Jobs Surge Since '91: Economy
Michael Heath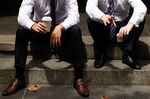 Australia boosted full-time payrolls in February by the most in more than 22 years, sending the currency higher and signaling the central bank's bid to spur local demand with record-low interest rates is gaining traction.
The number of people employed full time rose by 80,500, the biggest increase since August 1991, just after the country's last recession, and the second largest rise on record. Overall employment climbed 47,300, compared with the median estimate for a 15,000 rise in a Bloomberg survey of economists, as part-time jobs dropped. The jobless rate held at 6 percent.
Woolworths Ltd., Australia's largest retailer, said in a release today that it's on track to create 6,981 new jobs in the year through June. The hirings underscore Reserve Bank of Australia Governor Glenn Stevens's shift to a neutral stance after 2.25 percentage points of rate cuts since late 2011.
The "super strong result" should ease concerns about the labor market, said Savanth Sebastian, an economist at a unit of Commonwealth Bank of Australia in Sydney. "Central bank policy makers are comfortable with the way the recovery is panning out. The housing recovery continues to gather momentum, while rising wealth levels are supporting confidence."
Three-year bond yields climbed as much as 14 basis points to 3.07 percent, the highest level since Dec. 11. The Australian dollar rose to 90.66 U.S. cents at 2:13 p.m. in Sydney, from 90.16 cents before the data were released.
Volatile Data
RBA policy makers say they focus on the unemployment rate - - which held at the highest level since 2003 -- rather than the headline employment number because of the latter's volatility.
"The tone of the report was positive, but the series is noisy in that it jumps around," said Michael Turner, a debt strategist at Royal Bank of Canada in Sydney who predicted a 30,000 gain. "We suspect hiring's picked up and the labor force data is starting to get more consistent with that. But while unemployment is still at 6 percent there's still a fair bit of slack to be eaten up before the RBA starts normalizing policy."
Stevens has signaled a period of stability for the benchmark rate, now at 2.5 percent, as house prices and building approvals rise and residential construction picks up, helping plug a hole left by waning resource investment.
Australia's participation rate, a measure of the labor force in proportion to the population, gained to 64.8 percent in February from a revised 64.6 percent a month earlier. The statistics bureau doesn't provide a breakdown of public or private sector employment or industries hiring in its monthly release, only a state-by-state breakdown of the numbers.
Queensland Jobs
Queensland, a state that benefits from tourism, led the employment gain with 30,700 jobs created in February, while New South Wales, the nation's biggest and a center of the non-resource economy, added 13,900 workers, today's report showed. The manufacturing hub of Victoria recorded a 5,300 drop.
The jobless rate in the mining state of Western Australia jumped to 5.9 percent from 5.2 percent, the report showed.
The statistics bureau revised its January data to 18,000 jobs gained from a previously reported 3,700 positions lost. It also said the new survey sample for February 2014 had a higher proportion of employed people and people in the labor force than the one it replaced.
Woolworths will open a net 108 new stores in the current financial year, it said today.
"Every day, 144 people start a career with Woolworths, including 87 young people," the company said. "The types of jobs that have been created are many and varied, from customer service staff to senior retail management roles."
Coles Jobs
Coles supermarkets will create 4,300 jobs in Australia this fiscal year as part of an investment of more than A$300 million in around 150 new and improved supermarkets, liquor and Coles Express stores across the nation, the company said in a Sept. 3 statement.
Low rates helped drive a 14.1 percent gain in Sydney dwelling prices in the 12 months to Feb. 28. Approvals to build new dwellings in Australia jumped 6.8 percent in January from a month earlier, according to government figures.
The RBA last month raised its inflation and growth forecasts, reflecting a drop in the nation's currency.
"Some forward indicators have stabilized and then improved a little of late, which is promising," Stevens told lawmakers last week. "But even with this, and with a slightly better growth outlook, the labor market will probably remain soft for a while yet, given that it lags changes in activity."
Before it's here, it's on the Bloomberg Terminal.
LEARN MORE