As It Warned, Amazon Boosts the Price of Prime
By and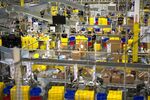 "There are two kinds of companies," Amazon.com Chief Executive Officer Jeff Bezos is fond of saying, in one of his earnest, oft-repeated Jeffisms. "Those that work hard to lower prices, and those that work hard to raise prices."
Amazon, he has always contended, was firmly in the former camp. So Thursday's announcement must come as something of a defeat inside the walls of the Seattle-based Internet giant. After forecasting the possibility in its January earnings call, Amazon raised the annual fee for Amazon Prime, its two-day shipping service. The suitably prime rate of $79 a year has now increased by 25 percent, to $99—which, as any sixth grader will drolly inform you, is easily divisible by 3, not to mention 9 and 11 (and so on).
In a letter to Prime members this morning, Amazon cited fuel and transportation costs and noted that the number of items eligible for free Prime two-day shipping has jumped to more than 20 million products. Amazon's shipping expenses have indeed risen dramatically, from $2.4 billion in 2010 to $3.5 billion in 2013. In all but two years since Prime's inception, Amazon's net shipping costs have increased more than 25 percent. At the same time, Amazon has extended Prime eligibility to millions of products sold by third-party merchants that store their stuff in the company's distribution warehouses, via its popular Fulfillment by Amazon program.

Prime isn't just a two-day shipping program anymore. It's become a varied loyalty program that draws customers in and seeks to convert them into Amazon addicts. And that costs more. That said, Amazon Prime's streaming media service isn't priced at much of a premium compared with competitors. Prime's monthly cost is now $8.25, not much more than the $7.99 that Netflix charges for a service that doesn't also come with digital book rental and free shipping on a vast assortment of merchandise.
The Prime price increase is partly the result of changes in the way Amazon itself has used the service—as its prime weapon (pun intended) in the battle against Google and Apple. Bezos believes, even more so than his rivals, that content (books, music, and the like) can be the gateway drug that lures customers into Amazon's immersive world of devices and digital services. So over the last few years, he has packed digital freebies into Prime membership: 40,000 movies and TV episodes inside Prime Instant Video, plus more than 500,000 e-books that can be borrowed free, one each month, within the Kindle Owners' Lending Library.
And Bezos is only getting started. Amazon is producing its own television shows and movies in an arms race with Netflix to secure exclusive streaming rights to the most popular TV series. And the company is reportedly working on adding a free music streaming service into Prime. It's also hiring game developers like crazy up in Seattle, building a game studio from scratch in an effort to replace the selection of mobile applications it loses by not putting Google's more popular Android app store on its Kindle Fire tablets. In the next few weeks, Amazon will also likely release a set-top box for the living room, and it wouldn't be surprising to see the device touting extra benefits for Prime members.
Investor anxiety has hovered around the Prime price increase since the January earnings call, and Amazon stock is down about 7 percent this year. But Wall Street seems to be applauding the increase, perhaps relieved that it was not larger. Amazon stock is up about 2 percent in trading today. Analysts are by and large bullish and salivating over the extra revenue.
Mark Mahaney, an Amazon watcher at RBC Capital Markets, wrote in a note to investors that the price increase will generate more than $300 million in operating income. He assumes that 1 percent to 5 percent of Prime's estimated 20 million members will bail from the service but looks to membership price increases by Amazon's crosstown rival Costco as evidence that the impact should be soft.
"Based on our recent conversations with Costco, we don't believe that Amazon will see a material increase in Prime subscription churn as a result of the increased membership fee," Mahaney writes. "Although, we wonder if a meaningful price increase would dissuade some on-the-fence potential Amazon Primers from ponying up for the membership."
Before it's here, it's on the Bloomberg Terminal.
LEARN MORE