Tencent to Buy 15% Stake in JD.com to Boost E-Commerce
Lulu Yilun Chen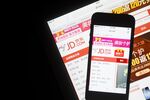 Tencent Holdings Ltd., Asia's largest Internet company, agreed to buy a 15 percent stake in Chinese e-commerce website JD.com Inc. to build a stronger competitor to Alibaba Group Holding Ltd.
Tencent will pay $214.7 million in cash and transfer its e-commerce businesses QQ Wanggou and Paipai and a minority stake in Yixun to JD.com, according to a filing today. Tencent also agreed to buy a further stake representing 5 percent of the company after it completes an initial public offering, it said.
The deal will combine JD.com's established market selling everything from electronics to fashion with Tencent's less-popular e-commerce platform and provide a bigger challenger to Alibaba, China's biggest operator. For JD.com, which is planning a U.S. IPO, the 272 million active users on Tencent's WeChat message service could boost traffic to its online store.
"Tencent, by injecting its assets like Paipai into JD.com, can better compete with Alibaba in e-commerce," said Ricky Lai, an analyst at Guotai Junan International Holdings Ltd. in Hong Kong by phone. "This is quite a good deal for Tencent."
JD.com, backed by Russian billionaire Yuri Milner's DST Global, filed in January to raise $1.5 billion in what may be the largest IPO of a Chinese Internet company in the U.S.
Shares Fall
Tencent shares fell 2.2 percent to HK$616.50 at the close of trade in Hong Kong, paring this year's gain to 25 percent. The Hang Seng Index fell 1.8 percent today.
In addition to its e-commerce business, JD.com is one of 11 companies in China with a permit to lease wireless capacity from the nation's existing carriers in a trial intended to boost competition in the country's phone market. A unit of Alibaba Group also has a license.
Shenzhen-based Tencent has sought to build out its e-commerce business to compete better with Alibaba by combining messaging with services including shopping and gaming. Tencent agreed in January to invest HK$1.5 billion ($193 million) in China South City Holdings Ltd., owner of a logistics and warehouse network.
Alibaba, which has been valued at as much as $200 billion by analysts, plans to go public in 2014, people with knowledge of the matter said in October.
Online retailing in China more than doubled each year from 2003 to 2011 and is projected to more than triple to $395 billion in 2015 from 2011, according to a McKinsey & Co. report in March.
Bank of America Merrill Lynch and China Renaissance advised JD.com while Barclays Plc was an adviser to Tencent, according to an e-mailed statement.
JD.com cited Tencent's Yixun online retail business as an emerging competitor in its IPO filing. The company said it also faces competition from Amazon.com Inc.'s China unit as well as Alibaba's Taobao and Tmall sites.
Yixun, started in 2006, sells products ranging from electronics to shoes.
Before it's here, it's on the Bloomberg Terminal.
LEARN MORE