It's Never Been Easier to Sell Six-Figure 'Supercars'
by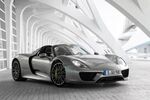 Smart money in the auto industry appears to be riding on deliriously expensive cars, a new generation of streetbound spaceships full of carbon fiber.
The loudest buzz at the recent Geneva Auto Show came from a new fleet of so-called supercars. Lamborghini unveiled its new Huracan ($181,900), Ferrari rolled out its California T ($205,000, estimated), McLaren showed off its 650S ($326,100), and Maserati wowed the crowds with a concept dubbed Alfieri. Porsche sought to separate the wealthy from the filthy rich with the $845,000 sticker price on its 918 Spyder—just think of it as 12 Teslas.
Why all the überexpensive machines? They're selling almost as fast as they drive. Supercars have taken off with U.S. buyers in the past three years, as a bullish stock market and surging home prices drove household net worth to a record high.

Maserati, in particular, is doing a blistering business and, if its splashy Super Bowl ad is any indicator, doesn't plan to let up on the gas. Fiat's chief executive, Sergio Marchionne, while touting the Alfieri concept car as the best design on display in Geneva, said the new Maserati "could technically go into production in 24 months."

The market for six-figure sports cars crashed in 2009, which is hardly surprising. More notable, however, is the speed with which it got back on track after a global economic crash. As soon as the Masters of the Universe realized the world wasn't descending into anarchy, they started showing up at swanky dealerships again. In 2010, the sector zipped right by the market for more proletariat cars and never looked back.

This is to say nothing of buyers in Geneva, or Dubai, or Shanghai, where Ferrari has been selling cars for two decades. Supercar deliveries around the world will surge 14 percent by 2018, according to a forecast by IHS, fueled in part by the aggressive new models turning heads at the auto show. "The supercar segment will grow, simply because there are more and more affluent people globally," said Juergen Pieper, a Frankfurt-based analyst with Bankhaus Metzler. "They can spend €500,000 on a vehicle without blinking an eye."
Much of the spoils will go to Fiat, which owns the Alfa-Romeo, Ferrari, and Maserati brands. Volkswagen stands to gain as well with its Bugatti, Lamborghini, and Porsche brands. It has built 700 Huracans to date, and all have been spoken for, according to the New York Times.
Jamming a power-plant with more than 500 horses into a precious, handmade pod may not seem like a practical idea. But the ridiculous cars, at the moment, are a great way to drive returns. Before taxes and interest last year, Fiat made a 12.3 percent profit margin on its Ferraris and Maseratis, blowing away the 3.3 percent margin on its mass market cars. All told, the company stamped out 22,400 opulent sports cars, 64 percent more than in 2012.
Volkswagen, in turn, booked a whopping 18.2 percent operating margin on Porsche in the first nine months of last year and a handsome 9.2 percent profit on its Bentley brand. Its more pedestrian passenger cars, meanwhile, managed only a 3 percent margin.
Don't feel too bad, however, if your car budget is more Mazda than Maserati. About one-third of these supercars on the roads in the U.S. aren't bought at all—they're leased.
Before it's here, it's on the Bloomberg Terminal.
LEARN MORE