Paul Says Privacy Focus Would Help With Young Voters
Greg Giroux and Dave Michaels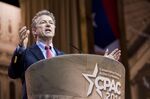 U.S. Senator Rand Paul, a potential 2016 presidential candidate, said the Republican Party would win more support from young voters by highlighting what he says are violations of privacy by the federal government, including the National Security Agency's surveillance programs.
"It's a message that can grow the party, and the party's got to grow bigger or we're not going to win again," Paul, a Kentucky Republican, said today on "Fox News Sunday."
Republicans are looking to improve their showing after President Barack Obama won 60 percent support among voters younger than 30 in the 2012 elections, according to a national exit poll.
"Young people across the country are fed up with a government that says, 'Hey, the Fourth Amendment doesn't apply to your records, doesn't apply to your cellphone,'" Paul said on the Fox program, referring to constitutional protections against unreasonable searches and seizures.
Paul, 51, is trying to build on the network of libertarian-leaning supporters that his father, former U.S. Representative Ron Paul of Texas, amassed during his 2008 and 2012 presidential campaigns. The younger Paul has taken positions on civil liberties, criminal justice and foreign policy that differ from Republican orthodoxy, including his opposition to NSA spy programs.
"Lovers of liberty" can't always agree with the Republican Party, Paul said last week at the Conservative Political Action Conference at National Harbor, south of Washington in Oxon Hill, Maryland.
Straw Poll
Paul won the event's annual presidential straw poll for the second straight year. In results announced yesterday, Paul got 31 percent of the votes of 2,459 straw-poll participants, about half of whom were younger than 26. Senator Ted Cruz of Texas ran second, with 11 percent.
The results are more an indication of the fervor of some Paul backers than a clear gauge of what's shaping up to be one of the most wide-open Republican Party nomination races over the last 50 years.
Paul said that he would decide on a White House bid after the November congressional elections.
"We're definitely talking about it. My family's talking about it. We do the things that would be necessary to make sure that it can happen and will work, but I truly haven't made my mind up and won't make my mind up until after the 2014 elections," Paul said on Fox.
Paul and Cruz are stars of the limited-government Tea Party movement and considered top potential candidates in the next Republican presidential primary.
Confrontational Style
Cruz's confrontational style has angered some fellow Republicans who say he has stoked intra-party fights that could hurt the party's chances to win a Senate majority this year. Cruz's allies say he's standing up for principle in a way Republican leaders are not.
Last year Cruz led the fight to defund the 2010 health-care law, which led to a partial government shutdown in October and a cratering of public approval for the party in opinion polls. His insistence last month on a 60-vote threshold to advance legislation lifting the nation's borrowing cap foiled his party leadership's plan to let the measure move forward with only Democratic support and forced some Republicans to support allowing a vote on it.
"If enough congressional Democrats realize they either stand with Obamacare and lose, or they listen to the American people and have a chance at staying in office, that's the one scenario" in which the health-care law could be repealed in 2015, Cruz said in a taped interview with ABC's "This Week" program that was aired today.
"If not, we'll do it in 2017," after the next presidential election, Cruz said.
Russia Relations
Cruz, 43, drew a contrast with potential rival Paul on U.S. foreign policy as Ukraine tries to keep hold of Crimea after pro-Russian forces seized control of the peninsula.
Paul said in an interview with the Washington Post last month that the U.S. should seek a "respectful" relationship with Russia and that "some on our side are so stuck in the Cold War era that they want to tweak Russia all the time and I don't think that is a good idea."
Cruz, in the interview with ABC, said he doesn't agree with Paul on foreign policy.
"U.S. leadership is critical in the world," Cruz said on ABC. "And I agree with him that we should be very reluctant to deploy military force abroad, but I think there is a vital role, just as Ronald Reagan did."
Republican Criticism
Paul said on the Fox program that Russian President Vladimir Putin "needs to be warned" that "if he does occupy Ukraine, it will be chaos for him and for the world."
Cruz said at the CPAC gathering that former Kansas Senator Bob Dole and other Republicans who lost presidential races didn't "stand for principle."
Dole and Arizona Senator John McCain, who lost the 2008 race to Obama, fired back at Cruz. McCain said Cruz "crossed a line" by faulting Dole, a World War II veteran seriously wounded by German gunfire in Italy.
Paul, when asked on the Fox program about Cruz's criticism of past Republican presidential nominees, didn't fault his potential rival.
"I don't spend any time sort of trying to criticize others in the party because I realize the party has to be bigger, not smaller," he said.
Before it's here, it's on the Bloomberg Terminal.
LEARN MORE