Bank of China Supervisor Says Country Should Allow More Defaults
Bloomberg News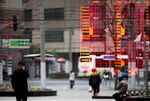 China should allow companies to default on their bonds, an external supervisor at the Bank of China said today, after a solar-cell maker couldn't repay full interest on its debt.
"We need to be more accepting and allow such defaults to happen," Mei Xingbao told reporters during a meeting of the Chinese People's Consultative Conference in Beijing. "The debtor must be responsible for his own debt. He must tell the investors that there is risk involved in the product."
Mei's remarks add to indications that China's Communist Party leaders will allow more debt to go bad rather than intervening to bail out investors. The party agreed last year to let markets to play a more decisive role in the economy.
China's onshore bond market experienced its first default yesterday when Shanghai Chaori Solar Energy Science & Technology Co. missed a deadline to pay the full 89.8 million yuan ($14.7 million) interest due on its bonds. A default would be a "wake-up call" and advance the growth of China's bond market, Moody's Investors Service said in a report e-mailed yesterday.
Previously, the government and corporations would ask the People's Bank of China, the central bank, for a new loan to pay back debt as a way to maintain stability in society, Mei said.
'Good Start'
"In a more market-driven bond market, this should not be the situation," said Mei, former president of China Orient Asset Management Corp. Orient was one of four asset management firms set up by the government in 1999 to buy bad debts from the country's biggest banks and help clean up a financial system on the brink of bankruptcy.
The decision to let Chaori default was a "good start" toward helping the market price risk, Liu Mingkang, former chairman of the China Banking Regulatory Commission Chairman, said at the CPPCC meeting today.
"I have proposed that we shouldn't have zero default -- otherwise how are we going to rate and price bonds," Liu said. " It's a good signal. We don't have enough data to tell if there's systemic risk, but we have to stay alert."
— With assistance by Liza Lin, Xiaoqing Pi, and Aipeng Soo
Before it's here, it's on the Bloomberg Terminal.
LEARN MORE