Pilot Shortage Adds to Regional Airlines' Woes
Starting pay edges up as airlines woo crew who meet stiffer rules
By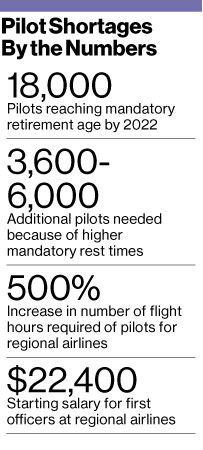 The life of an airline pilot lost its glamour a long time ago. The cost of flight training can top $100,000, and the entry-level pay at regional airlines, which handle roughly half of U.S. flights, for years hovered between $17,000 and $22,000 a year. The resulting nationwide pilot shortage is putting a squeeze on regionals, and ultimately some may not survive. A recent report from the U.S. Government Accountability Office (GAO) found 11 of 12 regional airlines fell short of their hiring targets in the past year.
The shortage has deepened since last August, when federal regulations raised the number of hours in the air, to 1,500 from 250, that first officers—entry-level pilots—must have under their belts. That makes training even more expensive, as aviation graduates typically fall short of the new requirement. Some fledgling pilots take on debt, many work as flight instructors, and others abandon plans to fly for a passenger airline.
Regional airlines carry 22 percent of passengers in the U.S. Most large hub-and-spoke carriers such as United Airlines, Delta Air Lines, and American Airlines own most of the planes regionals operate, and the contracts between the two make for thin margins even for regionals that keep costs—and pilot salaries—low. The largest U.S. regional, Utah-based SkyWest, recently disclosed that its ExpressJet unit flies at a loss under its agreement with United. "The regional airlines will continue to have issues during the remainder of this year, and the sad reality is that some may fail," wrote Helane Becker, a managing director and senior research analyst at Cowen Group, in a client note in February.
The new federal rule raising the minimum flight hours was an effort to increase safety by requiring that airlines use more experienced pilots. The mandate was passed by Congress in 2010 in response to the 2009 crash of a Continental Express regional flight near Buffalo in which all 49 people on board and one on the ground were killed.
The added hours reduced the pool of eligible pilots. Regional airlines argue that more hours don't necessarily improve safety. A slow rise in starting wages at the regionals hasn't provoked an influx of qualified pilots just yet. Salaries for first officers at regional airlines have been rising since the 2009 Buffalo crash and now average $22,400, according to the Air Line Pilots Association (ALPA), the largest U.S. pilot union. That's marginally better than the $17,000-$22,000 beginning range that had been common for years, but it still falls short of what trained aviators earn in other fields—test engineers start at $52,500, while Air Force second lieutenants bring in $53,616. ALPA says the gap between a regional first officer's annual starting salary and a first officer at Delta or United is about $40,000.
The mandatory retirement age of 65 at the national carriers could add to the shortage. Delta, United, and American typically hire experienced regional pilots to replace retirees. The four largest U.S. airlines will lose at least 18,000 pilots because of mandatory retirement by 2022. That's approximately the same number of regional pilots flying today, according to Flightpath Economics. U.S. airlines will need to hire up to 4,500 pilots each year over the next decade, according to the GAO.
The regionals are dealing with the shortage in a variety of ways. Signing bonuses of as much as $10,000 are common and can help offset student debt. Some airlines offer incentives to students attending job fairs, such as the chance to win an iPad.
"I think symbolically it's a strong indicator that the airlines are recognizing the challenge that's coming down the road," says Peter Harris, president and chief executive officer of Spartan College of Aeronautics and Technology in Tulsa. "For the people who come to us and express interest … the economics are probably the most challenging part of it."
Before it's here, it's on the Bloomberg Terminal.
LEARN MORE