Give Me One Good Reason Obama Should Approve Keystone XL
By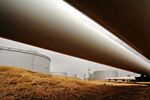 Really, there could be two:
1. President Obama, Secretary of State John Kerry, and economic growth-focused Washington want China as America's new BFF and plan to let Beijing know by offering up an energy supply from our friends to the North.
2. Obama, Kerry, and Canadian Prime Minister Stephen Harper have worked out a quid pro quo. The Yanks will accept a pipe carrying toxic sludge through America's bread basket so long as Canada takes over counterterrorism in Afghanistan, sends peacekeepers to Ukraine, and Harper himself places Justin Bieber under house arrest so he can't tour in the lower 48.
Some American teens might not find that last measure in the national interest, but some version of these realpolitik rationales—overture to China, huge favor to Harper—are about the only ones left to explain why Obama hasn't killed the proposed 875-mile final leg of pipeline from Alberta to the Gulf of Mexico.
A number of strong arguments appeared to be in favor of Keystone XL when it first became a national story, beginning with jobs. Several U.S. representatives and senators testified that the pipeline would yield 20,000, 40,000, or even 100,000 new jobs. The recession made those prospects extra compelling. Turns out they were extra optimistic, too. Now we know the pipeline might generate about 3,900 temporary (two-year) construction jobs and about 50 permanent ones. (Should we really be surprised? The whole point of a pipeline is that it's automated.)
The other big case for Keystone—also given full voice by pols who received campaign help from oil and gas lobbies—was the chance to rely on a friendly neighbor for oil rather than on an unstable Middle Eastern regime. But now, due in part to fracking and the Bakken reserve in North Dakota, U.S. oil inventories are at a 21-year high; a glut of unrefined oil is sitting in Cushing, Okla., and the U.S. is expected to become the world's leading oil producer next year. Moreover, the sweet crude pouring out of the Bakken is of far finer quality than bitumen, the sour, thick oil sands extraction that is effectively steamed out of the soil beneath Alberta's former boreal forest. What's more, Keystone XL isn't really designed to serve the U.S.; it's meant to get Alberta's tar sands to Texas refineries and ready for export. The Keystone XL would better serve China's energy "independence" than America's.
Oh, but surely a $5.4 billion infrastructure project would provide the U.S. economy a welcome boost and added tax revenues? Yes, more than $3 billion over its lifetime, according to the market analysis in the Jan. 31 Final Supplemental Environmental Impact Statement on the Keystone XL prepared by the U.S. Department of State [pdf]. Yet before the U.S. collects taxes from refiners, resellers, and exporters, it will first spend hundreds of millions on subsidies so these companies can invest in the technologies needed to make usable fuels out of bitumen. One example: Houston-based Motiva, which operates major storage facilities and scores of Shell gas stations and is slated to receive between $680 million and $1.1 billion from U.S. taxpayers so it can deal with tar sands oil. So in the near term, economic stimulus related to Keystone XL will come from Washington, not be paid to the IRS.
None of these arguments should particularly matter, though, as Obama has indicated that impact on the earth's climate is his pass/fail for approving the project. This has led to a ridiculous effort to prove that the pipeline itself will not lead to a great deal more carbon entering the atmosphere. That's a feint. The real question isn't how carbon-intensive the 3-foot diameter pipe is but how much carbon-polluting oil it brings to market.
Presuming the tar sands will be developed with or without the Keystone XL, State's estimates of carbon emissions were modest in its Jan. 31 report. Even so, the report acknowledges that the project will accelerate climate change. Hence, says Susan Casey-Lefkowitz, international program director of the Natural Resources Defense Council, "President Obama now has all the information he needs to reject the pipeline."
A new report this week, using some of the same forecast formulas, is more damning yet. It suggests that State massively understated the consequences of the Keystone XL. According to Carbon Tracker's analysis, by facilitating tar sands oil production the proposed pipeline will result in carbon emissions equivalent to 46 new coal burning power plants.
So what explains the difference between the two reports? The wonks at priceofoil.org explain it well here, but the short version is that Carbon Tracker assumed that the cost of extracting a single barrel of tar sands oil and getting it to a refinery is about 30 percent higher than State's estimate, which uses today's prices. The higher number reflects an expectation that as miners have to dig deeper, the costs of extraction will rise. Also, the Keystone XL facilitates lower transportation costs and higher volume, allowing for "billions of barrels of production that otherwise would not be produced." All those billions of barrels of otherwise unproduced oil release, as Carl Sagan might have put it, tons and tons of otherwise unproduced carbon dioxide when they burn. (Meanwhile, any who still think that rapid tar sands development is inevitable without the Keystone XL because rail is a viable alternative needs to read this.)
The State Department report "used an extraction cost that was too low, and an oil price that was too high because they assumed climate policy would fail," says Stephen Kretzmann, executive director of Oil Change International, an energy analysis and advocacy group in Washington, D.C. "If one conducts this analysis both with accurate cost information and presuming that the U.S. will indeed meet the challenge of climate change, then it is painfully obvious that Keystone XL is a disastrous project that will unleash more than a billion cars worth of annual emissions."
Asked if Obama will consider Carbon Tracker's projections alongside State's, White House assistant press secretary Matthew Lehrich directed me to his Jan. 31 statement, in which he says a decision will take into consideration "the SEIS and other pertinent information, comments from the public [the deadline for those is today, Mar. 7], and views of other agency heads." Italics are mine.
Given that, my best guess is China. That's the only reason I can think for why Obama hasn't pulled the plug on Keystone XL. That, or he's waiting for Harper to promise that in exchange for it, the U.S. will never again lose to Canada in ice hockey.
Before it's here, it's on the Bloomberg Terminal.
LEARN MORE