Congo Rebel Leader Found Guilty of Crimes Against Humanity
Michael J. Kavanagh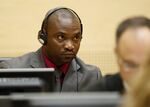 The International Criminal Court found Democratic Republic of Congo rebel leader Germain Katanga guilty of war crimes and crimes against humanity, Judge Bruno Cotte said.
Katanga, 35, stood accused of seven counts of war crimes and three counts of crimes against humanity for attacks against ethnic-Hema villagers in the town of Bogoro in Congo's northeastern Ituri district in February 2003. He was cleared on counts of rape and sexual slavery, as well as using child soldiers, The Hague-based court said.
The court found Katanga guilty "as an accessory to the crimes committed" on Feb. 24, 2003, Cotte said. Katanga's role in providing arms to the rebels was essential to the crimes committed in Bogoro, he said.
Katanga, who was also known as Simba, the Swahili word for lion, led the Patriotic Resistance Force in Ituri, or FRPI, an ethnic-Lendu militia that fought a civil war for control of the gold-rich region more than a decade ago. The attack on Bogoro killed 200 people and resulted in the enslavement of several women and girls, according to Katanga's ICC arrest warrant.
The court said Katanga was guilty of the war crimes of murder, attacking a civilian population, destroying enemy property and pillaging. He was also declared guilty of murder as a crime against humanity.
Co-Accused Acquitted
Katanga originally faced charges in conjunction with fellow rebel leader Mathieu Ngudjolo Chui, who was acquitted Dec. 18, 2012, for lack of evidence. Ngudjolo allegedly fought alongside Katanga as head of the ethnic-Lendu National Integration Front, or FNI. The ICC prosecutor's office is appealing that verdict. Their trial began in November 2009 and closing arguments took place in May 2012.
A partially dissenting judgment by Judge Christine Van den Wyngaert of Belgium read by Cotte said Katanga was not intentionally responsible for the crimes in Bogoro and should have been released with Ngudjolo because his right to a speedy trial was violated.
Katanga's sentence will come at a later date, Cotte said. The defense and prosecution have 30 days to appeal the verdicts.
Before it's here, it's on the Bloomberg Terminal.
LEARN MORE