How The Weather Channel Became the Nation's Unofficial Namer of Winter Storms
By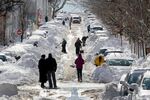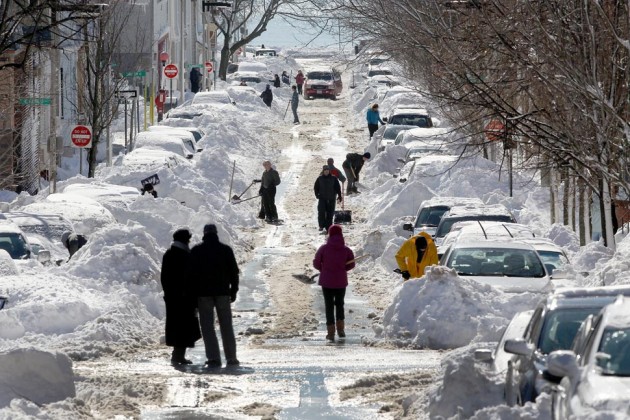 Say what you will about the corny names the Weather Channel chooses for big winter storms—Pax, Janus, Atlas, Pow! Zam!—the company is giddy about how it's caught on with the public since it started bestowing the monikers two years ago. "I think it's been a tremendous success, and it just continues to build," says Tom Niziol, the Weather Channel's "winter weather expert" and a veteran meteorologist who helped launch the effort.
The company raised eyebrows in October 2012 when it announced plans to begin dubbing winter storms with Greek and Latin names such as Brutus, Gandolf, and Xerxes. Rival commercial weather firms accused the company of potentially confusing and misleading the public; the National Weather Service essentially rolled its eyes but stayed mum. "There were a lot of comments at the start of this that this was just a marketing exercise, but it's anything but that," Niziol says.
Since the 1950s, federal authorities have named tropical storms and hurricanes as a way to spur preparation and make the systems easier for television and other media to reference. But U.S. winter storms were virgin territory, and social media was buzzing over newly coined weather buzzwords like "Snowmageddon" and "Snowtober." Executives at the Weather Channel, which is owned by NBCUniversal and two private equity firms, consider the names "an ideal demonstration of the intersection of social media and television" as the company put it in a press release last fall detailing its names for the current season.
They help to "personalize" extreme weather events and give on-air personalities an easier way to discuss storm systems, Niziol says. The Weather Channel says it considers names only for storms expected to affect at least 10 million people and an area larger than 1 million square kilometers (621,000 square miles).
If you're among those—like writer Stephen King—who find the company's storm naming silly, stupid, or annoying, blame Nemo, the powerful February 2013 storm that dumped more than 2 feet of snow on Boston, with parts of southern Connecticut seeing up to 40 inches. That storm helped bestow more than 1 billion social media impressions for the Weather Channel last winter and convinced executives they'd found a pot of media gold buried under blizzards.
Use of the channel's names remains sporadic. The New York Times doesn't recognize them in its storm coverage. The Associated Press says it only uses names issued by national weather authorities. But others, such as Patch.com, the digital local news business established by AOL, have adopted them, as have smaller newspapers and websites owned by Discovery Communications.
Some airlines have also cottoned to the names in the waivers they offer for changing travel plans ahead of larger storms. In early January, after Hercules had wracked operations in the Northeast, JetBlue Airways set up an e-mail address for customers seeking assistance: Hercules@jetblue.com. Georgia Power, which has 2.4 million customers, uses the Weather Channel's names in some news releases about storm preparation and recovery but finds them more useful for its Twitter and other social media communications. "It's helped us in reaching customers because they would use" the names on Twitter, says spokeswoman Amy Fink.
South Carolina legislators have now codified them in official documents. A state House bill now under debate may let students avoid making up school days they missed so far this year because of two big winter storms that the Weather Channel—and the legislature—recognize as Pax and Leon.
Before it's here, it's on the Bloomberg Terminal.
LEARN MORE