Fiat's 'Baby' Jeep Renegade Hails From Italy
Fiat will produce the pint-size SUV at an underused plant in Europe
by and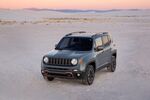 The tiny Jeep Renegade is far more than a domesticated line extension of a car brand that built its reputation on off-road ruggedness. The small sport-utility vehicle, introduced on March 4 at the Geneva International Motor Show, is also a critical test for the carmaker being formed from the merger of Fiat and Jeep parent Chrysler Group. The American brand's new entry-level model will be made in Italy and share underpinnings with the 500X, a four-door crossover version of the trendy Fiat 500 city car. "The Renegade and 500X are perfect examples of something Fiat and Chrysler couldn't have done alone," says Roberto Verganti, a management professor at Polytechnic University of Milan. "They are exploiting Fiat expertise in small cars to launch a Jeep model in a segment that's actually booming."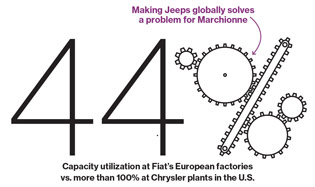 Chief Executive Officer Sergio Marchionne completed a decade-long search for a partner with the purchase in January of the 41 percent of Chrysler that Fiat didn't own. The marriage gave the two auto companies a chance to better compete with larger rivals such as General Motors and Volkswagen. Marchionne's challenge now is to prove that his skills extend beyond dealmaking to creating cars customers want.
The Renegade, which is about 7 inches shorter than the Jeep Patriot, will vie with Nissan Motor's Juke and Kia Motors' Soul for the growing ranks of urban consumers looking for small cars with outdoor flair. The SUV will draw on Jeep's off-road tradition with optional four-wheel drive and a boxy design that's a nod to Jeep's Wrangler. The outdoor feel comes from two removable roof panels that can be stored in the trunk. The tiny SUV marks Jeep's first new model line since the midsize Compass in 2007. It will likely be cheaper than the $15,995 Patriot, Jeep's current entry-level model, to lure a broader range of buyers—even if some purists balk at its diminutive size.
"You might have a few Jeep enthusiasts say it's not a Jeep, but Jeep has been hearing that for years with the Compass and Patriot," says Jeff Schuster, an analyst at researcher LMC Automotive. "They need to bring fresh new buyers into the brand to keep the brand moving."
The Renegade will be assembled in Melfi in southern Italy, making it the only Jeep to be currently built outside North America. It will go on sale in Europe this summer and be exported to the U.S. by yearend. The factory choice is part of Marchionne's strategy to fill underused plants in Fiat's home country with models that can be exported worldwide. The goal is to operate profitably in Europe, where demand is at almost a two-decade low and Fiat lost €520 million ($714 million) last year. The Italian carmaker's market share in western Europe dropped to 6.2 percent in 2013 from 8.1 percent in 2007 because of a lack of new models. "This car really shows you a combination of resources and technology," says Mike Manley, head of the Jeep brand. Use of Fiat cars' underpinnings "helps us to get to market faster and cuts costs."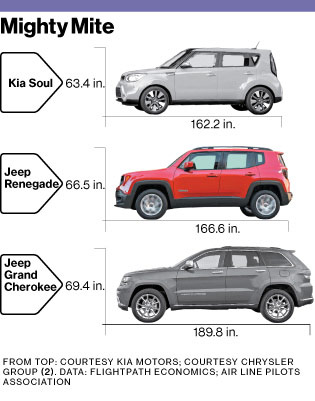 Researcher IHS Automotive forecasts that sales of the baby Jeep will hit 121,000 vehicles in 2016, helping Fiat Chrysler achieve a 20 percent jump in sales, to 5.2 million cars, that year. Renegade demand is likely to be evenly split among the U.S., Europe, and Asia, says IHS. With the addition of the Fiat 500X, Fiat Chrysler will probably deliver 204,000 small SUVs in 2016, beating Nissan's 186,000 Jukes while trailing Ford Motor's EcoSport sales of 288,000 vehicles, IHS predicts. Says IHS analyst Ian Fletcher: "It's probably the first time in several years that the carmaker has managed to get the right products in the market at the right moment."
Marchionne said on March 4 that Fiat also will build the Renegade in Brazil starting this year and has plans to begin China production in 2016. "The Renegade's a car you can sell anywhere," says Jesse Toprak, chief analyst at website Cars.com. "That's the beauty of the segment. There is universal demand for it."
Before it's here, it's on the Bloomberg Terminal.
LEARN MORE