Boeing Has a New 787 Dreamliner Headache With Wing Cracks
by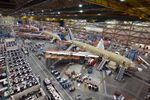 Boeing's 787 is the airplane program that keeps on giving—problems. The company will inspect about 40 airplanes and delay some 787 deliveries after Mitsubishi Heavy Industries, which makes the plane's carbon fiber wing, discovered small cracks in newly built wings following a change in its manufacturing process, Boeing said Friday.
The cracked area is very small and will require repairs that will take a week or two per airplane, Boeing spokesman Marc Birtel said. "We are confident that the condition does not exist in the in-service fleet," the company said in an e-mailed statement. "We understand the issue, what must be done to correct it, and are completing inspections of potentially affected airplanes."
Mitsubishi Heavy crafts the wings in Nagoya, Japan, and Boeing flies them to its 787 assembly plants in Everett, Wash., and North Charleston, S.C. About 17 of the 787s being inspected are fully completed, and seven have been undergoing predelivery flight tests, according to the Wall Street Journal, which first reported news of the cracks.
Airlines have embraced the 787, Boeing's first airplane to be built predominantly of carbon fiber composites, which lower the plane's weight and decrease its fuel burn by roughly 20 percent vs. traditional models of comparable size. The program has suffered some high-profile setbacks, including a three-month grounding early last year due to overheating traced to the plane's lithium-ion batteries. The 787 operates with far more electrical power, generated by those batteries, than other airplanes.
Boeing said the wing defects are not expected to affect its guidance for 787 deliveries this year, which will reach 110. Boeing has ramped up its production rate of the planes to 10 per month and plans to increase that to 12 in 2016 and ultimately to 14 monthly. While Boeing has orders for more than 1,000 of the airplanes, it needs to speed up deliveries to start making a profit on the program.
Before it's here, it's on the Bloomberg Terminal.
LEARN MORE