Time Warner Cable Deal Sets Comcast's D.C. Lobbying Machine in Motion
Lavish parties. Millions of dollars. Scores of lobbyists. How Comcast wins over Washington
By , , and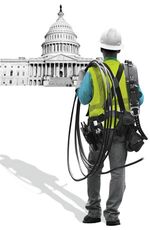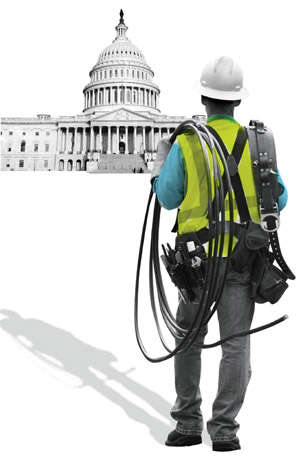 On the first night of the Olympics, Comcast threw a big party at the Newseum on Pennsylvania Avenue, a short walk from the U.S. Capitol. About 700 guests, including congressional aides and administration officials, drank chilled vodka, made s'mores over indoor fire pits, and had their photos taken with former Olympic athletes. Comcast-owned NBC's broadcast of the opening ceremonies from Sochi played on a giant screen overhead. David Cohen, Comcast's executive vice president in charge of government affairs—known in Washington as the company's unofficial chief lobbyist—toasted his guests from a balcony. Four nights later, on Feb. 11, Cohen went to the White House as President Obama's guest for a state dinner honoring French President François Hollande. On Feb. 25 he attended a fundraiser for Tracy's Kids, a children's cancer charity that Cohen and Comcast sponsor. Senator Patrick Leahy, the powerful Democrat who chairs the Judiciary Committee, was there. So were Democratic Senators Mark Warner, Mark Pryor, Sheldon Whitehouse, and Heidi Heitkamp and Republican Orrin Hatch.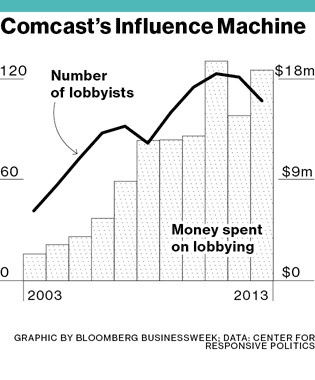 As Comcast, the largest U.S. cable company, seeks the federal government's approval for a $45.2 billion deal to buy No. 2 Time Warner Cable, the company, and Cohen, are everywhere in Washington—pressing their case with members of Congress and their staffs by day and entertaining them by night. In 2013, Comcast spent $18.8 million on lobbying, according to the Center for Responsive Politics, more than any company except defense contractor Northrop Grumman. The company gives millions of dollars to politicians of both parties through its political action committee. The Comcast Foundation donated $16.2 million to charities in 2012, often inviting politicians to attend events, where they can be seen and photographed supporting worthy causes. "They are ubiquitous," says Gene Kimmelman, former chief counsel for competition policy at the Department of Justice. "They really have everything covered at the highest levels of skill and experience."
Every major industry knocks on doors in the Capitol, often not so subtly seeking to trade votes for campaign cash. Comcast takes a more sophisticated approach to getting what it wants that's less about twisting arms than making itself a familiar and welcome fixture inside official Washington's transactional culture.
Comcast has perfected a deferential manner in its negotiations with skeptical federal regulators. Verizon Communications sued the Federal Communications Commission in 2011 over net neutrality rules intended to prevent Internet providers from speeding some services and slowing others; Comcast agreed to follow the rules. At the time, it was trying to win approval to merge with NBCUniversal. The FCC demanded that Comcast share NBC programming with online rivals and satellite-TV providers; the company acquiesced, and went a step further: It volunteered to provide discounted Internet service to low-income families. Ultimately, the government smiled on the merger.
Some regulators and consumer advocates argue Comcast's proposed union with Time Warner would create a cable behemoth, leaving customers with fewer choices and higher bills. "There's a strong case to be made why this merger shouldn't be approved," says Michael Copps, a former Democratic member of the FCC and the only commissioner to oppose the Comcast-NBC deal. "It's just so much power for one company to amass, and it's not just cable," says Copps, now an adviser to the consumer group Common Cause. "They're a broadband company, they're a broadcast company, they're new media, they're old media, they're telecom, they're everything."
Comcast says there aren't antitrust issues with the Time Warner merger because the companies do business in different markets. It could have taken a hard line. Instead, Comcast announced it would voluntarily give up 3 million Time Warner customers to stay below 30 million if the merger is approved. That would leave the new company with less than 30 percent of the national pay-TV audience, according to Cohen. "It's about making a legal and ethical case to the FCC and the Department of Justice," he says.
Comcast employs an army of lobbyists to do that—107 in all, up from 42 in 2003. In 2013 five former members of Congress were among those registered as lobbying for Comcast, including former Democratic Senator Blanche Lincoln and former Senate Republican Whip Don Nickles. Meredith Attwell Baker, a former FCC commissioner who voted in 2011 to let Comcast buy NBCUniversal, now lobbies for Comcast. "This is a company that is playing all the angles, making sure that they have an open door on both sides of the aisle," says Sheila Krumholz, the Center for Responsive Politics' executive director.
That includes the one to the White House. President Obama has not stated a position on the merger (it's up to the Justice Department and FCC to decide). But he's made no secret of his affection for Cohen. The Comcast executive and his wife, Rhonda, raised at least $500,000 for Obama's 2012 reelection. On Nov. 14 they hosted a fundraiser for the president at their home in Philadelphia, one of several such visits Obama has made. "I have been here so much, the only thing I haven't done in this house is have seder dinner," Obama told the guests. "But they have just been such great friends, and I'm so grateful to them." No one can say David Cohen doesn't earn his pay.
BOTTOM LINE -
The bottom line: Seeking approval for a $45.2 billion merger with Time Warner, Comcast is blanketing the capital with lobbyists, and love.
Before it's here, it's on the Bloomberg Terminal.
LEARN MORE