Staples Is Shrinking; RadioShack Is Sinking
by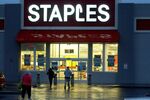 Staples is realizing the hard way that the days for a superstore full of packing tape and printer cartridges are vanishing more quickly than most expected.
The retail giant put out a dismal set of results this morning, as customers went elsewhere for both holiday gifts and office supplies. Sales at Staples stores open more than a year slid 7 percent.
"It's clear we underestimated the headwinds we are facing in our retail stores as well as demand for core office supplies," Ronald Sargent, Staples' chief executive, said on a conference call this morning.
Like RadioShack a few days ago, Staples reacted to the results by rolling out a plan to close stores by the end of next year—225 to be exact, or 12 percent of its North America locations. The retailer is also yanking from shelves about 1,200 poorly selling products and trying to shrink its remaining stores into 12,000 square-foot footprints—downsizing that will cut costs for employees, electricity, and a range of other overhead categories.
The decision seemed to shock investors; the stock plummeted almost 17 percent this morning. And the rationale for the strategic shift was blunt. Here's Sargent again: "Stores have to earn the right to stay open; we are committed to making tough calls when it's necessary."
Staples, however, can afford to talk a bit tough, because a lot of customers disappearing from its stores aren't going across the street to Office Depot; they're ordering online. Nearly half of Staples business now comes through its Web store, and e-commerce sales were up 10 percent in the recent quarter. In the past year, Staples increased its online offerings fivefold and plans to triple that figure by the end of the year, bringing its total Web stock keeping units (known as SKUs among inventory managers) to 1.5 million.
RadioShack, by comparison, barely mentioned e-commerce as it rolled out a plan early this week to shut roughly one-fifth of its stores. Its executives were still touting the power of "knowledgable store associates who live and breathe technology."
Meanwhile, Staples is also working hard to make sure its online customers don't simply click over to Amazon.com. With a fleet of 1,500 trucks, Staples offers free next-day delivery to 95 percent of its North America consumers (better than Amazon's two-day, "prime" shipping), and it has 25 million customers signed up for its rewards program.
Not surprisingly, four out of five of Staples' web dollars come from commercial accounts, businesses that are likely to be "stickier" than the average household that orders odds and ends for the junk drawer.
The savviest retailers these days are thinking of their brick-and-mortar locations as shipping warehouses as much as stores. From that perspective, Staples might consider shutting even more shops. Indeed, Sargent assured that his team would continue to look for underperforming locations. He even noted that some of the shops on the chopping block at the moment operate at a profit—at least for the time being.
"We've been on the journey for the last couple of years," Sargent said. "And I think we'll probably be on the journey the rest of the time that Staples exists."
The existential tone seemed fitting, and it resonates with that mantra of many a corporate strategy consultant: "Disrupt yourself or die."
Before it's here, it's on the Bloomberg Terminal.
LEARN MORE