Since It Can't Sue Us All, Getty Images Embraces Embedded Photos
By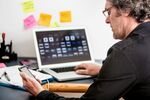 For the past decade or so, the best defense Getty Images could find against the right-click button on your mouse—home of the "copy" and "save" functions—has been a team of scary lawyers. By copying one of its images and using it on your blog, you're entering a random drawing where the prize is a terrifying letter offering a tutorial in copyright litigation.
But this week the photography company is embarking on a different strategy: Anyone can now visit its website, grab some embed code, and display an image on blogs and social media pages without paying a licensing fee. As a technological feat, of course, embeddable media is unremarkable. It's a basic feature on YouTube and Twitter and many other major websites. Yet it marks an unlikely pivot for Getty, which makes its money selling permission to use photos from its vast library of work from more than 150,000 individuals, stock photo agencies, and media organizations. Creating an embedding tool is a tacit acknowledgment that Getty simply can't police the use of its images to the four corners of the Internet.
Craig Peters, a senior vice president at Getty, is more explicit about the futility of trying to maintain control of its images. Three years ago, Getty acquired PicScout, which makes a technology to crawl the Web and track the images appearing online. PicScout described itself an intellectual-property protection service, but Getty eventually learned a different lesson from the acquisition: The problem of purloined images is too big to solve on a lawsuit-by-lawsuit basis. Peters found that "tens of millions" of Getty photos have been shared without legal licensing. "There are two ways to look at the world," he says. "People sharing content without a license is an issue—or it's an opportunity."
Peters likens the current state of photography to the pre-iTunes music industry, where there was no legitimate way to access digital songs. People are inevitably going to display images publicly on blogs and social media feeds, so the only way to remain relevant is to provide them with a viable legal alternative.
If the Getty project is successful, it will eventually open a new revenue stream. The images displayed on other websites will remain on a server owned and operated by the company and will contain information about the photographer and how to license the images for commercial use. Eventually, Getty could include advertisements within the embedded images, much like YouTube videos embedded on personal blogs show ads that bring revenue to Google. But Peters says Getty hasn't figured out how exactly that will work.
The embedding tool is intended only for noncommercial uses. In many cases, Peters says, publishers will prefer to pay for images because they will get more control and won't have embedded images sending information about their Web traffic back to Getty. Embedded images will not be allowed in contexts that promote products or businesses. "That's a pretty clear delineation," Peters says. "We'll enforce the terms of this license if people start using these images to do that."
It could be murkier than he admits, though. In an Internet chock-full of self-promotion, obscurity can turn into fame in a matter of moments. What happens when an individual's personal brand—or blog—becomes a business in and of itself? Unclear.
This project isn't coming from nowhere. Getty has been increasingly bold in experimenting with ways to keep up with changes forced on the photo industry by digital distribution. Last fall the company forged a partnership with Pinterest in which it receives payments from the social network in exchange for metadata. Getty is already working with smaller startups such as Stipple to embed advertising into images.
At the same time, the company is hardly laying off its lawyers. Getty regularly sends letters to those it finds using its images without licenses, but those disputes rarely end up in court. According to records compiled by Bloomberg Law, Getty has only filed seven copyright infringement lawsuits in the past five years. Of those, five came in a single week this January.
Before it's here, it's on the Bloomberg Terminal.
LEARN MORE